Infant from Uzbekistan treated for a rare condition, Laryngeal web formation
Posted by Apollo Hospitals | 29 Aug,2019
About the Patient and condition
Master Muhammadjon Hakimov, a one-and-a-half-year-old, resident of Uzbekistan, was diagnosed for a rare condition, the formation of a laryngeal web in the trachea, which had obstructed his respiratory tract.
Case Scenario
"At six months, the baby caught an infection which led to the development of stridor, an abnormal, high-pitched sound caused by disrupted airflow. The kid faced difficulty in breathing owing to which the doctors in Uzbekistan did an emergency tracheostomy, which is a surgical procedure to create an opening (a hole) in the neck into the air-pipe, to regulate smooth breathing. However, this wasn't a permanent solution. Since a year to the procedure, the child grew with a permanent hole in his neck, which prevented him from speaking. Some immediate solution was required; this is when the parents of the child decided to come to India for a corrective surgery" explained Dr. Ameet Kishore – Senior Consultant – ENT, Indraprastha Apollo Hospitals.
Upon diagnosis, it was found that due to treatment received in Uzbekistan, laryngeal web formation has occurred in the air-pipe because of which, there was constant disruption in the air-pipe. The treatment plan adopted was operating on the web-formation, which would be removed by direct laryngoscopy (procedure to visualize larynx and airways by means of special instrument) and then stoma (procedure to close the wound of the neck through multiple layers).
Dr. Naruka further elaborated, "When we operated on the child, he was one year and three months old. He was admitted on July 10th and was operated on the same day. Post-surgery, the persistent stoma opening was closed after correcting the web formation. Since the child was young, the surgery required a concentrated and delicate approach. The surgery went well, and the child was shifted to the ICU post the surgery."
"After the surgery, the child's breathing pattern became normal and he even started to speak normally, whereas earlier he was not able to utter even a single sound," Dr. Naruka further added.
Worldwide Scenario
Laryngeal web is a rare condition in which child's larynx consists of web-like tissues thus obstructing the windpipe which further causes difficulty in breathing. Laryngeal web condition can be congenital or acquired (usually occurs during infancy) and the prevalence at birth is less than 1 in 10,000.
Expertise at Apollo Hospitals
The child had previously undergone Tracheotomy in Uzbekistan, which was not successful and deteriorated his quality of life. Later, the child was admitted in the care of Dr. Suresh Singh Naruka, Consultant – ENT, Indraprastha Apollo Hospitals. Dr Suresh along with his team of specialists surgically corrected the laryngeal web which is a congenital or acquired condition of the larynx due to formation of extra tissue inside lumen of air pipe.
The child was discharged the next day on 11th July.
Apollo Hospitals – Touching Lives
The ENT department of Indraprastha Apollo Hospitals, Delhi consists of highly skilled and internationally recognised doctors. They have successfully treated critical patients from around the world and from different age groups.
Patient's Testimonial
The mother of the child expressed her gratitude to Dr. Naruka and said, "Watching your child struggling to breathe, not being able to speak and with a hole in his neck, tears your heart apart." We came to India with the hope that we will be able to find a cure for Muhammadjon. The doctors at Indraprastha Apollo Hospital not only fulfilled all our expectations, but went beyond that by offering us constant support and guidance. I am thankful for all their help and very happy to see my child doing absolutely fine now."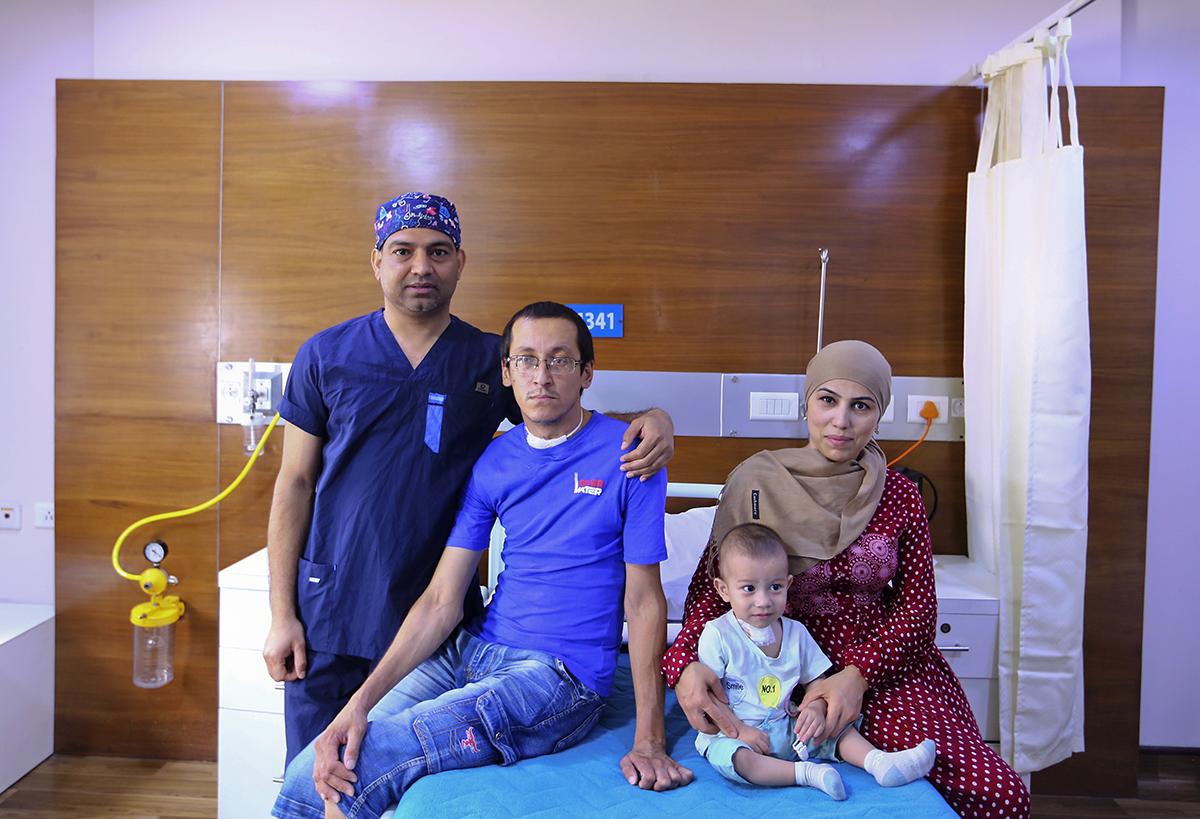 Posted by:
Apollo Hospitals
29 Aug,2019
Get the best of health related stories delivered to your inbox.