Mohammad Ali, native of Mauritius, a patient of Ewing's Sarcoma, a patient of malignant (cancerous) bone tumor that affects children, underwent a Total Femur Replacement surgery performed by Prof. Dr.Mayilvahanan Natarajan and team, Apollo Specialty Hospital, Chennai, which has enabled him to walk again !
At tender age of 13, Mohammad Ali never thought that he would not be able to play with his folks due to excruciating pain in his right leg. His worried parents saw the child suffering for a year before he was brought to Prof. Dr. Mayilvahanan Natarajan, renowned orthopedic surgeon, and a specialist of orthopedic oncology. Prof. Natarajan found out that the boy is a patient of Ewing's Sarcoma, a malignant (cancerous) bone tumor that affects children.
Ewing Sarcoma is a rare disease in which cancerous cells develop in the long bones of the arms, legs and the pelvis. It may also develop in the skull or the flat bones of the trunk and occur during childhood or puberty, when bones are growing rapidly.
"Master Mohammad was in terrible pain along with the swelling at the site of the tumor, when came to me. A number of tests were undertaken to determine the occurrence of the tumor. A Biopsy was done to confirm the diagnosis. He was immediately put on chemotherapy with 6 cycles under the guidance of a Medical Oncologist," said Prof. Natarajan.
"After the successful cycles of chemotherapy treatment, Prof Mayilvahanan Natarajan decided to perform Limb salvage surgery on Mast Mohammad Ali to prevent amputation. He was operated on 17th August 2011 at Apollo Specialty Hospital, Chennai for the total femur replacement in which a part of his leg bone was excised and replaced with an artificial prosthesis made up of cobalt chrome alloy, which takes on the function of the bone excised. Throughout the 6 hours surgery, the patient was in complete anesthesia." Prof. Natarajan further explained the procedure.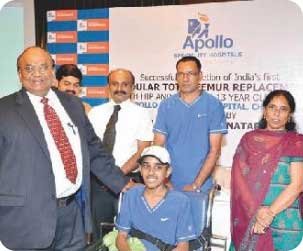 Sharing his plight, Master Mohammad said "My inability to walk and play was making me very depressed and the pain was very severe to bear. I was very happy when the doctor told me that my leg and life can be saved."
"Post surgery Mohammad was kept under careful observation in ICU where he recovered from his pain and swelling in few days. His follow up treatment which is as much important as the surgery follows 3 cycles of Chemotherapy and a complete physiotherapy to make sure he starts walking without any support." said Prof. Natarajan.
Total femoral removals for extensive tumors are less common but clearly represent a major problem, which till some time back required hip disarticulations. In recent years, removal and replacement using modular metallic devices have allowed the patients to be restored reasonably.
The uniqueness of this replacement surgery is that the patient is given a practically new limb which is tumor free and the patient can achieve full independence in less time with an appropriate rehabilitation program.
Prof. Mayilvahanan Natarajan is an Orthopedic Surgeon, recognized for his pioneering work in Orthopedic Oncology. He introduced the concept of Limb Salvage Surgery by Custom Mega Prosthesis as early as 1988. He established Orthopedic Oncology as a Sub-Specialty in Orthopedic Surgery in India. His personal series of 1750 cases of Custom Mega Prosthesis is the largest number by a single surgeon in the whole world. He has designed and invented 8 types of Custom Mega Prosthesis for different anatomical sites in the body.