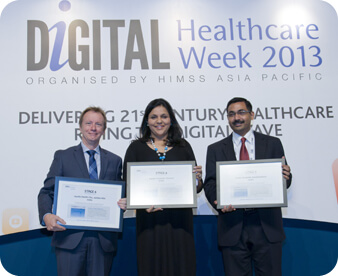 HIMSS Analytics Asia Pacific has recognized three hospitals within Apollo Group for achieving Stage 6 on the Electronic Medical Record Adoption Model (EMRAM)SM. The hospitals are:
Apollo Main Hospitals, Chennai
Apollo Health City, Jubilee Hills,
Apollo Hospitals Ayanambakkam, Chennai
These Stage 6 hospitals were recognized at the HIMSS Digital Healthcare Week in Singapore, on 21 October 2013. The award was presented by Stephen Lieber, CAE President & CEO of HIMSS worldwide; in the presence of Dr. Amy Khor , Senior Minister of State for Health and Manpower, Ministry of Health and Ministry of Manpower, Republic of Singapore; Steven Yeo, Vice President & Executive Director HIMSS Asia Pacific and John Hoyt, Executive Vice President, HIMSS Analytics
Ms. Sangita Reddy received the awards on behalf of the group. Speaking on the occasion, Ms. Reddy said " As a pioneering organization, Apollo Hospitals has always been of the firm belief that an increased use of contemporary information technology would be pivotal to enhanced patient safety and a higher standard of healthcare delivery. The HIMSS Stage 6 awards underscore our commitment to this ethos and our mission to make quality healthcare accessible to every individual. Recognition is a great motivator and the HIMSS awards will encourage us to harness information technology and nurture an ecosystem of safer healthcare in every Apollo Hospital. It reinforces our commitment to using technology to enable and effective and efficient health system for tomorrow. Much more remains to be done in our quest for quality equitable and sustainable health systems. Information technology is at the core of our strategy."
HIMSS Analytics developed the EMR Adoption Model in 2005 as a methodology for evaluating the progress and impact of electronic medical record systems for hospitals in the HIMSS AnalyticsTM Database. Tracking their progress in completing eight stages (0-7), hospitals can review the implementation and utilization of information technology applications with the intent of reaching Stage 7, which represents an advanced patient record environment.
"HIMSS Analytics congratulates Apollo Hospitals Chennai, Apollo Health City, Jubilee Hills and Apollo Hospitals Ayanambakkam, for leading the way towards health IT adoption,"said Mr. Steven Yeo, General Manager of HIMSS Analytics Asia Pacific & Middle East. "Stage 6 represents a level of sophistication that only 2.3% of hospitals in Asia Pacific have reached to date. The awards validate Apollo Hospitals' strong commitment towards patient safety and care quality through the use of advanced information technology"