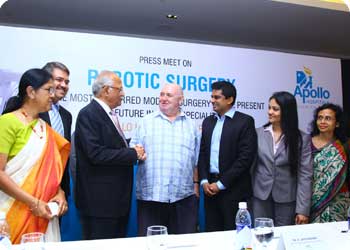 Advancement in technology plays an important role in the healthcare system, and it offers new and better ways to solve the key health problems of the new century. The latest is the Robotic surgery which has gained rapid acceptance over the past four years as the preferred mode of surgery by doctors and the patients.
The Apollo Institute of Robotic Surgery, Chennai launched in November 2011, offers world class treatment extensively in Gynaecology, Urology, Oncology, General and Bariatric Surgery. With the use of the state of the art ""da Vinci Robotic System"", Apollo Hospitals has successfully completed 56 complicated surgeries. With more number of patients opting for the robotically assisted surgery, the institute is planning to expand its reach in Cardiac, Head and Neck Surgeries.
This minimally invasive field of surgery has integrated advanced technology with computer enhanced platforms and surgical skills to improve efficiency, precision and safety. Less blood loss, faster recovery with invariably less pain and scar, lesser tissue trauma are some of the aspects that make Robotic surgery preferable to the conventional surgical procedure.
Highly complicated surgical tasks beyond the limitations of human hand are successfully treated using EndoWrist instruments attached to robotic arms that are controlled by a Robotic surgeon. Though the robot has no intelligence to conduct any single movement on its own, it is primed to carry out several safety checks per second.
Robotic Surgery is the best treatment for patients with obesity and diabetes in addition to those who require complex surgical procedures and for patients who have undergone multiple surgeries.
Dr Prathap C. Reddy, Chairman, Apollo Hospitals appreciated the overwhelming response to Robotic Surgery. He said, ""Robotic surgery is developing at a fast pace in India. With the inception of the Robotic era, there is a need to spread awareness on this modality of surgery and its technological benefits. Adopting Robotic Surgeries in various specialties will help patients across all regions to access the benefits of minimal invasive surgery.""