Pediatric specialists of Apollo Hospitals successfully completed a complex surgery on the bladder base of a 7 year old child from Africa with the assistance of a Robot. The child's urethra, the tube from the urinary bladder was crushed in a road accident.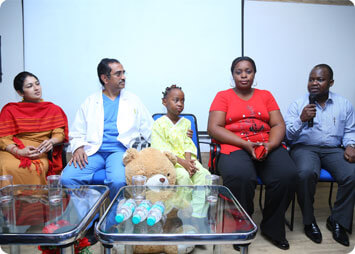 7 year old Farhana's (Name changed) urethra got damaged in a road accident; several medical attempts that she underwent in her native did not yield in any means. Farhana had to suffer physically and mentally with a tube hanging from her bladder to pass urine, she was brought to Apollo Hospitals Chennai in 2011 for medical assistance.
After a series of medical examinations, Pediatric Urologists of Apollo Hospitals identified that the child's bladder had been constantly draining to the outside without a control mechanism for almost a year, resulting into shrinking of the bladder capacity. A medical team under the supervision of Dr. V. Sripathi, Consultant Pediatric Urologist, Apollo Hospitals performed a novel surgery on the child in which, a flap of bladder muscle was fashioned into a tube (to act as the urethra) and tunneled to a normal position above the vagina.
Farhana was brought back to Apollo after a period of one year for medical examination, during which, it was identified that in the process of healing, Farhana's left ureter had been pulled closer to the bladder neck and urine was reversing its flow back into the kidney. As this reversal of flow would damage her kidney and cause urinary infection, a three hour Robotic Surgery was performed to stop the urine reflux.
Explaining the Robotic Surgical procedure, Dr. V. Sripathi, Consultant Pediatric Urologist, Apollo Hospitals said, "We did not perform open surgery to cease urine reflux, as it would leave Farhana again with tube to pass urine. With the help of Robotic arms, without reopening the bladder a new bed was made in the bladder muscle and the ureter was placed in it and sutured with ease."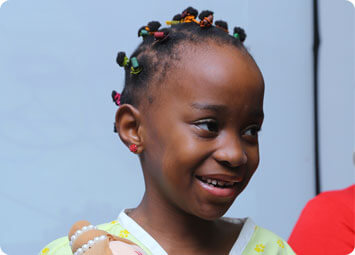 He further added that, "This is the first complex redo on the bladder base. Robotic surgery enabled us to achieve a perfect result in a very difficult situation with very minimal morbidity, with no pain and helped achieve discharge within a day. Robotic Surgery will revolutionize the practice of surgery in children especially in such complex situations without resorting to large incisions and prolonged hospitalization."
Post the complicated surgery, Farhana is now completely normal and as cheerful as any other child of her age.
Robotic surgery is the latest and greatest tool in the operating room. It gained rapid acceptance over the few years as the preferred mode of surgery by doctors and patients. Until recently it was primarily used for adults. Now, Robotic arms are working their surgical magic on child patients as well. Robotic surgery has made its way into the present age and is helping doctors in saving children.