Eastern India's first dedicated comprehensive Level III Paediatric Care Facility – ""Apollo Gleneagles Children's Centre"" was launched at Apollo Gleneagles Hospitals, Kolkata by Ms.Preetha Reddy, Managing Director – Apollo Hospitals Group.
What is Multiple Sclerosis?
Combining the experience of Asia's largest healthcare group, Apollo Hospitals and Singapore's Parkway Health along with the expertise of some of the best paediatric specialists in the country, Apollo Gleneagles Children's Centre (AGCC) delivers care in an atmosphere that's friendly and cheerful. A multi-specialty centre within the campus of Apollo Gleneagles Hospitals, it provides a range of services in the specialties of Critical Care, Cardiology, Neurology, Nephrology, Endocrinology, Orthopaedics, Paediatric Surgery, Neonatal Medicine, Adolescent Medicine, Radiology and Dentistry for newborns, children and adolescents all under a single roof.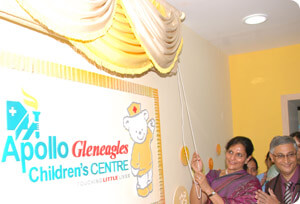 The key features of AGCC are:
Ms. Preetha Reddy, Managing Director, Apollo Hospitals Group said during the launch, "Apollo Hospitals have been the frontrunners in providing the best paediatric care in the country. Our hospitals are known for introducing new technologies and the team of paediatric specialists are relentlessly offering their expertise and services to help our thousands of
8 bedded Level III Paediatric Intensive Care Unit (PICU)
4 bedded Paediatric High Dependency Unit (HDU)
8 bedded Neo Natal Intensive Care Unit (NNICU)
Standard, Semi Private, Private and Deluxe Beds
Entertainment and Gaming Zone
Children Library
Child Development Centre (CDC)
little patients who need world class paediatric care. We are committed to bring all treatment modalities to provide Tertiary and Quaternary Level Pediatric Care in our hospitals". She also added, "The health needs of children are unique and different. Apollo Gleneagles Children's Centre's objectives are to make a world of difference in health care and well-being of children, adolescents and their families by integrating medical care, education and research to provide the highest quality care and specialized healthcare services under one roof for all children."
Among present during the launch were Dr Rupali Basu, CEO – Apollo Gleneagles Hospitals, Dr V R Ramanan, Director – Medical Services (Eastern Region) and the renowned paediatric consultants of Apollo Gleneagles Children's Centre.