The Heart Failure Association of India in association with HF Association of European Society of Cardiology (ESC) collaborated with Apollo Heart Institutes, Chennai organized the 3rd annual conference on Heart Failure
Posted by Apollo Hospitals | 03 Feb,2017
With growing number of heart related ailments in younger population, heart disease is emerging as the number one cause of death among Indians. There is a huge unmet need for managing heart failure in India and the prevalence of heart failure is estimated to be around 4 to 5 million. Heart disease is a growing epidemic in India. However, continuous advancements in treatment, surgical devices, drugs and effective cardiac transplantation methods have been changing the scenario in dealing with heart patients.
Highlighting the care provided for heart patients, Dr Prathap C Reddy, Chairman, Apollo Hospitals Group said, "Heart problems also affect other organs which makes it challenging for a single physician to provide comprehensive care. It is of utmost importance for doctors in other specialties to know about heart failure and administer essential treatments concerning multiple organs."
Heart Failure is fast becoming a staggering public health burden. India is the capital of diabetes & coronary disease across the world, both of which are causes of heart failure. "A failing heart affects all other organs too. No longer is heart failure manageable by a single doctor, making Multi-Disciplinary approach a necessity. Our interdisciplinary team of doctors include cardiologists, cardiac surgeons, anaesthetists, intensivists, pulmonologists, nephrologists, gastroenterologists, endocrinologists, immunologists and infectious disease specialists. This has led to delivering a very high level of care to our patients, of whom a large number are very young." says Dr. Sunder T, Senior Cardiothoracic & Heart-Lung Transplant Surgeon, Apollo Hospitals.
The risk factors of heart diseases include other physical conditions such as blood pressure, diabetes, kidney related ailments and so on. "A healthcare service doesn't limit to just completing the heart transplant or surgery successfully, but it also involves post-surgery care and rehabilitation. This involves proper diet regime, psychological counselling and a constant check on organ functions. We have been achieving this through our Multi-Specialty services and will continue to improve this in a cost-effective manner. Such comprehensive care was not available 10 years ago, but with developments in healthcare, we are able to provide interdisciplinary services. Access to such healthcare is improving and will continue to improve in the coming years," he added.
There is an increasing number of heart transplants in Tamil Nadu since 2008. With improved technology, equipments and infrastructural developments, organ donation for transplants across states, has become more effective. On multi-organ transplants, Dr Sunder says, "Heart Failure by its inability to pump blood eventually affects all organs in the body – notably the lungs, kidneys and the liver. In advanced cases, performing a heart transplant alone will not suffice and combined transplants of heart , lung, kidney or liver may be needed."
Apollo Hospitals, Chennai has performed the largest number of multi-organ transplants – combined heart-lung, combined heart-liver and combined heart-lung-kidney transplants in India. "The multi-disciplinary team has looked into ways to contain costs without compromising on patient safety and we would be happy to deliver the same standards of care to patients with heart failure who come under government schemes so that the poor people will be benefited" he added.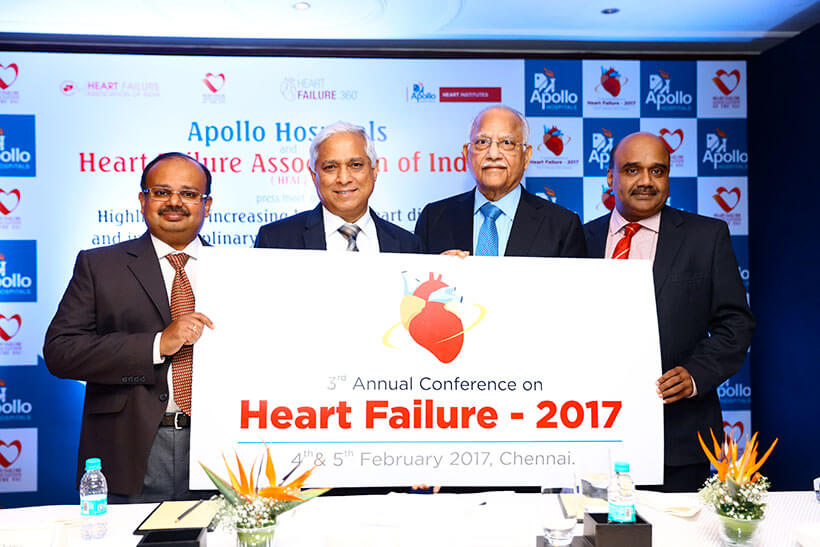 Posted by:
Apollo Hospitals
03 Feb,2017
Get the best of health related stories delivered to your inbox.
Management of Aortic Aneurysm & Dissection Surgery Conclave 2022 was organized by Apollo Hospitals in Chennai. The co...
Date: 02 Nov,2022
Apollo Proton Cancer Centre (APCC) conducted its 2nd Apollo Annual Proton Practicum from May 20-22, 2022. Over 700 pa...
Date: 04 Jun,2022
Apollo Cancer Centres proudly launched the "The Power to fight Breast Cancer is in Your Hands" campaign, which ill...
Date: 02 Apr,2021