Apollo Hospitals organized the Management of Aortic Aneurysm and Dissection Surgery Conclave.
Posted by Apollo Hospitals | 18 Oct,2022
Management of Aortic Aneurysm & Dissection Surgery Conclave 2022 was organized by Apollo Hospitals in Chennai. The conclave aimed at bringing national and international experts from across the India and the Globe to deliver their thoughts, applications, and advances in aortic and vascular surgery. The Institute of Aortic Surgery and Dissection surgery was inaugurated during this conclave by Ms. Preetha Reddy, Executive Vice Chairperson, Apollo Hospitals Group. This institute would focus on prevention and treatment of major aortic disease in the community by creating awareness in high risk population.
Reputable National & International Faculty including Dr Khamin Chinsakcahi, Associate Professor in Vascular Surgery, Siriraj Hospital-Mahidol University, Bangkok – Thailand, Dr Shiv Chaudary, Professor & Head of the Department of Cardiothoracic Surgery, All India Institute of Medical Sciences, New Delhi, Dr Anil Bhan, Senior Consultant Cardiothoracic Surgeon, Medanta Hospital, New Delhi and Dr George Joseph, Senior Intervention Cardiologist, Christian Medical College, Vellore were an integral part of this one day conclave.
Read More about the Management of Aortic Aneurysm & Dissection Surgery Conclave 2022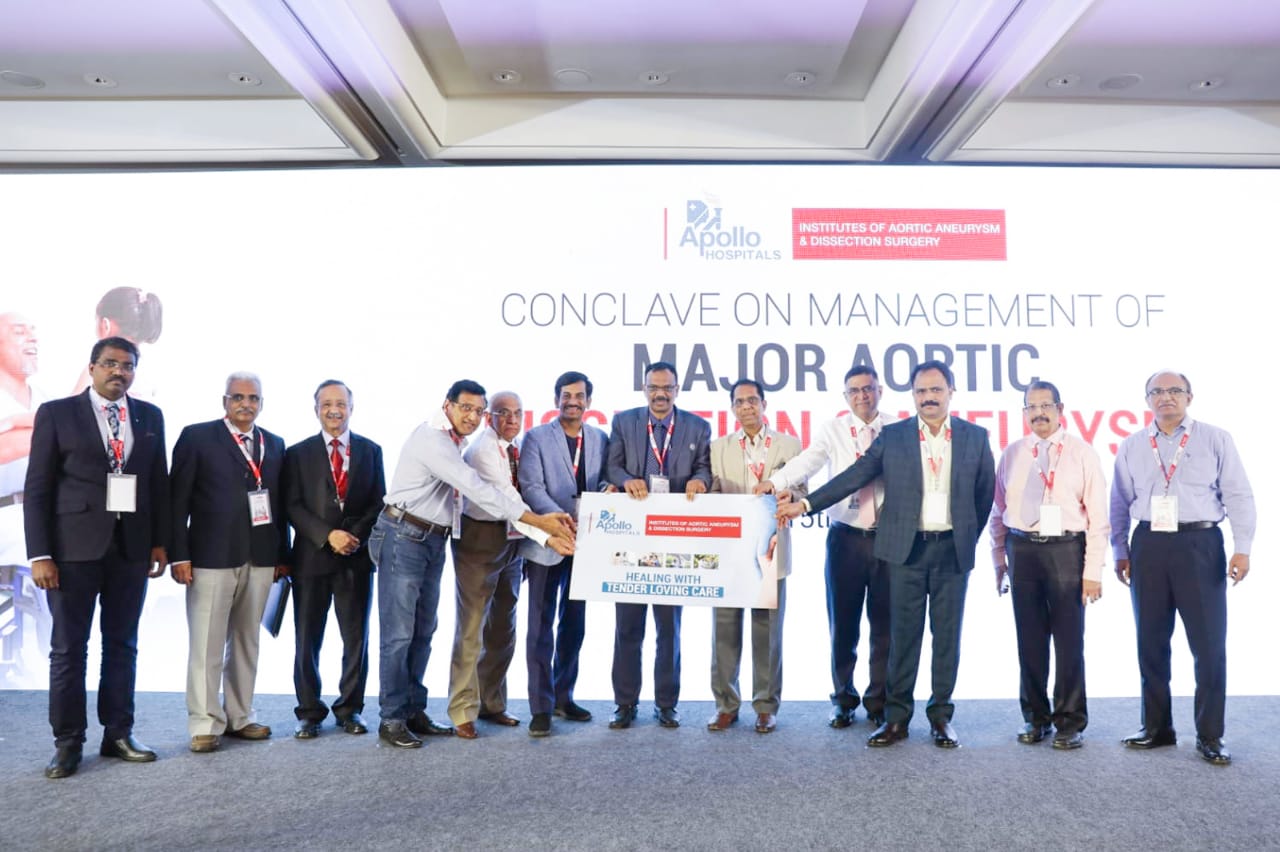 Posted by:
Apollo Hospitals
18 Oct,2022
Get the best of health related stories delivered to your inbox.
Apollo Hospitals organized the 9th Edition of the International Patient Safety Conference (IPSC) and the 10th Interna...
Date: 22 Feb,2023
Apollo Proton Cancer Centre (APCC) conducted its 2nd Apollo Annual Proton Practicum from May 20-22, 2022. Over 700 pa...
Date: 04 Jun,2022
Apollo Cancer Centres proudly launched the "The Power to fight Breast Cancer is in Your Hands" campaign, which ill...
Date: 02 Apr,2021