Indraprastha Apollo Hospitals Delhi support lights up the track at Ramleela Ground during inaugural NOIDA-10km Run
Posted by Apollo Hospitals | 08 Jul,2012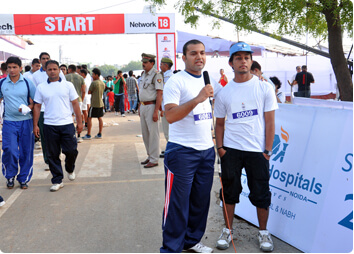 In association with Supertech Group and Network18, Indraprastha Apollo Hospitals today organised the NOIDA 10K Run at Ramleela Ground, NOIDA Stadium, Sector 21A, Noida. Meant to promote Clean, Green and Safe NOIDA, the 10-km run drew enthusiastic participation. In the wee hours of Sunday at 5:30 AM, around 13,000 people participated in the 10-km run tagged 'RUN KO BANAO FUN'.
The run was supported by Hindustan Times, Barista-Lavazza, Smile Foundation, Bisleri, PVR Cinemas, Spice Mobile, Fever 104 FM, Lotto, Running and Living, Make a Wish, Cafe Buddy and Gold's Gym.
Organized to spread awareness about healthy living and emphasize the importance of clean and green surroundings, it also aimed to bring people together and motivate the community to take the necessary steps possible towards a healthy environment. The messages promoting the Sunday run included: Run for clean, green and safe Noida. Run for a strong Noida. Run for a healthy Noida. Run for a healthy you.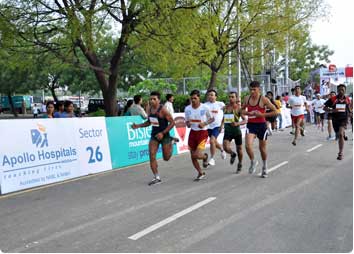 Mr Jaideep Gupta, MD Indraprastha Apollo Hospitals, said: "Indraprastha Apollo Hospitals has always promoted initiatives that foster healthy living. The objective behind supporting such a run is to spread awareness about the tangible benefits of exercise and encourage positive action. Simultaneously, this initiative is also meant to accelerate awareness about sensitive environmental issues and encourage healthy living habits."
With thousands of runners racing across the track, the stadium was abuzz with positive energy. The run also acted as a massive show of solidarity and unity of purpose, not only via the partners and sponsors of the run but also through the active participation of people in and around Noida. Almost 40 doctors and nurses from Indraprastha Apollo Hospitals, as well as their families, also ran for the cause.
Posted by:
Apollo Hospitals
08 Jul,2012
Get the best of health related stories delivered to your inbox.
Apollo Hospitals organized the 9th Edition of the International Patient Safety Conference (IPSC) and the 10th Interna...
Date: 22 Feb,2023
Management of Aortic Aneurysm & Dissection Surgery Conclave 2022 was organized by Apollo Hospitals in Chennai. The co...
Date: 02 Nov,2022
Apollo Proton Cancer Centre (APCC) conducted its 2nd Apollo Annual Proton Practicum from May 20-22, 2022. Over 700 pa...
Date: 04 Jun,2022