"Control Infection Today for a Healthy Tomorrow"… the 1st Apollo International Forum on Infection Control (AIFIC)
Posted by Apollo Hospitals | 05 Jan,2013
Apollo Hospitals unites healthcare professionals from around the globe to discuss ways to combat the spread of infection. The 2-day forum focuses on best practices, existing concerns and latest advances in the field of infection control and prevention.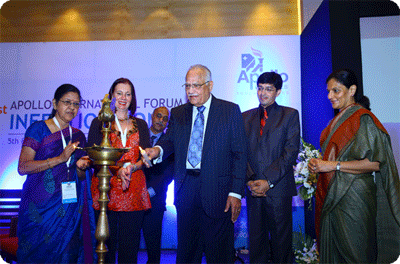 The 1st Apollo International Forum on Infection Control (AIFIC) was inaugurated today by Dr. J. Radhakrishnan, Secretary, Department of Health and Family Welfare, Government of Tamilnadu in the presence of Dr. Prathap C. Reddy, Chairman, Apollo Hospitals Group. Apollo Hospitals, pioneer in healthcare sector is hosting this 2 day International Forum on Infection Control for healthcare professionals to the latest advances in Infection Control practices and strategies.
Infection Control is a rapidly evolving field within the healthcare sector, it is fundamental in preventing spread of diseases. Infection prevention and control measures aim to ensure the protection of those vulnerable to acquire infection both in the general community and while receiving care in hospitals. Good practices adopted universally across health care and community-based settings contribute significantly to disease prevention.
The 1st Apollo International Forum on Infection Control (AIFIC) is indeed a unique platform for health experts from across the world to discuss best practices, existing concerns and latest advancements in the field of Infection Control while promoting reflective discussions among speakers and delegates from various disciplines. The 2 day international forum brings together more than 20 renowned international and national speakers to discuss the future of infection control in 2020, prevention of antimicrobial resistance and confronting Multi-Drug Resistant Organisms (MDRO).
Speaking on the occasion, Dr. Prathap C. Reddy, Chairman, Apollo Hospitals Group said, "Infection Control is one of the top most priorities in hospitals to help improve patient outcomes and reduce length of stay. With advent of newer antibiotics there has been a progressive rise in the incidence of antibiotic resistance. While it is a worldwide phenomenon, the nature of antibiotic resistance varies widely from country to country. Even though this is an undesirable and inevitable trend, recognizing, curtailing and managing this is a challenge."
He also added, "Infection control is a critical and key initiative in every Apollo hospital and it helps us in meeting international norms in Infection control and assures world class clinical outcomes, exceptional patient safety and satisfaction."
Clinicians, infection control nurses, quality professionals, researchers, microbiologists, hospital administrators, students and other healthcare professionals from various countries are a part of this international forum.
Ways to Prevent Infection
Wash hands frequently
Cover mouth and nose while sneezing and coughing
Use safe cooking practices
Do not share personal items like toothbrushes, towels, razors, handkerchiefs, and nail clippers
Avoid close contact with others during illness
Get proper vaccination to fight the spread of infection
Posted by:
Apollo Hospitals
05 Jan,2013
Get the best of health related stories delivered to your inbox.
Management of Aortic Aneurysm & Dissection Surgery Conclave 2022 was organized by Apollo Hospitals in Chennai. The co...
Date: 02 Nov,2022
Apollo Proton Cancer Centre (APCC) conducted its 2nd Apollo Annual Proton Practicum from May 20-22, 2022. Over 700 pa...
Date: 04 Jun,2022
Apollo Cancer Centres proudly launched the "The Power to fight Breast Cancer is in Your Hands" campaign, which ill...
Date: 02 Apr,2021