Apollo Gleneagles Hospital, Kolkata conducted an awareness camp on emergency care during heart attacks
Posted by Apollo Hospitals | 04 Dec,2017
Non-communicable diseases have been in the news lately, reason being that it is now the major killer in India. Non-communicable diseases mean the lifestyle diseases like heart attack, blood pressure, strokes etc.
Out of the lifestyle diseases, the major killer is an acute coronary artery syndrome or a heart attack. The usual presentation of a heart attack is a chest discomfort, which needs immediate attention. Statistics show that 1 in 10 heart attack patients do not even get to reach to the hospital. In a heart attack there are two major ways by which the artery can be opened up and the best way is an emergency angioplasty. This is the gold standard which is being practiced all over the world today, but this requires cath labs and expert cardiologists to be available 24 hours. For the majority of people, living in the outskirts of the city, this kind of care is not available immediately so the way forward would be to give what is called a pharmacological treatment.
Indians are seen to have heart attacks almost a decade earlier than the people living in the West. This means people in their productive best, that is in their forties and the fifties suffer from heart attacks.
Speaking on this, Dr Debashish Ghosh, Senior Consultant, Cardiology, Apollo Gleneagles Hospitals explained, "The most serious and the most life threatening out of all the cardiac diseases is acute heart attack. The next few hours after a heart attack is extremely crucial, hence it's called the golden hour. If treatment doesn't begin during the golden hour, the damage is permanent and hence Pharmaco Invasive Therapy, which establishes blood flow temporarily is essential as an immediate support. Patient can then be brought to a bigger tertiary care centre for further treatment. Thus Pharmaco Invasive Therapy can be helpful and is being developed in India to treat the problem urgently in smaller set-ups even in rural areas."
Apollo Gleneagles Hospitals also conducted a free health check camp at the Press Club for about 100 journalists. The tests included cardiac screening like ECG, BP, Pulse, BMI followed by consultation for general health. Speaking about the initiative Mr Rana Dasgupta, CEO Apollo Gleneagles Hospitals said, "We believe in prevention and always try to build awareness so that people take care of their health. It is often noticed that professionals ignore their health due to their busy schedule of work. Hence, we wanted to reach out to our media friends and offer them some essential clinical tests. The Centre of Cardiology at Apollo Gleneagles Hospital, Kolkata, offers comprehensive treatment for heart problems and works round the clock to care for your heart in the best possible way. With eminent cardiac specialists, dedicated cardiac operation theatres, digitalized cath labs and cardiac ICUs, your heart receives prime attention. Medical management, immediate angioplasty, surgery – we do whatever is best for the patient round the clock."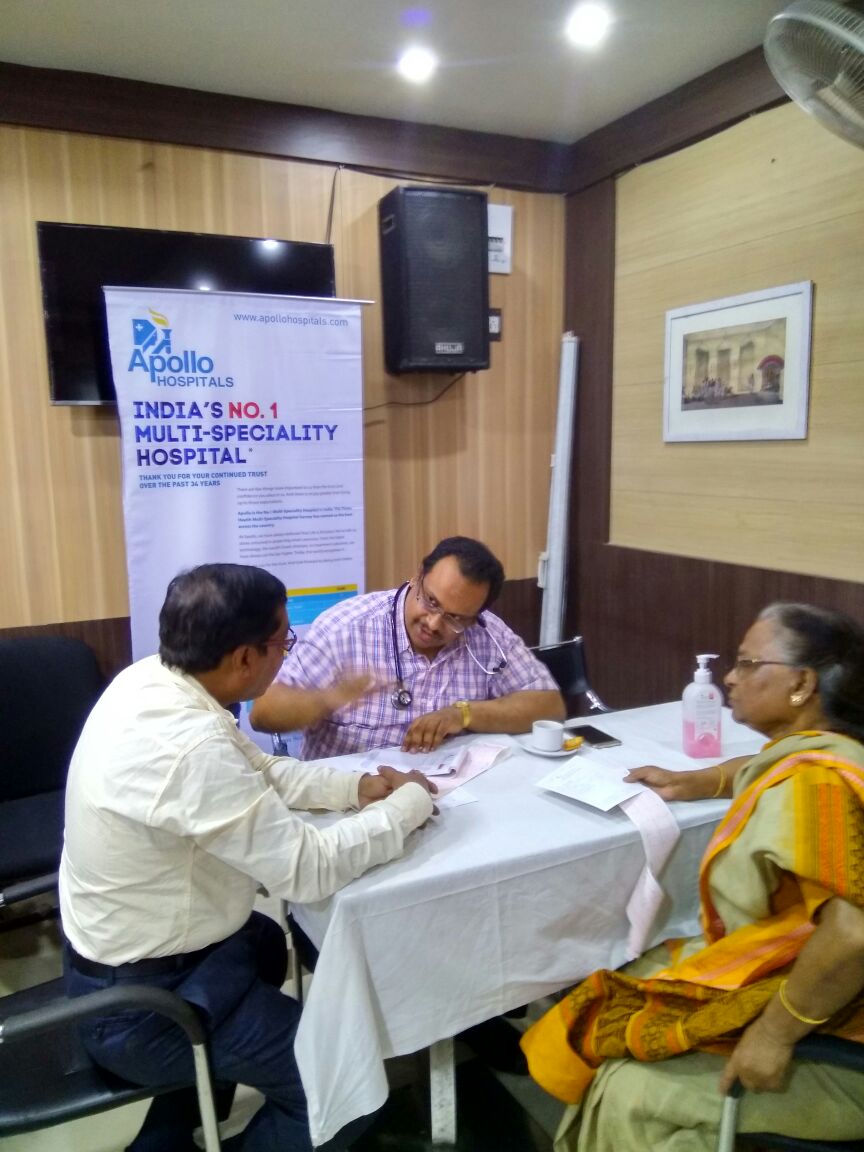 Posted by:
Apollo Hospitals
04 Dec,2017
Get the best of health related stories delivered to your inbox.
Management of Aortic Aneurysm & Dissection Surgery Conclave 2022 was organized by Apollo Hospitals in Chennai. The co...
Date: 02 Nov,2022
Apollo Proton Cancer Centre (APCC) conducted its 2nd Apollo Annual Proton Practicum from May 20-22, 2022. Over 700 pa...
Date: 04 Jun,2022
Apollo Cancer Centres proudly launched the "The Power to fight Breast Cancer is in Your Hands" campaign, which ill...
Date: 02 Apr,2021