Indraprastha Apollo Hospitals, Delhi has successfully treated a rare congenital disorder in a 3-month-old baby.
Posted by Apollo Hospitals | 15 Jun,2022
A rare case of congenital heart disease, 3-month-old Baby Priyansh was successfully operated at Indraprastha Apollo Hospitals in New Delhi. The child was born with a complication called Obstructed Total anomalous pulmonary venous connection, a birth defect of the heart in which the veins bringing blood back from the lungs (pulmonary veins) don't connect to the left atrium like usual. Instead they go to the heart by way of an abnormal (anomalous) connection.
After the baby's condition deteriorated with acute breathlessness the child got admitted to a Government hospital where heart disease was suspected, but his condition started deteriorating further and he was brought to the emergency at Indraprastha Apollo Hospitals. On admission, the child was on tube ventilation and was immediately transferred to the ICU under the supervision of Dr Manisha Chakrabarti, Senior Consultant – Pediatric Cardiology, Indraprastha Apollo Hospitals, New Delhi. The baby was stabilized and Echo was done. He was diagnosed with Cyanotic heart disease: Obstructed TAPVC. Surgical repair was done by CTVS Surgeon Dr Rajesh Sharma with the help of Anesthetist Dr Nitya Bisarya on the same day, since any delay would have been fatal. Post-surgery, the child was kept on a ventilator till the time his heart and lung function stabilized.
Dr Manisha Chakrabarti, said, "On admission the child was very critical, breathing heavily and had irregular vitals. We immediately did an echo that revealed this rare congenital heart disorder and performed surgery on the same day. Post-surgery the child needed to be in ICU for 11 days, under care of our Cardiac Intensivist Dr Vishal Singh, till the time his heart and lung function were normalized completely. The baby was also given aggressive respiratory therapy. On 16th May, the child was discharged in a healthy condition."
Out of all congenital heart diseases, this condition is one of the rarest. While there is no specific reason for its occurrence, there can be multiple factors responsible like chemical exposure, genetic syndrome, infections during pregnancy and unmonitored use of medicines by the mother.
Dr Manisha Chakrabarti stressed on the fact that such conditions have a very good prognosis if operated on time and every effort should be taken for transfer of such babies to appropriate units once suspicion is made. She thanked the Government doctor's initiative in stabilizing the baby and motivating the parents to consent for the high risk surgical procedure.
Posted by:
Apollo Hospitals
15 Jun,2022
Get the best of health related stories delivered to your inbox.
In a rare feat, the Surgical Transplant team at Apollo BGS Hospitals, Mysuru performed a Pediatric Liver Transplantat...
Date: 21 Jun,2022
A High-risk surgery was successfully performed on a 102-year-old elderly patient for the first time at The Institutes...
Date: 13 Jun,2022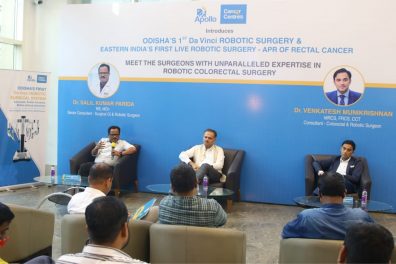 Frontrunner in introducing unparalleled advanced technological expertise, Apollo Cancer Centres (ACC), ranked as the ...
Date: 26 May,2022