A team of doctors at Apollo Hospitals, Ahmedabad has successfully performed liver transplant on a7-month-old baby, the first liver transplant of infant in Gujarat.
Posted by Apollo Hospitals | 13 Oct,2023
In a remarkable medical achievement, Apollo Hospitals Ahmedabad has successfully performed a liver transplant on a 7-month-old male child, weighing just 5.5 kg. The feat of the first-ever liver transplant for an infant under the age of one in Gujarat and marks a significant milestone in the field of pediatric liver transplantation in the state.
An experienced team of healthcare experts were involved in the transplant including Prof. Darius Mirza, a stalwart with experience, having led the Birmingham team in performing over 6,000 liver transplants across the globe. Prof. Mirza, The Lead Liver Transplant Surgeon, Western region, Apollo Hospitals Group, joined Dr. Chirag Desai, Senior Liver Transplant Surgeon, Dr. Pathik Parikh, Liver Transplant Physician, Dr. Pushkar Srivastava, Dr Shailesh Sable (Transplant Surgeon), Dr Rohan Chaudhary (Transplant Surgeon), Head of Department- Pediatric intensivist and Neonatologist, along with a large, experienced team of specialists to offer the best quality care in the management of liver diseases and transplant in Gujarat.
The patient was a male child from Beyt Dwarka, Gujarat. The child's medical challenges began with the onset of jaundice within a few weeks of his birth. Unfortunately, the condition progressed rapidly, leading to irreversible liver damage due to a genetic disease known as Progressive Familial Intrahepatic Cholestasis (PFIC).
Dr. Pathik Parikh (Senior Liver Transplant Physician), at Apollo Hospitals Ahmedabad, said, "When we diagnosed the child with PFIC, we knew there was no alternative but to perform a liver transplant to prevent further damage to other vital organs. The child's parents, who are also young adults, consented to the procedure on being explained the seriousness of their child's condition."
Since the chance of getting a liver for such a young child is very low, the mother donated a portion of her liver for the transplant. The team at Apollo Hospitals, Ahmedabad faced several challenges before, during and after the surgery due to the complex nature of the surgery. One of the biggest challenges was the child's extremely small body. Meticulous surgical planning was required to ensure the child was nutritionally optimized to tolerate the 8–10-hour surgery.
According to Dr. Pushkar Srivastava, Head of Department- Pediatric Intensivist & Neonatologist at Apollo Hospitals Ahmedabad, the surgery also presented unique difficulties.
"Children of such a young age present a unique challenge. Their blood vessels are very small, 1-2 mm in size. While supplying the entire organ after transplant they are very vulnerable to blockage which has to be prevented by blood thinner which increases the risk of bleeding in the post-operative period. Even the slightest blood loss is not tolerated by small babies this young. On top of that, babies who are inherently more prone to infections have to be given immune suppression medicine to prevent transplant rejection. Maintaining heart rhythm was an additional challenge for this child. We came out with flying colours and this surgery put us altogether in a different league as compared to other Liver Transplant Units in the State. Teamwork of people from various specialties, excellent nursing care and state of the art infrastructure of Apollo were vital for our success," said Dr. Pushkar Srivastava.
Making stitches on such small veins and ensuring blood flow continues is extremely challenging and the most critical part of the surgery. Even the most experienced surgeons can falter while performing this procedure, but the team at Apollo Hospitals, Ahmedabad came through.
The successful liver transplant was performed on the child on September 25, and he is now recovering well."The child is feeding normally, and the jaundice has disappeared. Our team is managing the post-surgery challenges, including immune suppression and nutrition care; it is still early days, and we expect the child to continue to improve" said Prof Dr. Darius Mirza, the Lead Liver Transplant Surgeon, Western Region, Apollo Hospitals Group at Apollo Hospitals Ahmedabad.
The child was discharged from the hospital, a fortnight after the successful transplant, marking the beginning of a new and healthy chapter in his life.
Mr. Neeraj Lal, COO of Apollo Hospitals Ahmedabad, lauded the medical team for its remarkable achievement."Prof Darius Mirza brings huge international experience which will benefit our patients. Our liver transplant team will offer quality care in liver disease management and transplantation. The successful liver transplant not only offers hope to the child and his family but also reflects the exceptional skills and dedication of our team in setting new benchmarks in healthcare," Mr. Lal added.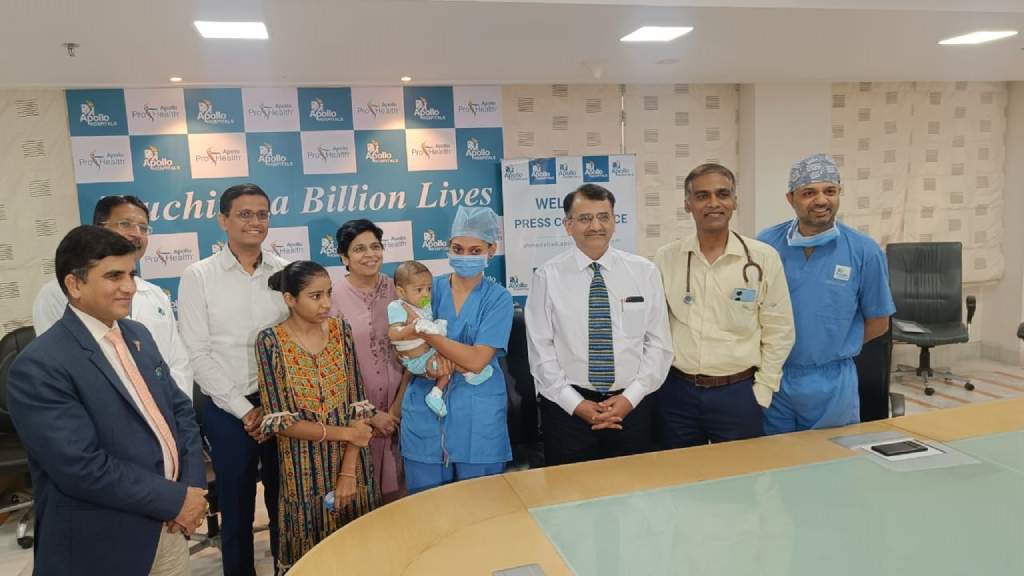 Posted by:
Apollo Hospitals
13 Oct,2023
Get the best of health related stories delivered to your inbox.
In an effort to uphold standards of clinical excellence and elevate standards of care for those with cardiological co...
Date: 06 Nov,2023
Apollo Hospitals is the largest Cardiac care program in India and one of the leading cardiac programs in the world in...
Date: 28 Sep,2023
Apollo Hospitals continues to spearhead advancements in healthcare by providing accessible and top-quality medical se...
Date: 22 Sep,2023