Apollomedics Super Specialty Hospital, Lucknow successfully performed liver transplant on two patients from Prayagraj.
Posted by Apollo Hospitals | 16 Jan,2023
Mr. Vinod K Patel and Mr. Md Mansoor underwent successful liver transplants at Apollomedics Hospital Lucknow. Relatives of both the patients who donated part of their liver are also healthy.
Mr. Vinod K Patel and Mr. Md Mansoor had reached a state of severe abdominal pain, vomiting, jaundice and impaired thinking. On getting tested by the doctors at Prayagraj, it was found that their livers were severely damaged and transplant was the only option left. They were advised to go to Mumbai, Delhi, Chennai or Hyderabad for liver transplant. But the long distance and the added expenses were challenges for both the patients.
Both these patients then consulted Dr. Waliullah Siddiqui, Consultant Surgical, Gastroenterology HPB & Liver Transplant at Apollo Hospital, Lucknow. Dr Siddiqui told them all about the liver transplant facilities available at Apollomedics Hospital Lucknow. He also explained in detail about the cases of successful liver transplant already done at Apollomedics Hospital. The transplant was successful due to the superspecialist doctors and ultramodern medical equipment available at Apollomedics Super Specialty Hospital, Lucknow. Both the patients and donors are completely healthy now.
MD & CEO, Apollomedics Hospital, Dr Mayank Somani said, "Apollomedics Super Specialty Hospital is the first private hospital in the state, apart from NCR, to be licensed for heart and lung transplant along with other organ transplants. Apollomedics Super Specialty Hospital, Lucknow has an in-house team of super specialist doctors present 24×7, who can take a quick decision on the need for a transplant and perform a timely transplant, which can save a patient's life."
Dr. Somani explained, "The liver is the only organ in the human body that can regenerate. Only 25% of the original liver tissue is needed for this to happen. If a person needs a liver transplant and a close relative donates a small part of the liver, it returns to its original size in about four weeks."
Dr. Waliullah Siddiqui said, "Post-transplant, patients have to visit the hospital frequently for follow-up so that doctors can regularly check their recovery and acceptance status of the transplanted liver. It is very convenient for the patients of Prayagraj to travel to Lucknow and meet the doctor regularly for follow-up.
Every year in India, due to the unavailability of donated organs, the lives of about 5 lakh people are at risk. This is because India has one of the lowest rates of voluntary organ donation in the world. The biggest reason for this is lack of awareness, along with religious beliefs, cultural misconceptions and prejudices. If the organ of a relative is not available, the waiting period of the patients needing organ transplant becomes longer.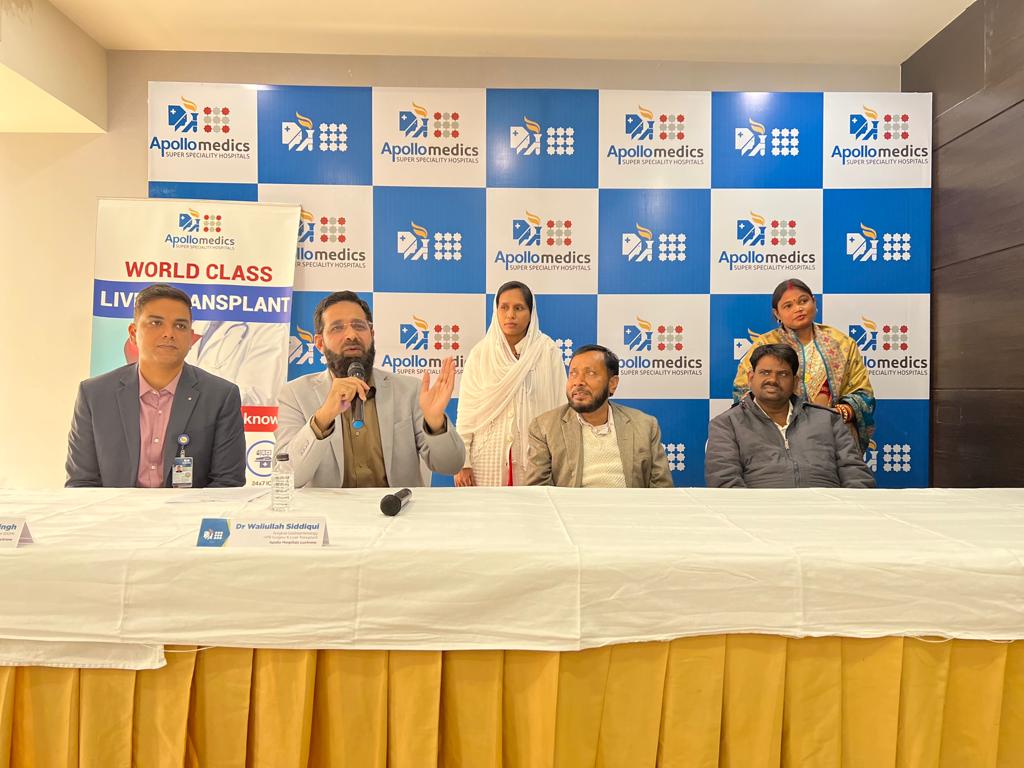 Posted by:
Apollo Hospitals
16 Jan,2023
Get the best of health related stories delivered to your inbox.
Adding another feather to its cap, Apollo Hospitals, Seshadripuram, Bangalore brings in India's very first prostate c...
Date: 23 Jan,2023
In a rare case of esophageal diverticulum, a 59-year-old man from Yangon, Myanmar underwent a successful robot assist...
Date: 12 Jan,2023
In a case of a large parapharyngeal space tumour, (tumour in the deep tissues of the neck, nerves, lymph nodes, and p...
Date: 12 Jan,2023