Apollo Telehealth: Revolutionizing Healthcare Access Through Innovation.
Posted by Apollo Hospitals | 21 Sep,2023
Apollo Hospitals continues to spearhead advancements in healthcare by providing accessible and top-quality medical services remotely. With a steadfast commitment to improving global healthcare, Apollo Telehealth has transformed the way patients and healthcare professionals interact, making quality medical care available to all, regardless of geographical barriers – impacting the lives of more than 20 million individuals.
Empowering Patients Through Virtual Healthcare
Apollo Telehealth's innovative approach to healthcare delivery has made medical consultations accessible from anywhere. Technology has reduced travel and wait time and also improved outcomes by providing access to a doctor in just a few clicks. Recently, a 4-year-old baby was brought to an Apollo Telemedicine center at Kaza, Himachal Pradesh, with severe lesions on his face. A tele-consultation was immediately arranged with a Senior Dermatologist at Chennai; who was able to diagnose the condition as Impetigo Contagiosa and prescribed IV antibiotics. The treatment was carried out with continuous monitoring which improved the condition of the baby.
With a team of 200+ members, Apollo Telehealth's command centre handles over 20,000 clinical transactions daily. These services encompass emergency, primary, secondary, and other essential preventive healthcare services, alongside quality audits and training sessions.
Access to a Comprehensive Range of Services
Apollo Telehealth offers a comprehensive suite of remote healthcare services, including specialized services, such as Tele-Emergency, Tele-Radiology, and Tele-Ophthalmology, extend to even the most distant regions, enhancing the healthcare landscape and improving the overall quality of life.
A testament to the efficiency of the services is the case of a 90-year-old woman from the distant village of Khumulwng, West Tripura. Using Apollo's Tele-Emergency service, she was quickly admitted to the Kherengbar Hospital's Tele- Emergency centre. Preliminary evaluations indicated a looming hypertensive heart failure. Recognizing the gravity of the situation, the paramedics team promptly connected with Apollo Multi- Speciality Hospitals in Kolkata. This rapid intervention was made possible under the expert supervision of leading emergency care physicians, leveraging Apollo's cutting-edge digital systems. Their timely guidance ensured the patient's stabilization, eliminating the delays and risks associated with distant travel.
Till date, over 3000 Tele-Emergency cases have been successfully stabilized through the implementation of Tele-Emergency services in states like Himachal Pradesh, Tripura, and others. Timely interventions as such continue to save countless individuals across the country.
Unparalleled Quality and Expertise
At the heart of Apollo Telehealth's efforts lies its commitment to maintaining the highest standards of medical excellence. The platform offers a network of highly qualified and experienced healthcare professionals who are dedicated to providing accurate diagnoses and evidence-based treatment plans. The virtual platform enables patients to tap into the expertise of doctors and specialists they might not have had access to otherwise.
For instance, in Jengal, West Garo Hills, a woman confronted a dental emergency as fluid seeped from her lower teeth, resulting in acute pain and swelling. Left untreated, she was on the brink of developing the dangerous Ludwig's Angina. With no local dental specialists available, the situation appeared bleak. Yet, the recent advent of telemedicine in the area proved to be a game-changer. Leveraging a live video link with a facial maxilla surgeon from the US, the local medical staff performed nerve blocks, drained the pus, and extracted three teeth, ensuring her rapid recovery. Such timely interventions are a testament to the power of technology and the TeleHealth platform's ability to connect patients with global experts.
Breaking Down Barriers to Healthcare Access
Apollo Telehealth platform is democratizing healthcare by ensuring that individuals who lack easy access to medical facilities can still receive timely and expert medical attention. This not only improves individual health outcomes but also contributes to a healthier society at large.
In the high-altitude region of Kaza, Apollo Telehealth's telemedicine proved pivotal in safeguarding a mother and her newborn. At the Kaza Community Health Centre (CHC), the mother was identified with Abruptio Placentae. Following a C-section, she encountered hemorrhagic issues, and the premature infant exhibited signs like cyanosis. Given Kaza's remote location, both received continuous telemedical oversight from Apollo experts for six days. Subsequently, they were relocated to Mission Hospital in Manali, where intensive care facilitated their recovery.
Apollo Telehealth has established more than 700 centers, in 7 states.  This widespread presence has made quality healthcare more accessible to the masses.  
On the future vision for Telehealth Dr Sangita Reddy, Joint Managing Director, Apollo, said "As the world continues to evolve, Apollo Telehealth remains at the forefront of healthcare innovation. By leveraging cutting-edge technology, data security measures, and a patient-centric approach, Apollo Telehealth is working towards creating a world where quality healthcare knows no bounds. Our commitment to extending quality healthcare to underserved communities has never been stronger. Over the next five to ten years, we foresee a quantum leap in healthcare access, facilitated by the integration of technology in every aspect of healthcare." 
Vikram Thaploo, CEO – Telehealth at Apollo Hospitals Enterprise Limited, said, "At Apollo Telehealth, our steadfast commitment to innovation has been a game-changer in the Indian healthcare sector. Our unique technological solutions and strategic partnerships with various governmental and corporate entities across the country have fundamentally reshaped the way patients access and experience medical care. We remain dedicated to expanding our services to reach more communities in need."    
Dr. K Ganapathy, Director, Apollo Telemedicine Networking Foundation (ATNF) and Apollo Telehealth, commended Apollo Telehealth's tireless efforts in revolutionizing healthcare accessibility. He emphasized, "Telemedicine stands as a game changer in the Indian healthcare landscape. Apollo Telehealth's transformative approach has bridged geographical gaps, ensuring top-notch medical services reach millions. This innovation is reshaping healthcare interactions, making quality care a universal right. The Apollo Telehealth platform's impact is profound, reaching far and wide, and exemplifying the potential of technology in revolutionizing healthcare delivery. It's not just a service; it's a movement towards equitable and accessible healthcare for all."
Prof. Ravi P Mahajan, Director Critical Care Integration & Transformation, Apollo said "Apollo Telehealth is more than a healthcare service; it's a lifeline reaching the most remote corners of our nation, ushering in a revolution where quality healthcare is just a click away. Our command centre of over 200 dedicated professionals handle thousands of cases daily, offering emergency and preventive healthcare services to individuals across the country. With a vision anchored in accessibility and clinical excellence, we are transforming the global healthcare standard, ensuring that distance no longer dictates the quality of healthcare one receives"
Apollo Telehealth has played a transformative role in shaping the future of Telehealth in India. From introducing the first V-sat Tele-Emergency services in Himalayan regions, to bridging urban-rural disparities with the establishment of 350,000 touchpoints nationwide; these initiatives have profoundly enhanced healthcare accessibility and set a benchmark for integrated medical services across the country.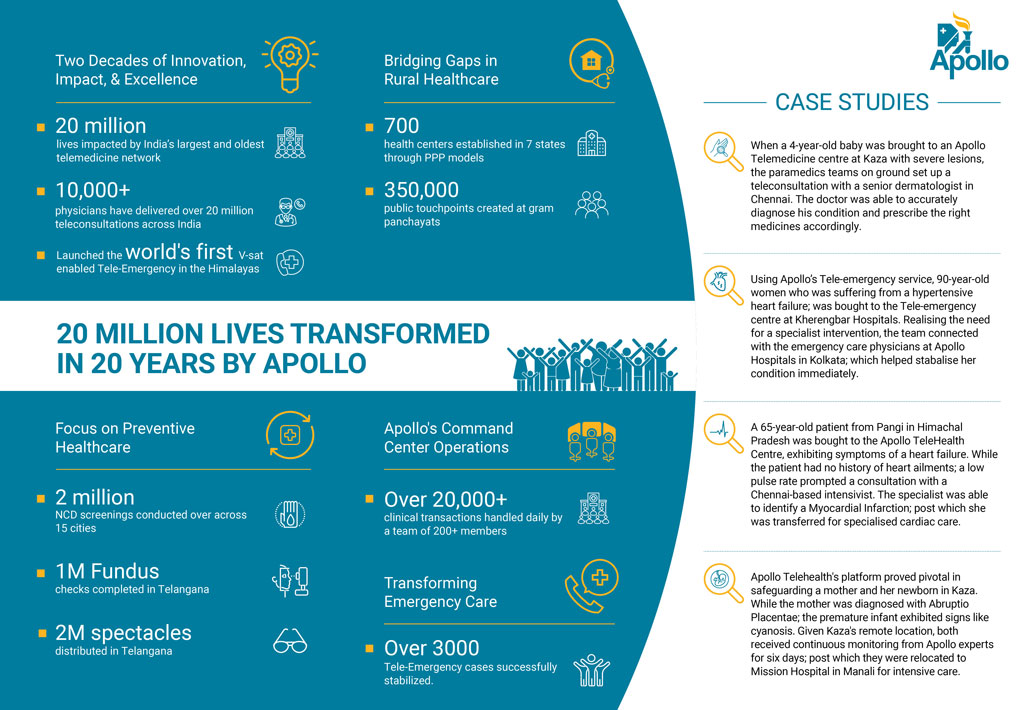 Posted by:
Apollo Hospitals
21 Sep,2023
Get the best of health related stories delivered to your inbox.
In an effort to uphold standards of clinical excellence and elevate standards of care for those with cardiological co...
Date: 06 Nov,2023
In a remarkable medical achievement, Apollo Hospitals Ahmedabad has successfully performed a liver transplant on a 7-...
Date: 16 Oct,2023
Apollo Hospitals is the largest Cardiac care program in India and one of the leading cardiac programs in the world in...
Date: 28 Sep,2023