Apollo Hospitals, Visakhapatnam successfully performed its first ever triple transplant, giving a new lease of life to three different patients
Posted by Apollo Hospitals | 29 Apr,2017
The transplant was perfomed at Apollo Hospitals – Health City, Arivola and the kidneys, heart and liver were harvested from a 20 year old brain dead person.
The medico, hailing from Kalahandi district of Odisha, sustained injuries after falling from a height at a construction site and was admitted to Apollo Hospitals. The Doctors declared him brain dead the next day. Sourav's parents were counselled about the Jeevandan programme after which they gave their consent and the family voluntered for organ donation to give a new lease of life to people awaiting organs. The organs were then allocated to beneficiaries by Jeevandan.
The heart transplantation, performed for the first time was done on a patient from Guntur who was suffering from Dilated Cardiomyopathy (DCM) for the past 2 years. The kidney was successfully transplanted to a Patient from Simhachalam who was suffering from chronic kidney disease for the past 3 years. The liver transplantation was performed on a patient from Kadapa district who was suffering from decompensated chronic liver disease for the past one and a half years. The lungs and eyes of the deceased were sent to Chennai for transplantation and LV Prasad Eye Institute of Vizag respectively.
The heart transplant was performed by Dr. AGK Gokhale along with Dr. Subramanyam, Dr. Farooqi, Dr. Trivedi and Dr. Ravi. Liver transplant was perfomed by Dr. Manish Verma, Dr. Manjunath along with Dr. Muralidhar Nambada, Dr. B Sathish Babu and Dr. Srinivas. Kidney transplant was performed by Dr. Subba Rao and team and the Critical Care team comprised of Dr. Atchyut, Dr. Disha and team.
"Every brain dead person can save 8 lives by donating his/ her organs, provided the transplantation is done within a span of few hours" said Mr. Sandeep Chathrath, Regional CEO – Apollo Hospitals (Andhra Pradesh & Telengana). He added "The lungs, kidney, liver, heart, eyes and pancreas can be harvested from a brain dead person for transpalnting into a patient". Specialists suggested that the heart, kidney and the liver should be done within 4 hours, 6 – 8 hours and 10 – 12 hours respectively.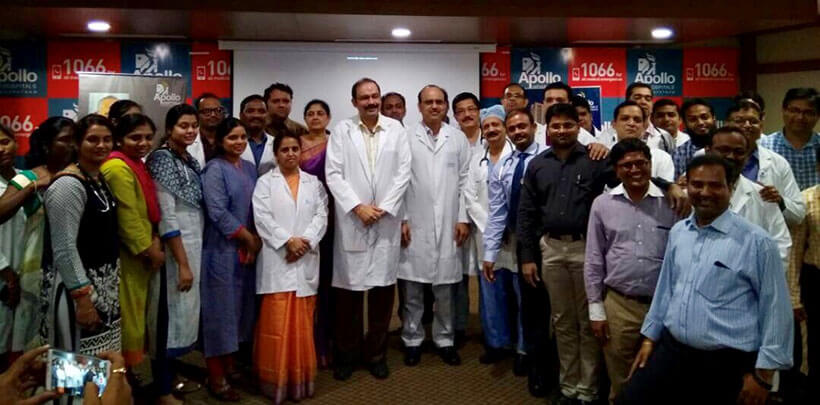 Posted by:
Apollo Hospitals
29 Apr,2017
Get the best of health related stories delivered to your inbox.
Adding another feather to its cap, Apollo Hospitals, Seshadripuram, Bangalore brings in India's very first prostate c...
Date: 23 Jan,2023
Mr. Vinod K Patel and Mr. Md Mansoor underwent successful liver transplants at Apollomedics Hospital Lucknow. Relativ...
Date: 23 Jan,2023
In a rare case of esophageal diverticulum, a 59-year-old man from Yangon, Myanmar underwent a successful robot assist...
Date: 12 Jan,2023