Apollo Hospitals, Navi Mumbai's first Transcatheter Mitral Valve Repair (TMVR) was successfully conducted on a 64-year-old patient.
Posted by Apollo Hospitals | 19 Jul,2022
Apollo Hospitals, Navi Mumbai has successfully performed a minimally invasive procedure using a transcatheter technique. A 64-year-old woman successfully underwent a trans-catheter mitral valve replacement (TMVR). The procedure was performed in 2 hours by the doctors of Apollo Hospitals Navi Mumbai. The patient has recovered well.
A TMVR is a mitral valve replacement procedure that allows Cardiologist to replace a diseased previously surgically implanted mitral valve with a new valve without surgery. During this procedure, the cardiologist inserts a catheter (a thin flexible tube) into the vein using advanced imaging and guide it along with a new valve to the heart. It has benefits such as lesser pain and a shorter recovery period.
Dr. Rahul Gupta Consultant Interventional Cardiology said, "Structural heart interventions such as TMVR are a great advancement in the field of Interventional Cardiology, as elderly patients who are at a high risk for medical complications for an open heart surgery can now be safely treated through such non-surgical minimally invasive procedures, as was the case with this patient."
The 64-year-old patient, a resident of Thane was having difficulty in breathing and was coughing copiously. The patient had previously undergone mitral valve replacement surgery 15 years back under the supervision of Dr. Shantesh Kaushik, Consultant, Cardiovascular and Thoracic Surgery, Apollo Hospitals, Navi Mumbai. After relevant investigations, it was found that the replaced valve had degenerated over time and required another replacement.
Since the patient was at high risk for a repetitive open-heart surgery, a minimally invasive percutaneous approach was used to replace the diseased mitral valve. It was Apollo Hospitals, Navi Mumbai's first transcatheter mitral valve repair (TMVR) therapy that delivered a minimally invasive treatment. The minimally invasive procedure proved to be easy on patients as the complications are marginal, like negligible bleeding or pain followed by a quick recovery.
The patient was admitted under the care of Dr. Rahul Gupta, Consultant, Interventional Cardiology, Dr. Shantesh Kaushik, Consultant, Cardiovascular and Thoracic Surgeon, Dr. Charan Reddy, Consultant, Interventional Cardiology, Dr. Rajesh Matta, Consultant, Cardiology, Dr. Leena More, Anesthetist, and Cath lab & OT technicians. Post-surgery, the patient is showing a remarkable progress in her condition.
Mr. Santosh Marathe, Regional CEO, said, "This was the first successful case of TMVR performed by our cardiologists and it has brought a new ray of hope to the patient and her family. Such advancements in curative care have the potential to increase the life expectancy and the quality of life of the patients. We are elated with the efforts of our team of doctors and technicians that are bringing healthcare of international standards within the reach of every individual. Apollo Hospitals, Navi Mumbai has a very comprehensive Institute of Cardiac Sciences wherein pediatric cardiac surgeries, structural heart diseases (including TAVI), heart transplant, and routine cardiac diagnostic and intervention work is undertaken."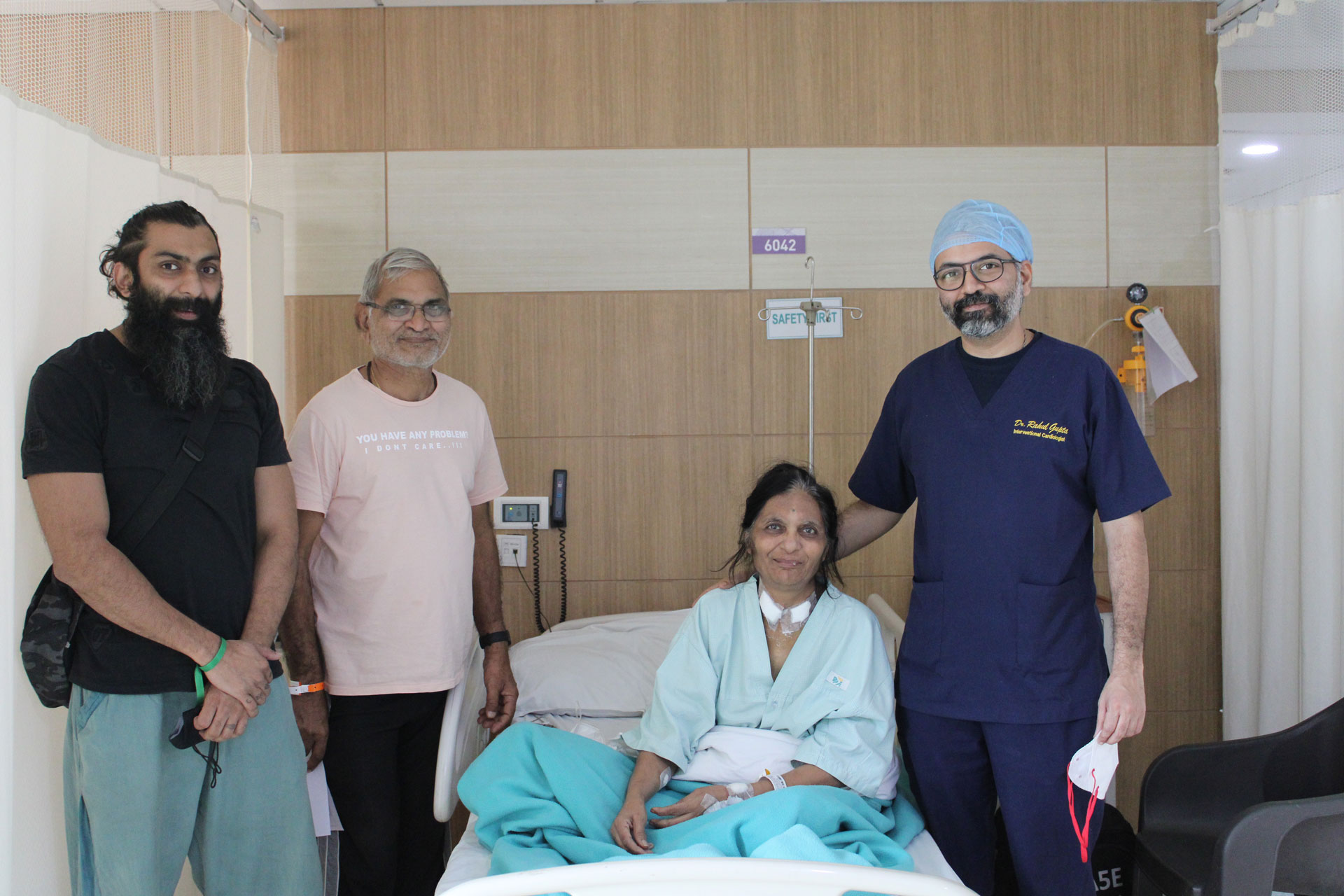 Posted by:
Apollo Hospitals
19 Jul,2022
Get the best of health related stories delivered to your inbox.
Adding another feather to its cap, Apollo Hospitals, Seshadripuram, Bangalore brings in India's very first prostate c...
Date: 23 Jan,2023
Mr. Vinod K Patel and Mr. Md Mansoor underwent successful liver transplants at Apollomedics Hospital Lucknow. Relativ...
Date: 23 Jan,2023
In a rare case of esophageal diverticulum, a 59-year-old man from Yangon, Myanmar underwent a successful robot assist...
Date: 12 Jan,2023