Apollo Gleneagles Hospitals, Kolkata is the first hospital in the Eastern region to introduce TARE, a latest treatment for liver cancers
Posted by Apollo Hospitals | 02 Apr,2019
Apollo Gleneagles Hospitals brings TARE (Trans Arterial Radio Embolization), the latest treatment for liver cancers for the first time in Kolkata. It is the only option and hope for a special set of patients, who are actually quite large in number. TARE is a procedure, where using special instruments and micro-catheters, the identified source of blood supply to the tumor in liver is accessed and intra-arterial radiotherapy is delivered using Yttrium-90 (Radiotherapy agent). This results in significant improvement and at times complete treatment of the tumor as well, giving new lease of life to these patients.
The TARE procedure requires special permission for the hospital to perform it with multiple other considerations. Mr Rana Dasgupta, CEO Apollo Gleneagles Hospitals Kolkata, expressed "We at Apollo Gleneagles Hospital are happy to announce that honouring our commitment to deliver the best healthcare and innovative procedures for our patients; we have started performing TARE, which would benefit our patients substantially. With this, Apollo Gleneagles Hospital, Kolkata becomes the first corporate multispecialty hospital in the East to perform this procedure."
Present at the occasion, Dr Manash Saha, Senior Consultant, Vascular & Non-Vascular Intervention, Apollo Gleneagles Hospitals Kolkata expressed, "The first TARE procedure performed in Apollo Gleneagles Hospital was for a patient of multiple colorectal metastasis which was progressive in nature and was not responding despite two separate lines of chemotherapy."
He also mentioned, "Primary liver cancers, particularly hepatocellular carcinoma (HCC) and extensive metastasis or secondary deposits in the liver pose a great clinical challenge to treat, especially if they are progressive in nature despite all kinds of treatment. With a huge and increasing burden of Hepatitis B and C patients, the HCCs are in rise.
Hepatocellular carcinoma, however, poses a completely different degree of challenge to treat . Usually they are detected when quite big in size and not possible to treat by any other means. Many a times they are detected with the tumor thrombus progression in the main blood supply to the liver that is the portal vein, which makes them inoperable or untreatable. Even small lesions in the liver peripherally can present with the malignant portal vein thrombosis rendering these patients untreatable even if they are completely preserved functionally in presentation.
TARE procedure is considered as the pinnacle of intervention and with this, AGHL is now equipped with the full set of interventional radiology treatments to patients of liver cancer whenever required. The entire range of treatment is now available under one roof in AGHL, Kolkata starting from ablative therapies like radiofrequency and microwave ablation to TACE (transarterial chemoembolization) – both conventional as well as DEB (drug-eluting bead) TACE along with TARE.
The TARE procedure is done in two sittings where in the first sitting, the tumor is identified by angiographic evaluation and any potential source of extrahepatic organs are embolized to reduce the chances of radiotherapeutic agents going to other organs. Following this, the dose is calculated and prepared usually in Canada or Singapore from where the dose is transported in a premeasured amount and delivered on specific dates using a special system in the Cath lab.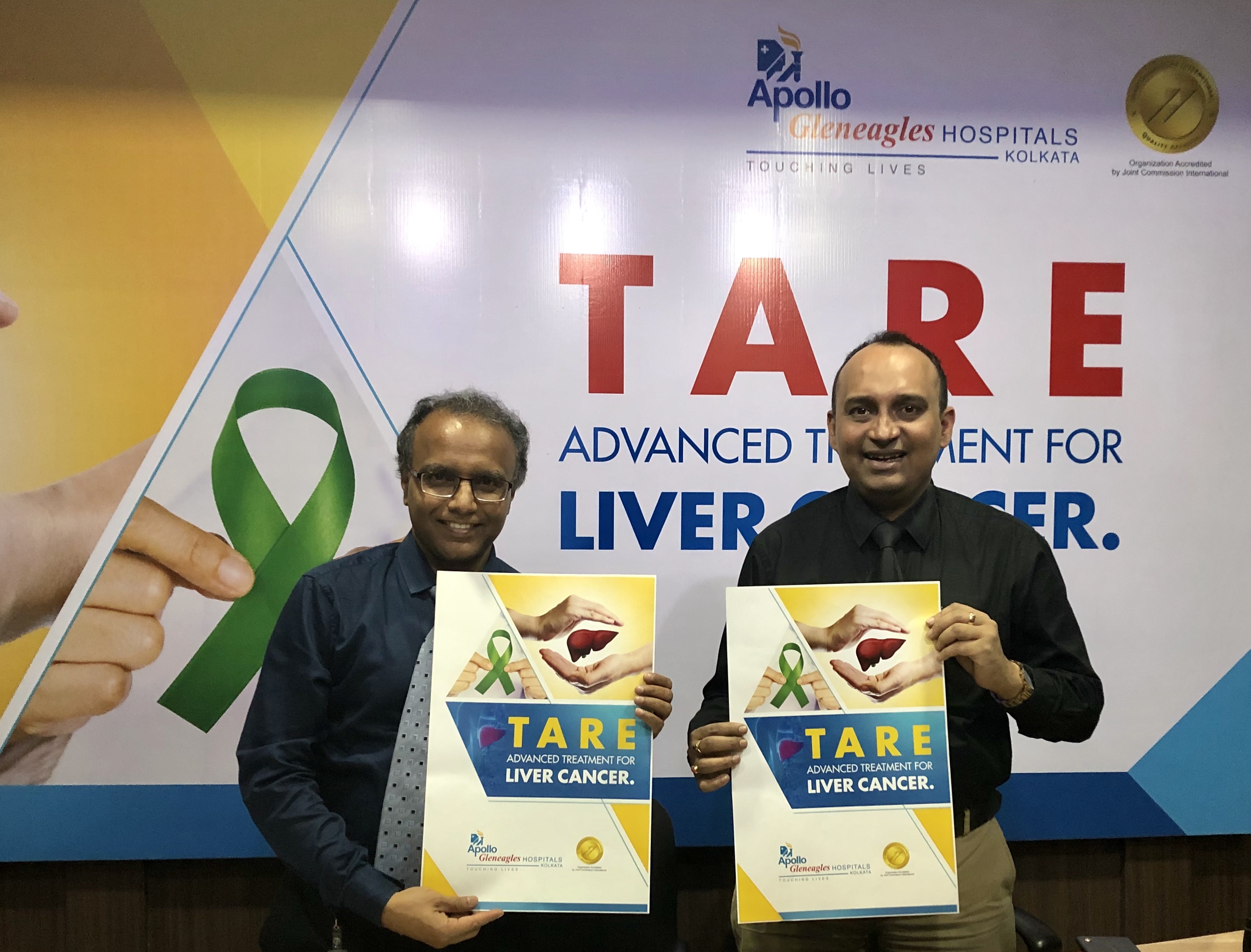 Posted by:
Apollo Hospitals
02 Apr,2019
Get the best of health related stories delivered to your inbox.
A 64-year-old gentleman from Fiji recently Robot-Assisted Total Arterial Bypass Surgery for Triple Vessel Coronary Ar...
Date: 16 Nov,2022
A 60-year-old man, citizen of Nigeria, successfully underwent a high risk and rare surgery for total femur replacemen...
Date: 16 Nov,2022
Apollo Hospitals, Seshadripuram, Bangalore has introduced India's very first Moses 2.0 Laser, an advanced and novel l...
Date: 14 Nov,2022