Apollo Gleneagles Hospitals gives a new lease of life to an Eight Month old Baby Boy with Encephalomeningocele presenting like Two Heads. Conducts a miraculous and life risking surgery: A First time in India !!
Posted by Apollo Hospitals | 08 Aug,2013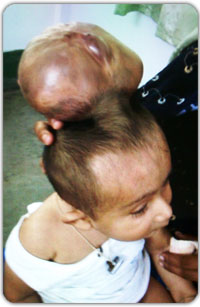 Apollo Gleneagles Hospitals, Kolkata fulfilled its promise of providing the best in healthcare to its valued patients by giving a new life to yet another child patient suffering from a critical cyst similar to a second head. Eight month old, baby Tofajjal was born with a rare and unheard condition of Encephalomeningocele. The infant who was far from leading a normal life like children of his age has shown signs of speedy recovery post the surgery and is getting back to his regular activities. This extraordinary surgery is the first of its kind in the entire country. The treating surgeon, Dr Sisir Das, Senior Consultant, Neurosurgery – Apollo Gleneagles Institute of Neurosciences, said, this is indeed a rare variety of Neurosurgery as incidence rate of such type of cases is as low as 1 out of 45,000. In a life time, one comes across only one or two such cases. Also, here the challenging part was involvement of the brain component and Superior Sagital Sinus. Our team effort has proven successfully in this complex surgery. The Baby is doing fine and is being discharged. This surgery is a milestone achieved in Healthcare in this part of India. We are now performing excellent quality of work which is at par with international benchmarking at regular basis.
Dr. Rupali Basu, CEO, Apollo Gleneagles Hospitals and Eastern Region, Apollo Hospitals Group, further added,"This surgery is indeed a miracle and among the most complex and challenging ones performed in this hospital till date. We are very proud of being the only hospital in the entire country to have performed a surgery of this nature successfully. Apart from the child's parents, it is also a very emotional moment for all of us at the hospital. We wish the child all the very best for a promising future".
Posted by:
Apollo Hospitals
08 Aug,2013
Get the best of health related stories delivered to your inbox.
A 64-year-old gentleman from Fiji recently Robot-Assisted Total Arterial Bypass Surgery for Triple Vessel Coronary Ar...
Date: 16 Nov,2022
A 60-year-old man, citizen of Nigeria, successfully underwent a high risk and rare surgery for total femur replacemen...
Date: 16 Nov,2022
Apollo Hospitals, Seshadripuram, Bangalore has introduced India's very first Moses 2.0 Laser, an advanced and novel l...
Date: 14 Nov,2022