Apollomedics Super Speciality Hospitals, Lucknow along with Haematology Foundation, organized a symposium in Lucknow – The Paediatric Haematology & Oncology Update 2023.
Posted by Apollo Hospitals | 04 Feb, 2023
Apollomedics Super Speciality Hospitals, Lucknow in association with Haematology Foundation, hosted a Paediatric Haematology and Oncology Update 2023 symposium, on January 21, 2023, at Hotel Centrum in Lucknow. The symposium featured presentations and case studies from leading experts in the field of Paediatric Haematology & Oncology from across the country.
Speaking on the occasion Dr. Mayank Somani, MD & CEO, Apollomedics Super Speciality Hospitals said, "We are excited to bring together such an eminent group of seasoned healthcare professionals and to provide a forum which is accessible to all, to learn and grow in their field. It is essential to discuss and adopt best global practices in Paediatric Haematology & Oncology as this can help to improve patient outcomes. We are grateful to all the faculties and delegates who joined us for this symposium. I would also like to thank Haematology Foundation who has been doing exceptional work in the field of Paediatric Haematology & Oncology and hope that this symposium will help to improve the care and treatment of children with blood disorders and cancer."
Prof (Dr.) Sonia Nityanand, Director at Dr. Ram Manohar Lohia Institute of Medical Sciences, who graced the event as Guest of Honour said, "While the prevalence of Primary Immunodeficiency disorders (PIDs) in the United States is reported to be as high as 1 in 1,200, there is currently no nationwide data on the prevalence of PIDs in India. Based on statistical projections, it is estimated that there could be more than one million patients with PIDs in India. I hope that the attendees were able to take away valuable knowledge and insights from the symposium.
Prof Dr Archana Kumar, HOD, Paediatric Oncology & Haematology, Apollomedics Super Speciality Hospitals, Lucknow said, "In about 60-70 % cases of primary immunodeficiency, Bone Marrow Transplant is required to save the patient's life. However, due to lack of donors, the transplant takes a long time. Normally, the bone marrow donor are the siblings of the patients or external donors. At times fearing the duration, cost and other factors of the treatment, parents don't turn up for treatment. While not all infections are fatal, some can take form of cancer, if left untreated.
The symposium featured several highly qualified and experienced speakers and was attended by the leading experts from various institutions of the country – Prof (Dr.) Amita Agarwal Professor & Head – Immunology, SGPGIMS, Lucknow, Prof (Dr) Archana Kumar–HOD Paediatric Haematology & Oncology Apollo Hospitals Lucknow, Dr. SP Yadav, Dr. Vikas Dua, Dr. Nishant Verma, KGMU Lucknow, Dr. Sneha Tandon Royal London Hospital, BARTS Health ,NHS Trust, London Dr. Priyanka Chauhan, Apollo Hospital Lucknow, Dr. Vijay P Raturi, Apollo Hospital, Lucknow, Dr. Sukriti Gupta, Dr. Shilpi Agarwal RMLIMS Lucknow, Dr. Nivedita P Yeramilli, SGPGIMS Lucknow & Dr. Aashi Gupta, SGPGIMS Lucknow.
Dr Priyanka Chauhan, Consultant, Haematology and Bone Marrow Transplant – Apollo Hospital Lucknow, gave a presentation on supportive care in Haematological Malignancies, and the paediatrician's role. She also highlighted the high prevalence of Primary Immunodeficiency Disorders (PIDs) in India.
The Symposium covered a wide range of topics such as recent updates in diagnosis & treatment of Paediatric ailments including HLH, PID, Laeukaemia, Lymphoma, Paediatric ALL & AML etc.
The event provided an opportunity for attendees to learn about the latest developments in the field of paediatric hematology and oncology.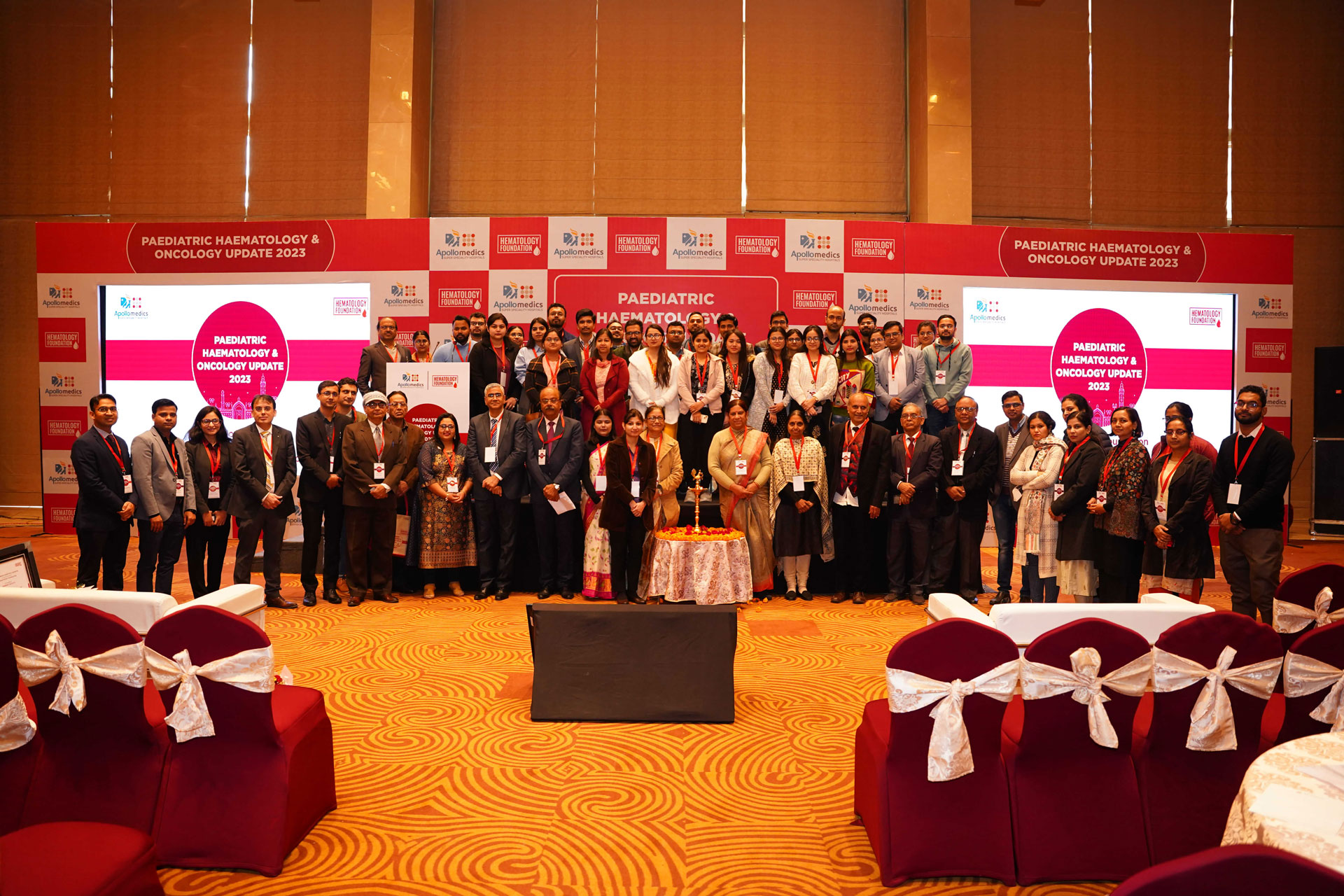 Posted by:
Apollo Hospitals
04 Feb, 2023
Get the best of health related stories delivered to your inbox.
In an effort to facilitate knowledge sharing and showcase cutting-edge advances in pediatric care, Apollo Hospitals c...
Date: 06 Nov,2023
In a significant move to raise awareness about breast cancer and emphasize the importance of early detection, Apollo ...
Date: 06 Nov,2023
Apollo Proton Cancer Centre (APCC) launched #SaveTheBreast campaign as part of a coordinated effort to advance women'...
Date: 16 Oct,2023