Apollo Multispeciality Hospitals Kolkata has launched the first Comprehensive Fatty Liver Clinic in Eastern India.
Posted by Apollo Hospitals | 04 Sep, 2022
Liver cirrhosis is the final stage of what begins in a majority of people condition known as fatty liver. And contrary to popular perception, non-alcoholics are also prone to getting a fatty liver especially if there are issues like diabetes, obesity and abnormal blood cholesterol levels.
Non-alcoholic Fatty liver is one of the most common diseases in the world currently affecting about 30% of the global population. According to the National Health Portal India, Non Alcoholic Fatty Liver Disease (NAFLD) is a leading cause of chronic liver diseases worldwide. NAFLD affects about 25% of the global population ranging from 13.5% in Africa to 31.8% in the Middle East. The overall prevalence of NAFLD in India has been reported to be close to 30% of the entire population and reaching more than 50 % in those with risk factors like obesity and diabetes.
Fatty liver goes unnoticed most of the time as the disease doesn't involve any pain or discomfort in the early stages. In an effort to raise awareness about this disease and to provide a holistic treatment for it, Apollo Multispeciality Hospitals today announced the launch of the first 'Comprehensive Fatty Liver Clinic' in Eastern India. This clinic will adopt the most contemporary investigational approach to detect asymptomatic fatty liver and its treatment.
As the disease has a silent presentation without any major warning symptoms it becomes important to have appropriate investigations. Hence is the importance of proactive testing like Liver Function Test (LFT) and Ultra Sound (USG). Apollo being the pioneer in healthcare brings the most advanced methods of fatty liver diagnosis including Fibro Scan and MRI based tests like MRI-PDFF and MR Elastography for the first time in Eastern India. These tests can diagnose the disease at a very early stage, which in turn would help the patients recover faster and not land up at a very critical stage.
Liver is considered fatty when the fat percentage in the organ becomes higher than 5%. People with diabetes, cholesterol, high blood pressure and obesity have about 50-60% chances of having fatty liver disease. Broadly there are 3 stages of fatty liver – Fatty Liver – Steatosis (NAFL), Liver Steatohepatitis (NASH) and Liver Cirrhosis. Among patients with NAFL, 20-25% go on to develop NASH and 10-15% land up having cirrhosis of liver, which is becoming the commonest cause for liver transplantation globally.
With expected 55% increase of adults with Diabetes and +33% increase of adults with Obesity worldwide by 2035 (source: Bril F et al. Diabetes Care 2017, Finkelstein AJPM 2017) cases of liver diseases would also upsurge and the expected increase is by 63% between 2015 and 2030 (source: Younossi et al.J Hep 2018, Estes et al. Hepatol 2019)
Present at the occasion, Dr Mahesh K Goenka – DME & Director & Head Institute of Gastrosciences & Liver Transplant Apollo Multispeciality Hospitals said, "Recent studies and findings have shown that about 35% patients with fatty liver are non-alcoholic and in such patients it's difficult to reverse the damage because out of sheer unawareness the detection happens much later. Another common trend found in India in last couple of decades is the lean fatty liver, which is seen in people with no sign of obesity. These patients also go unnoticed in the earlier stage of the disease if proactive testing is not followed. With early detection and lifestyle modification fatty liver is curable while it's difficult to arrest the progression of the disease to cirrhosis if detected late."
Also present at the occasion, Dr Surinder Singh Bhatia – DMS (Director Medical Services) mentioned, "Fatty liver even though more common in young people, is also found in children with diabetes and/or obesity. Our Comprehensive Fatty Liver Clinic is equipped with all modern investigation methods for diagnosis of asymptomatic fatty liver so that the disease can be arrested at the beginning. In most cases medicine is not the only cure, regular tests and progressions need to be evaluated. The wide approach of treatment to address the disease comprises of doctors' consultation and lifestyle modification counselling and involvement of various strata of medical care including primary care, and specialists such as internists, nutritionists, exercise counsellors, endocrinologists, cardiologists, and bariatric surgeons."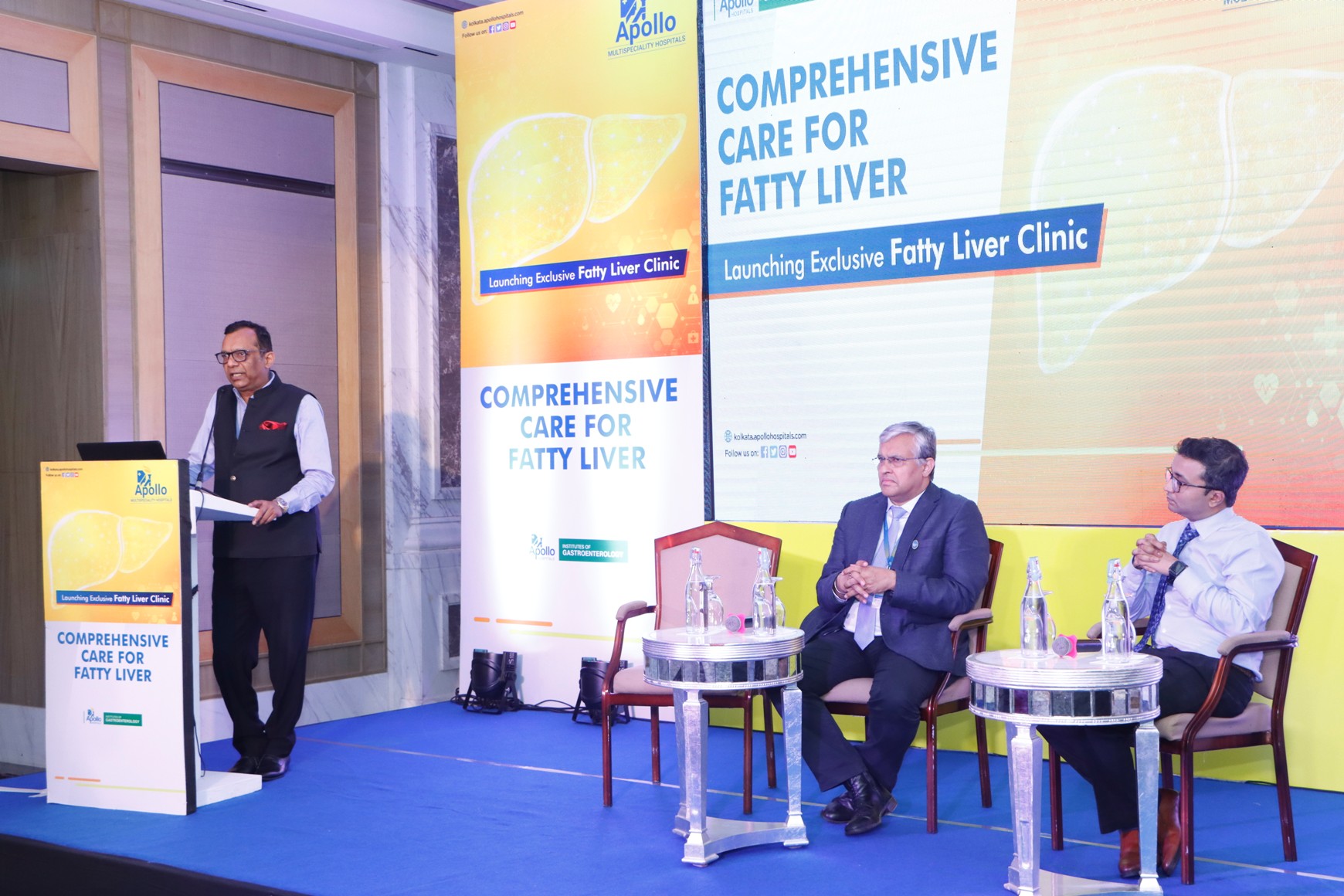 Posted by:
Apollo Hospitals
04 Sep, 2022
Get the best of health related stories delivered to your inbox.
Apollo Hospitals, Chennai under the guidance of Neuro Endovascular Surgeon Dr. Srinivasan Paramasivam and Interventio...
Date: 06 Nov,2023
The Apollo Hospitals Group has signed a Memorandum of Understanding with the University of Leicester. The Memorandum ...
Date: 06 Nov,2023
In an effort to cater to those with GI-related ailments and scale greater heights in medical excellence, Apollo Hospi...
Date: 27 Sep,2023