Apollo Hospitals Hyderabad launches Center for Advanced Cardiac Care
Posted by Apollo Hospitals | 11 Nov,2010
Apollo Hospitals Hyderabad launched a state-of-the-art cardiac facility 'Centre for Advanced Cardiac Care' (CACC). Announcing this at a press conference Ms Sangita Reddy, Executive Director, Apollo Hospitals Group, said that CACC was specially set up to address the ever expanding pandemic of heart disease in Andhra Pradesh. CACC will cater to the needs of the patients from the twin cities and Telangana districts.
According to her, the CACC has a dedicated, highly qualified and experienced cardiology and cardiothoracic teams, skilled technologists and support staff ably backed by a modern multi-specialty medical facility. The Center is equipped with state of the art modern flat panel cardiac catheterization laboratory. To provide care on par with the best cardiac facilities in the country, the Center has acquired latest technology including Fractional Flow Reserve (FFR) and Intra vascular ultrasound (IVUS).
Posted by:
Apollo Hospitals
11 Nov,2010
Get the best of health related stories delivered to your inbox.
Apollo Hospitals has launched an Institute of Hernia Surgery and Abdominal Wall Reconstruction at Chennai which is a ...
Date: 01 Sep,2021
Apollo Proton Cancer Centre (APCC) has launched India's first video newsletter - PRONEWS. Aimed at reaching readers w...
Date: 19 Aug,2021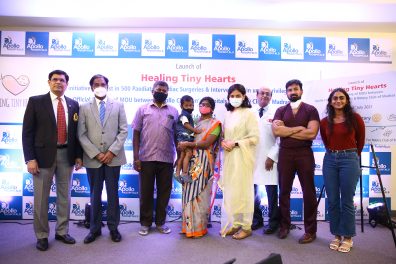 The Department of Pediatric Cardiology and Pediatric Cardiac Surgery of Apollo Children's Hospital, Chennai has partn...
Date: 07 Jul,2021