Apollo Hospitals honoured with the Versatile 100 and CIO100 Innovation Architect Special Award 2015 by the CIO Magazine
Posted by Apollo Hospitals | 14 Sep,2015
IDG India's CIO magazine hosted the 10th annual CIO100 award in Pune where Apollo Hospitals Enterprise Ltd (AHEL) was honoured in a glittering awards ceremony. The CIO100 award recognizes organizations that exemplify the highest level of operational and strategic excellence in information technology. The CIO magazine recognized leading (Chief Information Officers) CIOs and IT leaders for being versatile with their IT deployments in difficult economic conditions.
Apollo Hospitals was recognised as one of the Versatile 100 honourees. This award identifies and honours organizations and their CIOs who are not only models of IT innovation and business value delivery but are also fast-responders to rapidly changing conditions in emerging markets, customer demands, and competitive threats.
Ms Sangita Reddy, Joint Managing Director, AHEL said, "At Apollo Hospitals, we understand the need for technology and digital solutions to meet the rising demand of services. Technology has always played a crucial role in our healthcare delivery model. Our solutions for Tele Health, eICUs, interconnected hospital information system, patient health record on the cloud and mhealth enabled disease management initiatives are giving us positive results. Our vision to effective adoption of technology to aid healthcare delivery in a patient centric IT delivery model is yielding positive results."
"It is becoming increasingly important for healthcare sector to shift their focus on innovative technologies for good healthcare delivery and these awards recognise Apollo Hospitals for the successful and smooth amalgamation of IT in healthcare", she added.
We were also felicitated with the CIO100 Innovation Architect Special Awards 2015. This award identified organizations that have leveraged IT supremely to beat the competition and shaken up the way their industries operate. Winners demonstrated how their innovative project breaks conventional ideas or processes; that it goes beyond marginal improvements on something that already exists; and that it has had a wide impact. This award was supported by Wipro.
Commenting on the occasion, IDG India's President and CEO, Louis D'Mello says, "The velocity of changes in business is accelerating. It's fuelled by a swarm of new technologies including social, mobile, analytics, and cloud. This year's CIO100 awards theme – The Versatile 100 – recognized organizations who have truly responsive to these changes, while the special awards identified the absolute best in category. AHEL has done a great job to win both these awards this year!"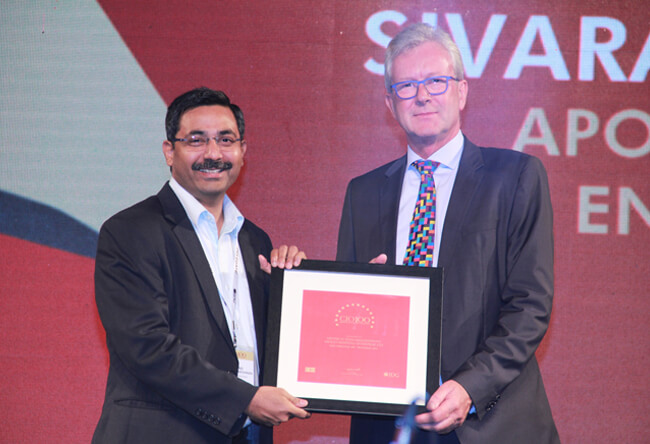 Posted by:
Apollo Hospitals
14 Sep,2015
Get the best of health related stories delivered to your inbox.
Apollo Health City, Hyderabad adjudged as the Best Medical Tourism Hospital in India by the Government of India ! ...
Date: 23 Nov,2020
Apollo Main Hospital,Chennai, competed in the National Business Excellence (BE) Star Award organized by the Confed...
Date: 23 Nov,2020
Apollo Hospitals Group was recognized for its outstanding contribution to Medical Value Travel with the FICCI Medi...
Date: 03 Jun,2020