Apollo Hospital launches hospital with state-of-the-art facilities in Muscat, Oman
Posted by Apollo Hospitals | 28 Apr,2016
Apollo Hospitals, Muscat, recently upgraded into a full-fledged hospital with world class facilities, was officially inaugurated on 27th April 2016. With the opening of the facility, Apollo Hospitals will be the preferred choice for medical treatment for both locals and expatriates in the Sultanate of Oman.
The first Apollo Hospital in the Middle East was inaugurated by His Highness Shihab bin Tariq Al Said, Advisor to His Majesty the Sultan. The Apollo Hospital Muscat currently has 25 specialized in-house doctors and eight super specialty visiting consultants from Apollo Hospitals, India for Neurology, Oncology and Orthopedics. The newly-upgraded hospital has announced ambitious plans for introducing an array of specialized departments in a phased manner, including exclusive clinics for Thalassemia, Orthopedics and Neurological diseases.
The launch was announced in the presence of Dr. Preetha Reddy, Executive Vice-Chairperson of Apollo Hospitals Group, and Mr. V T Saileswaran, Managing Director, Apollo Hospital Muscat. Addressing the inaugural function, His Highness Sayyid Shihab bin Tariq Al Said, said that he was glad to learn about the good work of Apollo Hospitals in the Sultanate and emphasized that specialized hospitals are the need of the hour. He congratulated the management of Apollo Hospital Muscat for upgrading the erstwhile medical centre into a full-fledged hospital.
Dr. Preetha Reddy said; "We are delighted to have the first-ever Apollo Hospital in the GCC region. Enhanced clinical bandwidth is our priority, especially as the world faces an ever increasing threat of non-communicable diseases and complex disease patterns." Mr. Saileswaran, who also addressed the gathering, said that the newly-upgraded hospital would add more clinical bandwidth to the existing facility. He added that a comprehensive care service called 'Apollo Care Plan' is also on offer, which can be availed free of cost for the entire family after the head of family registers at the hospital. The inaugural offer will also include free general practice consultation, and a dental check-up.
Apart from clinical bandwidth, a specialized medical travel assistance service and free second medical opinion service centre will be established for assisting patients. This will help patients to access the vast pool of medical services available at the various Apollo Hospital locations in India.
Apollo Hospital Muscat is indeed all set to 'touch lives' in the Sultanate and GCC region.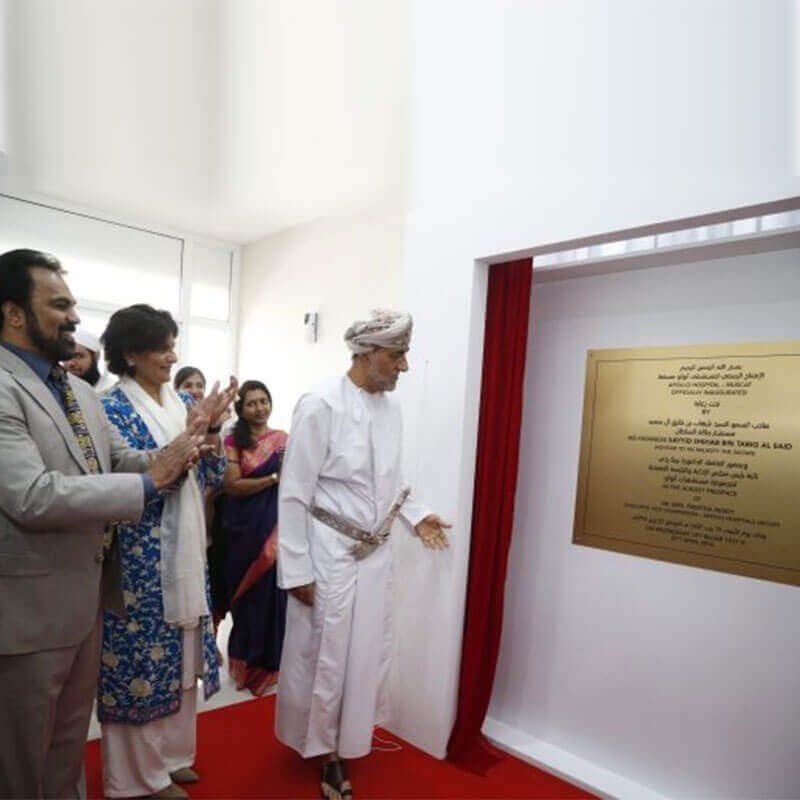 Posted by:
Apollo Hospitals
28 Apr,2016
Get the best of health related stories delivered to your inbox.
Apollo Hospitals Group has launched its indigenously developed automated, rapid-response patient monitoring system. T...
Date: 02 Nov,2022
Apollo Hospitals Group is to set-up a state-of-the-art tertiary care hospital in partnership with Balmer Healthcare, ...
Date: 05 Sep,2022
A Memorandum of Understanding (MoU) has been signed between Apollo Hospitals Group and Eclipse Group, Africa, to esta...
Date: 05 Sep,2022