Apollo Gleneagles Hospitals, Kolkata, inaugurated the First Comprehensive Respiratory Intensive Therapy Unit in Eastern India
Posted by Apollo Hospitals | 15 Dec,2016
The 10-bedded facility, which operates round-the-clock, is equipped with world-class infrastructure including ECMO, an experienced team of pulmonologists and specially trained respiratory ITU personnel, to help address all acute respiratory ailments and complications. ECMO, or Extracorporeal Membrane Oxygenation is an advanced device that ensures proper oxygenation of the blood in the case of a respiratory failure, by circulating it through an artificial lung. It acts as an extension of the heart-lung machine, providing bypass support to help the patient overcome respiratory distress.
Lung diseases account for about 11% of all deaths in India, making it the second most common cause for morbidity in the country. What makes this an even greater source of concern is that acute respiratory infections, the leading cause for lung-related mortality, have registered an alarming 30% growth between 2010 and 2015. A comprehensive facility, capable of handling all respiratory emergencies, which can pose a major threat to the life and wellbeing of the patient, is therefore the need of the hour.
A Senior Pulmonologist at Apollo Gleneagles Hospitals, Kolkata, said, "Our Respiratory ITU is capable of treating patients with Acute Type 1 and Type 2 respiratory failures due to diseases like severe pneumonia, a severe exacerbation of Chronic Obstructive Pulmonary Disease and Asthma, Acute Respiratory Distress Syndrome and others. With dedicated isolation facilities for those in need of barrier nursing, and ECMO for addressing instances of advanced respiratory failure, we are prepared to address all major respirational challenges, which are registering a significant growth due to pollution and seasonal variations."
Dr Rupali Basu, President and CEO Eastern Region, Apollo Hospitals Group, India, observed, "Quality, innovation, and patient safety are the cornerstones of the services provided at Apollo Gleneagles Hospitals, Kolkata. The inauguration of the first dedicated comprehensive Respiratory ITU in the region is a reaffirmation of our continued dedication to these ideals, and bears testimony of an unshakeable commitment towards transforming the entire healthcare landscape of the region. We will continue to strengthen our multi-disciplinary capabilities, and look to play a key role in the battle against lung ailments and emergencies."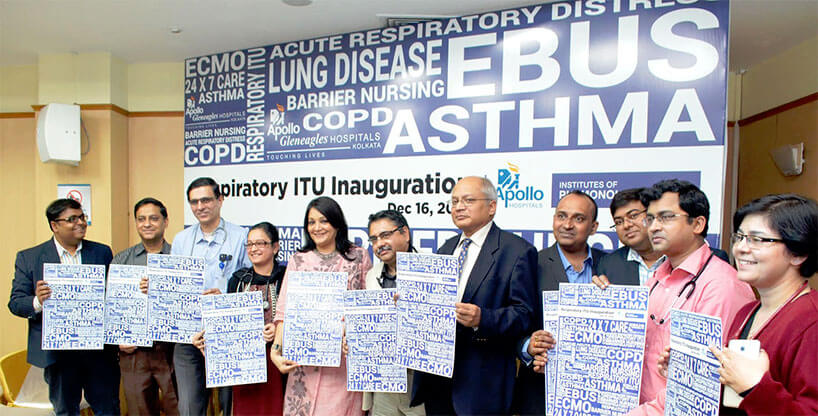 Posted by:
Apollo Hospitals
15 Dec,2016
Get the best of health related stories delivered to your inbox.
Apollo Hospitals has launched India's first Comprehensive Connected Care programme; powered by Apollo's Connected Car...
Date: 06 Sep,2023
Dr. R. Bindu, Minister of Higher Education and Social Justice, Government of Kerala inaugurated the installation of t...
Date: 04 Aug,2023
Apollo Proton Cancer Centre (APCC) has marked a definitive step ahead by making the world's most advanced radiation t...
Date: 18 Jul,2023