In an endeavor to spread awareness about prevention of heart disease and to emphasize the importance of a healthy lifestyle, Indraprastha Apollo Hospitals in support with the Billion Hearts Beating Campaign organized ""Apollo Dil Ki Daud"" – a mini marathon today. 1000 people participated in the mini marathon supported by the Billion Hearts Beating Campaign.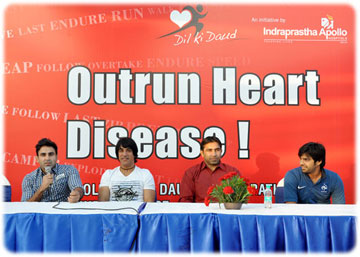 The marathon was supported by Manish Chaudhury, President, Delhi University Student Union along with CWG wrestlers Rajv Tomar, Anuj Chaudhary & Jaiprakash Nath; famous swimmer Khajan Singh; singers Ashok Masti and Shankar Sahini who feel that there is a huge need for such events to generate awareness among the masses. 200 doctors and nurses from Indraprastha Apollo Hospitals also ran for the cause.
Heart disease is the biggest killer in urban India today. It is estimated that 60% of the world's heart disease will belong to India (and Indians) in the near future. Indians are genetically prone to heart disease. Our sedentary and stressed modern lifestyle just multiplies the risk. In fact, an Indian is four times as likely to suffer from heart disease as compared to his Western counterpart. A heart attack also brings a lot of emotional turmoil for the family; it doesn't only affect the one who gets a heart attack.
Addressing this concern, Indraprastha Apollo Hospitals brought together 1000 people from Sarita Vihar, Jasola Vihar, Sukhdev Vihar, Ashram, Friends Colony, New Friends Colony, Defence Colony, GK-I, Jamia, etc, motivating them throughout the marathon would be a team of doctors present, also participating to spread awareness on the need of a healthy heart.
"This marathon isn't only about running – it intends to bring people together and motivate the community to take necessary possible steps towards a healthy heart. While we would encourage everyone to run, we also believe that its necessary to create awareness among people about the risk of heart disease if they do not adopt healthier lifestyles. The Apollo Dil Ki Daud could be the beginning for them to do that," said Mr. Jaideep Gupta, Managing Director, Indraprastha Apollo Hospitals.
Indraprastha Apollo Hospitals has always promoted steps towards being heart healthy. Billion Hearts Beating in one such campaign with the objective to spread awareness and spur positive action, as the risk of heart disease can be significantly reduced. Such health parades accelerate the awareness drive on sensitive health issues and encourage healthy living.