Hospitals in Kochi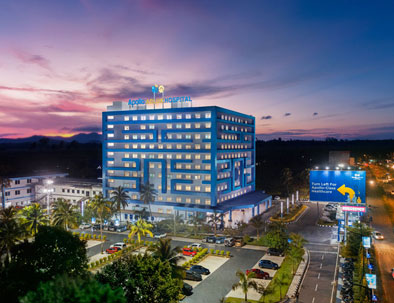 Hospitals in Kochi
Apollo Adlux Hospital Angamaly, Cable Junction, Ernakulam District, National Highway 47 Karukutty, Kerala 683576
Apollo Adlux Hospitals, Cochin is one of the most advanced Super Speciality Hospitals in Kerala. This is the first venture of Apollo Hospitals Group in the state. The most comprehensive and integrated super speciality services are under one roof along with renowned Consultants trained in their respective specialities. We provide people easy accessibility to advanced medical care at an affordable cost.
Apollo Hospitals Group is Asia's foremost integrated healthcare services provider and has a robust presence across the healthcare ecosystem, including Hospitals, Pharmacies, Primary Care & Diagnostic
Clinical Excellence
Clinics and several retail health models. Apollo Adlux is the branch of Apollo Group of Hospitals and we will continue to work in the same ethics the group has followed all these years.
The hospital is situated in Adlux Group's International Convention and Exhibition Centre, which is the largest in South India. At Adlux, we believe in giving the best in quality of facilities and services. The centre is professionaly managed by a highly experienced team with vast years of experience in the hospitality and events sector.
The vision of Adlux Group is to serve the community and to bring the best world class healthcare services to the people of Kerala with their association with Apollo Hospitals Group. The hospital is easily accessible to the International Airport, Cochin and is also well connected with rail and road transport.
Infrastructure
It is a 300 bedded facility and has access to world-class technologies, state-of-the-operation theatres, advanced laboratory and medical diagnostics.
We have 60 ultra-modern I.C.U. beds including Coronary Care Unit, Medical ICU, Surgical ICU, Neonatal ICU, Pediatric ICU and the same is managed 24 X7 by Critical Care Specialists.
Specialties
Anaesthesia
Cardiology
Cardiothoracic & Vascular Surgery
Clinical Nutrition Department
Critical Care
Dental Surgery
Dermatology
Emergency Medicine & Trauma Care
Endocrine & General Surgery
ENT & Otolaryngology
General Medicine
Lab Services
Lab Services – Pathology
Nephrology
Neurology & Neurosurgery
Obstetrics & Gynaecology
Oncosurgery
Oral & Maxillofacial Surgery
Ophthalmology
Orthopaedics
Paediatric Cardiology
Paediatrics & Neonatology
Physical Medice & Rehabilitation
Radiology
Respiratory Medicine & Pulmonology
Spine Surgery
Transfusion Medicine
Urology & Andrology
Services:
Nursing Services
Paramedical Services
Clinical Support Departments

Ambulance
Blood Bank
CSSD
Dietetics
Dialysis
Physiotherapy
Pharmacy

Radiology & Imaging
Laboratory Services
Other Diagnostic Services
Support Services

Food & Beverages Services
Mortuary Services
Security Services
Laundry Services

Corporate Services:

Customized Preventive Health Checks
Outpatient Facilities
Consultation across 57 Specialties
Inpatient Facility
Priority Admission
Choice of rooms
Exclusive diet for patients
Multi-cuisine Service

Emergency & Trauma:

Fully-equipped ambulance capable of handling all emergencies
Toll free Emergency number 1066
Telemedicine
Occupational Health Centre
On-site Doctor
Medical Manpower Assistance
Ambulance Service
Contact
Apollo Adlux Hospital
Angamaly, Cable Junction,
Ernakulam District, National Highway 47
Karukutty, Kerala 683576