Hospitals in Nellore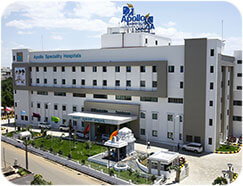 Hospitals in Nellore
Apollo specialty Hospitals Nellore, 16/111, 1133, Muthukur Rd, Pinakini Avenue, Ramji Nagar, Nellore, Andhra Pradesh 524004
The Apollo Specialty Hospital, Nellore is an integral part of the Apollo Hospitals Group and offers high-end tertiary care across various medical disciplines with special focus on Orthopaedics, Trauma and Cardiology. The 200 bedded hospital's strength lies in the perfect balance of excellent infrastructure, latest technology and dedicated manpower, all orchestrated to provide patient services of the highest standards.
Centres of Excellence
Apollo Hospitals has established Centres of Excellence across several key specialities. The goal of each Centre of Excellence is to ensure that care of the highest possible standards is offered whilst forging ahead in research, meeting and surpassing benchmarks set by the worlds besthealthcare providers, tracking and standardizing best practices and achieving excellence in academics.
Imaging & Diagnostics
Understanding that immediate diagnosis is imperative in treating critical cases, the Apollo Specialty Hospital, Nellore has ultra-modern laboratory facilities and the latest modalities for imaging and Diagnostics. The centralized services are available under one roof for added patient convenience and include:
Haematology
Biochemistry
Microbiology
Radiology
MRI
CT
Endoscopy
Colonoscopy
Facilities
World class operating suites.
Ideally located in Nellore, it is the 50th project of Apollo Hospitals. This facility is the state-of-the art 200 bedded hospital which is fully equipped to handle any medical condition. It is the second hospital in the city that has a cathlab and cardiac surgery OT, added to that it has the 5 state of the art operation cutting-edge technology. This is to enable surgeons to perform a range of complex procedures as well as minimally invasive and endoscopic surgeries. The facility also houses 2 specially equipped labour suites. The latest equipment and stringent protocol in place at the Apollo Hospitals ensures that it is fully geared for major and minor surgeries across a range of specialities.
Apart from all this, the Apollo Specialty Hospital at Nellore also has facilities to deal with any kind of medical emergencies; road trauma, cardiac emergencies, stroke and neonatal emergencies. The patient's residing in the suburbs need not have to travel to the city to get the best medical attention. The Apollo Hospitals set-up at Nellore is ideal for the people residing in the outskirts of Nellore, especially for medical attention during an emergency, where time is of essence.
The hospital is located in Nellore which is very close to Gudur, Kavali, Ongole Naidupet, Sriharikota.
Contact
Apollo Speciality Hospitals
# 16/ 111/ 1133, Muttukur Road
Pinakini Nagar,
Nellore – 524004 – Andhra Pradesh
+91-8616667333, +91-8612358333