Collaborative Forums

The group's collaborative approach to consultative learning and sharing of best practice through networks like the ACE Forum and the Tumor Board, ensures efficacy in diagnoses and treatment plans. Home to some of the best minds in medicine who are endowed with superior skills for treating patients, Apollo has several firsts to its credit spanning all its centres of excellence. Complex surgeries requiring multi-disciplinary teams of doctors and other professionals are an every day occurence within the walls of our Hospitals.
As a trusted healthcare provider, Apollo believes in health care equity for all and often convenes forums with renowned international and regional professionals and healthcare practitioners to discuss advancements in healthcare delivery, infection controls and patient safety.
The Apollo Clinical Excellence Forum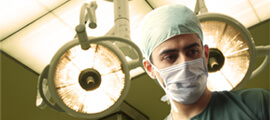 Set up in 2008
Furthers group's commitment to clinical excellence
Designed for consultants in the group & hosted on website
Offers platform for

discussion of medical innovations
sharing clinical best practices
offering research ideas
gathering second opinion
posting information on papers published; accolades & awards won
disseminating information on upcoming events
Group Practice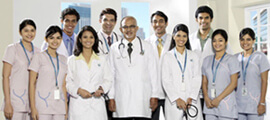 Aims to organize full time consultants in different departments into group practice
Creates opportunity for second opinion and mutual consultation as a group
Utilizes collective skills and experience to handle difficult and complex cases
Collective practice enhances patient confidence
Improved scheduling for patients through call and vacation coverage
Provides time for conferences and skill updation, academic activity & research
Allows consultants to enhance their geographical reach by travelling to other locations
Tumuor Board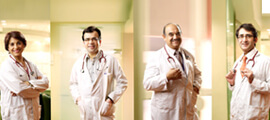 Team of eminent radiation, medical & surgical Oncologists
Periodic meetings & discussions
Collective concurrence on accurate diagnosis
Uses learning & experience to evolve best treatment plan
Framework for learning & sharing best practices
Calculated efforts for setting up clinical excellence protocols
Enviable track record for matching global outcomes
Offers unparalleled learning & upgradation of knowledge for Oncology team
Peer Review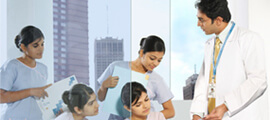 Each speciality has performance measurement indicators that are measured individually for each consultant. A comparative analysis is then done with international benchmarks, the departmental average and individual performance. These are discussed during the departmental review along with peers to improve systems and practices and also used for individual consultant appraisal.
Peer reviews also forms part of mortality reviews to identify the root-cause analysis of any death. Two peers from the same specialty independently conduct the reviews to indentify:
Clincial practice deficiency, if any
Delay in recognition of clinical deterioration
Escalation & response
Hospital acquired infection
Post procedure complication
Medical or communication errors
The results are used to further our care protocols within the unit and aids in standardisation of treatment and clinical decisions.
UPDATED ON 19/08/2021
Apollo Highlights & Updates