Awake Aortic Valve Replacement surgery was performed on a patient diagnosed with rheumatic heart disease with severe aortic regurgitation
Posted by Apollo Hospitals | 17 Nov,2019
About the Patient and condition
A 28-year-old male patient from Gonda, Uttar Pradesh, presented with severe breathlessness for the past 2 years. He was unable to carry out any work and had occasional chest pain associated with dyspnea and loss of appetite. Further, he was also losing weight.
Case Scenario
Patient was diagnosed with rheumatic heart disease with severe aortic regurgitation (AR) with 48 % LV dysfunction with COPD. 2D-Echo was done which revealed severe Aortic Regurgitation, mild Mitral Regurgitation, with a LVEF of 48% (ongoing Left ventricular failure). X-ray showed an enlarged heart (cardiomegaly).
Worldwide Scenario
The Awake Aortic Valve Replacement surgery is the latest modality for valve replacement surgery for patients with pulmonary disorders. The awake surgery is challenging but, since the patient remains conscious, it allows continuous monitoring of neurological functions which further avoids prolonged post-operative stay and reduces the morbidity for high-risk patients.
Expertise at Apollo Hospitals
The patient was admitted on September 24, 2019 and based on the ECHO report and his condition, Awake Aortic Valve Replacement surgery was planned on September 25, 2019. The surgery lasted for around 2 hours. The patient was not put on ventilation and was not intubated. In ICU, the patient recovered well and hardly required any inotropic support, and no blood transfusion was required. Later, the patient was shifted from ICU to the ward after 3 days of surgery and was discharged on September 30, 2019.
Now, the patient is doing well and is not having any breathlessness.
Apollo Hospitals – Touching Lives
It was a challenging case, yet with the support of the patient and expertise of the Cardiology team, Apollo Hospitals was successful in giving new life to the patient. Apollomedics Super Speciality Hospital, Lucknow is a centre of excellence in Cardiology and provides 360-degree care in Cardiology and Cardiac Surgery, including diagnostics, Interventional cardiology, Cardiac surgery, and Preventive cardiology. Dr. Vijayant Devenraj, Senior Consultant, CTVS at Apollomedics Super Speciality Hospital, Lucknow said, "36 years ago, Apollo started with the vision of providing cutting edge treatment to patients in India. This is another step towards that vision. I congratulate the whole team and wish them all the best in their pursuit of excellence."
Patient's testimonial
"When we took Abdul to Apollomedics Super Speciality Hospital, Lucknow, he was suffering from breathlessness and the doctor told us that Awake AVR surgery will be performed, which was never done before in Lucknow. We were at first hesitant but due to our trust in the doctor and in Apollo Hospitals, we gave our consent. Now Abdul is doing well and leading a happy life. I would like to recommend this hospital to everyone", the patient's family members said.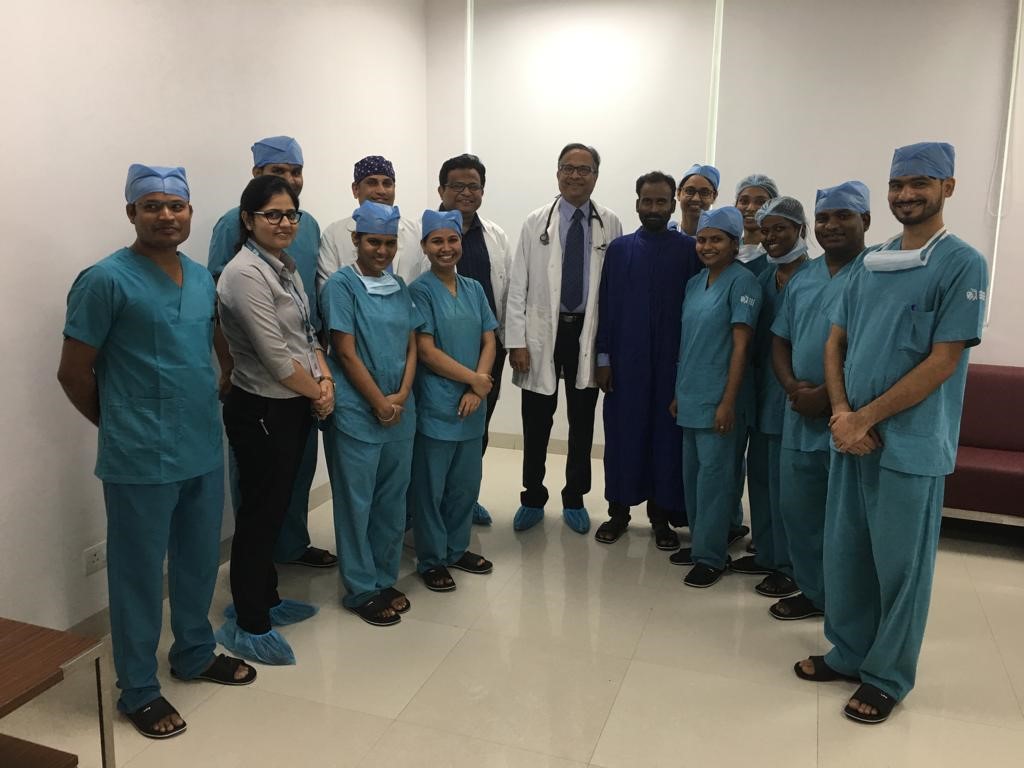 Posted by:
Apollo Hospitals
17 Nov,2019
Get the best of health related stories delivered to your inbox.