Hospitals in Indore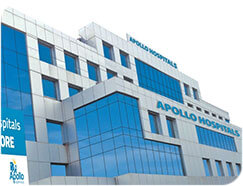 Hospitals in Indore
Scheme No. 74 C, Sector D, Vijay Nagar, Indore 452 010 (Madhya Pradesh).
The Apollo Hospitals, Indore is a joint venture between Apollo Hospitals Enterprise Limited (AHEL) & Rajshree Hospital & Research Centre Pvt. Ltd. (RHRL). It offers high-end tertiary care across various medical disciplines, with special focus on Cardiology & Cardiothoracic surgery, Neurology and Neurosurgery, Nephrology and Urology, Orthopaedics, Gastroenterology, Emergency & Trauma.
The 180 bedded hospital's strength lies in the perfect balance of excellent infrastructure, latest technology and dedicated manpower, all orchestrated to provide patient services of the highest standards.
Centres of Excellence
Apollo Hospitals, Indore has established Centres of Excellence across various key specialities. The goal of each Centre of Excellence is to ensure that care of the highest possible standards is offered whilst also forging ahead in research, meeting and surpassing benchmarks set by the world's best healthcare providers, tracking and standardizing best practices, and achieving excellence in academics.
Imaging & Diagnostics
1.5 T MRI, Digital X-Ray, modern blood bank, laboratory (Haematology Biochemistry Microbiology Histopathology) and upgraded CT Scan are some facilities offered at the hospital.
This facility with state-of-the art 180 bedded hospital also has a Cath lab and Cardiothoracic surgery OT. It has three state of the art operation theatres & two minor operation theatres with cutting-edge technologies. This is to enable surgeons to perform a range of complex procedures as well as minimally invasive and endoscopic surgeries.
Apart from all this, the Apollo Hospitals at Indore also has facilities proposed to deal with any kind of medical emergency including road trauma, cardiac emergencies, stroke and neonatal emergencies.
Contact
Apollo Hospitals, Indore
Scheme No. 74 C, Sector D, Vijay Nagar,
Indore 452 010 (Madhya Pradesh).