Hospitals in Bhubaneshwar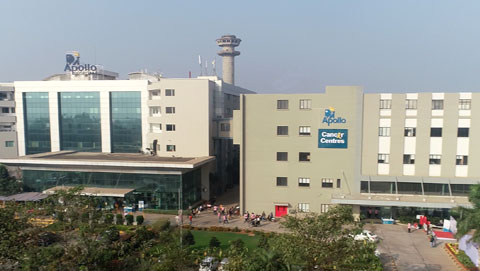 Hospitals in Bhubaneshwar
Plot No. 251, Old Sainik School Road Bhubaneshwar - 750 015
Apollo Hospitals, Bhubaneshwar, the 49th hospital of the group was inaugurated on 5th of March 2010.
This Health Care Institution is a 350-bedded Tertiary Care Hospital with state-of-the-art technology. The Hospitals Outpatient Department (OPD) has 37 consultation chambers for consultants of all departments. The OPD is supported by Treatment /Minor Procedure Rooms along with outpatient services in Ophthalmology, ENT, Dermatology, Dentistry etc.
Medical and Surgical Cardiac Sciences, Oncology, Neurosciences (Neurology and Neurosurgery & Neurophysiology), Urology, Nephrology, Rheumatology, Endocrinology, etc are some of the departments having state-of-art facilities here.
This tertiary care hospital has an excellent amalgamation of medical specialities, laboratory services, Imaging (Radiology) and Rehabilitation services with sophisticated Therapeutic/Diagnostic equipments. This Health Care Institution has 64 ICU beds and is the largest corporate hospital in Odisha offering world class diagnostic, medical and surgical facilities.
Apollo Hospital, Bhubaneshwar has also got a level 3 NICU and is equipped with advanced ventilators, and other equipments. Neonatal retrieval system is also available here for the first time in Odisha, where babies can be transferred to this Hospital from other units around the state by an ultra modern transport system.
97 year old patient underwent laparoscopic cholecystectomy for Emyema and Gangrenous cholecystitis at Apollo Bhubaneswar.
Highlights
24 hour Emergency and Trauma care backed by wireless ambulances with life support systems stationed at different locations in the city available 365 days a year / 24 hours a day.
24 hours Blood Bank and laboratory
24 hours Pharmacy Service
Restaurant and coffee-shop
Well connected by Air, Rail and Road
General Medicine
Plastic & Reconstructive Surgery
Anaesthesiology
Nutrition & Dietetics
Rheumatology
Surgical & Medical Oncology
Paediatric Cardiology
Physiotherapy
Respiratory (Chest) Medicine
Salient Features and Advantages
Multi -Disciplinary & Multi Professional Approach.
Doctors, Specialists Nurses with expertise in the speciality
Dietician, Physiotherapist, Clinical Psychologist, Occupational Therapist being available.
Condition specific precise diagnosis.
Avoidance of several different clinic & diagnostic centre visits.
All investigations on the same day.
Apollo Hospitals, Bhubaneshwar has received the required permission from the State Authority to perform Renal Transplant. We are going to start our renal transplant surgery very soon in coming June-2011 in our Hospital. Our doctors Dr. Samiran Das Adhikary ( neurology ), Dr. Sudhiranjan Dash (Nephrology) with associate doctors are going to play the key role in the department.
An extremely premature baby as young as 25 week of gestational aged survived and was discharged on 7th November 2010. This was possible by tireless effort of doctors and nurses at the Neonatal Intensive Care unit (NICU) of Apollo Hospitals, Bhubaneshwar as well as dedication and self believe of the parents. Naysha(Means miracle of God), was only 750gm at birth. She was extremely sick requiring mechanical ventilation for two weeks. She later developed neonatal sepsis, respiratory distress syndrome, patent ductus arteriosus, retinopathy of prematurity, anemia of prematurity and chronic neonatal lung disease. She was treated by a team of dedicated doctors led by Dr Subrat Mishra, Senior consultant of Paediatrics and Neonatology, who is trained in Australia to deal with such complicated cases.
Before After
She is supposed to be the most extreme premature baby in the state to have survived without many complications. Even in the most advanced centers in the developed countries the prognosis of the extreme prematurity is very poor, with only 20 -30 % babies surviving. Most of the babies surviving have serious complications like chronic neonatal lung disease requiring oxygen for a long time and intra cranial haemorrhage leading to cerebral palsy. Naysha is now almost one year old and in good health. She is doing all normal activities of a baby of her age. She is a darling of the NICU staffs and is nick named Kuni(little child).
Awake brain surgery is a relatively new procedure in which brain surgery is done on awake and conscious patients. Recently this technique has been tried at the Neuro Surgery Operation Theatre of the Apollo hospital, Bhubaneshwar. This surgery is usually done on patients with tumours and Epileptic foci lying near eloquent (speech/ motor) areas of the brain. These are specialised areas of brain which control movements, sensation, speech etc. This requires patient to be awake during brain surgery to test the speech and observe the movements of hands/legs. This allows optimal tumour resection with minimal post operative neurological dysfunction.
Awake brain surgery is possible with the help of skull block. This involves infiltration of local anaesthetics and blocking of nerves,which supply the scalp.In addition sedation is given in the form of midazolam, fentanyl and small doses of propofol.This allows the patient to lie still on the operation table for 3 to 4 hours. Brain by itself does not have any sensation and hence surgery is painless.
Stereotactic Neurosurgery refers to a means of Navigation to any point in the brain. Stereo is derived from the Greek word for three dimensions and tactic from the Latin tactus for touch. The term stereotactic thus reinforces the concept of using a three dimensional surgical system to touch a structure deep within the brain. Prior to the development of stereotaxi, reaching any point in the brain required exposure of a large area of brain. A large exposure may be associated with increased morbidity, and also it does not solve the problem of precisely reaching deep brain targets. The value of a stereotactic system lies in the ability to allow small exposures and to navigate with minimal disruption of overlying normal brain, short hospital stay and less cost.
Mr.Ramesh Chandra Sethi, aged 40years presented with headache, speech disturbances and right sided limb weakness for the last 6months with progressive deterioration in spite of being on medical treatment. Clinical evaluation and MRI brain was suggestive of a large tumour near the speech and motor are of the brain on left side. He was taken up for surgery on 23rd September, 2010 where stereotactic guided awake brain surgery was performed with a CRW stereotactic frame on the Head. Under awake anaesthesia stereotactic guided craniotomy and tumour removal was done. The patient was closely monitored for speech and movement of right side limbs by the surgeon and anaesthesiologist during surgery. Immediately after surgery the patient could sit up and even drink water. He was discharged 48hours after surgery. The recovery time & hospital stay was reduced and no ICU Care was required. The results have been high satisfactory to the surgical team as well as to the patient.
This is for the first time stereotactic guided awake craniotomy has been carried out in the state of Odisha & surrounding territory. This has been possible due to the able guidance of the Dr.Pankaj Mankad & the Neurosurgery, Neurology, Anaestheology, Radiology &Pathology team said Brig (Retd) Prof P K Sahoo, Senior Consultant Neuro Surgery, Apollo Hospitals, Bhubaneshwar.
Fitting of CRW stereotactic frame
CT SCAN with CRW stereotactic frame
Anaesthesia for stereotactic guided Awake Brain surgery
The Neuro Surgery Dept. at the Apollo Hospitals, Bhubaneshwar has added another feature to its cap by performing Spinal Surgery using VITOM.
A 60 yrs old lady presented with low back pain, left sided leg pain and difficulty in walking long distance (Neurogenic Claudication) for the last one year which was worsened for the last two months in spite of all conservative treatment. Clinical evaluation revealed weakness and sensory impairment on the left foot and this was corroborated by MRI Lumbo Sacral Spine which was suggestive of Lumber canal stenosis at the level of LV4 and Prolapse Inter-vertebral disc L5-S1 compressing the left side S1 nerve root.
She was taken for surgery with a small skin incision in lumber area and the Video Integrated Telescopic Operating Microscope (VITOM) was used for the first time in Odisha for this surgery. Brig (Retd) Prof P. K. Sahoo says VITOM represents a revolutionary new way of full high density image quality with contrast, magnification, excellent colour, outstanding depth perception and large working distance in a small skin incision.
The patient recovered well and was discharged within 24 hours with full recovery of her symptoms.
A team of doctors headed by Dr. Pankaj Mankad had successfuly performed a rare heart surgery on a three-month-old baby boy. Ayush has become the first case in the history on Odisha to be operated upon in the state for this rare condition. The surgery was performed on 17th March and he was discharged on 21st March 2010.
"After a month of his birth, we were informed by the doctors about the problem. Our doctor advised us to take Ayush to New Delhi and get him treated at All India Institute of Medical Sciences. Similar cases from Odisha were earlier referred to Delhi as treatment was not available in the state." informs Mr. Manoj Kumar Samal, Ayushs father who hails from the district of Keonjhar.
As they were planning to move to Delhi, they came to know about the Apollo Hospitals in Bhubaneshwar. "We were fortunate to have brought Ayush to Apollo hospitals. We are deeply thankful to our surgeons and his team as Ayush has got a new lease of life".
Explaining about the challenging surgery, our operating surgeon said, "We usually treat congenital heart defects with medicines, special procedures using catheters, surgery or heart transplants. The treatment receives depends on the type and severity of the defect, but in this case the most challenging part was the child's age, and his deteriorating health condition".
Ayush had congenital heart problem wherein there was a defect in his heart's structure since birth. The defect had changed the normal flow of blood through his heart. A baby's heart begins to develop shortly after conception. During development, structural defects can occur which may be due to a genetic predisposition or an environmental exposure during the pregnancy. The Apollo Hospitals, Bhubaneshwar was inaugurated on 5th March 2010 and just after 12 days of its formal launch; this feat has been achieved in the state of Odisha.
Apollo Hospitals, Bhubaneshwars Ophthalmology Department operated on a patient, Mr. Durga Madhav Mohanty, a known case of high myopia with complicated cataract using the newer technique of Microcoaxial Phacoemulsification with a 2.2mm incision size under topical anesthesia.
According to Dr Rita Dash, Ophthalmologist of Apollo Hospitals, Bhubaneshwar until recently, Phacoemulsification has been performed using coaxial method. One of the major driving forces behind improving techniques in cataract surgery is the reduced incision size. This is because a smaller incision results in less induced astigmatism, faster visual rehabilitation, and improved wound security.
Until recently, phacoemulsification has been performed using coaxial fluid infusion delivered by a flexible sleeve around the phacoemulsification needle. Adequate fluid infusion is required to replace fluid removed from the eye by aspiration and wound leakage. The coaxial infusion also cools the needle, reducing the chance of thermal injury to the surrounding cornea or sclera.
Speaking in details of development of micro incision cataract surgery Dr. Dash informed that the introduction of ultrasonic energy modulation using pulse and burst modes reduced heat generated by the phaco needle and allowed surgeons to consider using a sleeveless needle with an irrigating cannula or chopper as an alternative to coaxial phacoemulsification.
This technique, often termed Bimanual or Micro-Incision Cataract Surgery (MICS), further reduces the incision size from the 3 mm incision to two 1.5 mm incisions, continuing the trend of reduced incision size with modern cataract surgery.
Despite the enthusiasm for Bimanual Phacoemulsification, surgeons performing this technique face new issues, including sub-optimal infusion and wound leakage. . Surgeons who have performed bimanual phacoemulsification were drawn initially to the technique, in the hope that the smaller incision size would address the wound sealing characteristics of corneal incisions. But, it has been disappointing, to find that small incisions used in bimanual phacoemulsification do not seal as effectively as larger corneal incisions routinely used with conventional coaxial phacoemulsification.
But in Microcoaxial Phacoemulsification by using specially designed phaco tip& infusion sleeve with an outer diameter of 1.4 mm phacoemulsification can be done successfully through 2.2 mm incision. It is estimated that an incision length less than 2.5 mm will be effectively neutral with respect to induced astigmatism, and therefore the technique fulfils the criteria for micro-incision surgery can be done successfully & moreover newer generation of micro-incision lenses that are being developed will be better suited to a 2.2 mm rather than 1.5-mm incision.
Apollo Hospitals, Bhubaneshwar is going to introduce Super specialty Telemedicine Center facility in all the rural areas of Odisha. This involves healthcare applications of telecommunication technologies (through Broadband connection). In other words, Telemedicine is the application of telecommunication technology to deliver health care and education to patients and providers at a distance.
The concept of Telemedicine is implemented, to connect Apollo Hospitals, Bhubaneshwar which is a tertiary care Hospital to other hospitals or any Private or Government Hospital situated in remote corner or to our own clinical center in rural pockets of Odisha.
Also, several Apollo Super Specialty hospitals located at Chennai, Hyderabad, Delhi, Ahmadabad, Bengaluru, Madurai and Kolkata are also getting connected to consult Specialist Doctors for better treatment and facilities, consequently avoiding expensive visit to these super specialty hospitals. The doctor then consolidates the relevant clinical data into the patient's Electronic Medical Record (EMR) and then seeks an opinion of the specialist using Apollos live Tele-Consultation Application (Medintegra).
In a unique move forward to manage patients with diabetes, Apollo Hospitals, Bhubaneshwar has launched its comprehensive diabetes clinic called "Sugar Clinic" on 23rd November 2011. Apart from expert consultation from Endocrinologist and Ophthalmologist this clinic will provide advice by a dedicated diabetes educator and dietician apart from all investigations pertaining to diabetes. A foot lab will access foot at risk and advice will be provided to patients and their attendants at affordable price.
Contact
Apollo Hospitals
Plot No. 251, Old Sainik School Road
Bhubaneshwar – 750 015
06747150382 / 06746661016