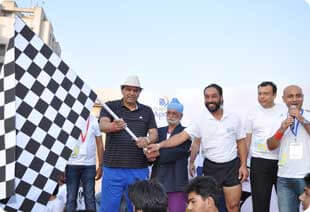 In association with the Billion Hearts Beating Foundation, Indraprastha Apollo Hospitals organised a 5-km run titled 'Dil ki Daud'. In the wee hours of Sunday, more than 2,000 people participated in the 5-km run, which kicked off at 6:45 am. India's first blade runner and Kargil War amputee hero – also participated in order to encourage the runners for a healthy living. India's first blade runner and Kargil War hero Retd Major Devender Pal Singh along with Former Wrestler of India, Satpal Singh and the famous Cricketer, Gurusharan Singh also participated in order to encourage the runners for a healthy living.
Organized to spread awareness about heart diseases, it aimed to bring people together and motivate the community to take the necessary steps towards a healthy lifestyle. The Healthy Heart run witnessed enthusiastic participation from school and college students, RWA members, various corporate houses, delegates from embassies, the staff of Apollo Hospitals as well as other citizens.
Said Mr Jaideep Gupta, Managing Director, Indraprastha Apollo Hospitals: "Indraprastha Apollo Hospitals has always promoted initiatives that foster healthy living. The objective behind supporting such a run is to spread awareness about the tangible benefits of exercise and encourage positive action. This is the third consecutive year that we have organised the run to promote healthy living and we are overwhelmed by the response and support from residents of neighbouring colonies, school and college students as well as our staff."
The biggest killer in urban India today, heart disease kills about 12 million people every year. According to the WHO, while the rest of the world enters the heart attack zone at around 55 years, Indians become susceptible as early as 35 years of age. Heart disease and stroke are the world's leading cause of death, claiming 17.3 million lives annually, with the numbers rising year on year. By 2030, it is expected that 23 million people will die annually due to cardiovascular diseases. "The Billion Hearts Beating" campaign is a crusade to reverse this global menace.
In order to address this concern, Indraprastha Apollo Hospitals brought together about 2,000 people from New Delhi and the NCR, which included areas such as Defence Colony, GK-I, Ashram, Friends Colony, New Friends Colony, Sarita Vihar, Jasola Vihar, Sukhdev Vihar, Jamia, and adjoining places. A dedicated team of doctors was present throughout the run to provide first aid and offer suggestions on how to maintain a healthy heart and body. The winners were presented with medals, while all finishers received certificates.