The Annual Bhagidari Utsav celebrated 10 years of its formation and Apollo Hospitals Delhi was the only Corporate invited to participate. A large screening unit comprising of Cardiac and Internal Medicine consults, ECG, ECHO and basic check-ups (Blood Pressure, Blood Sugar, height and weight). Over the space of two days, almost 2000 citizens of Delhi underwent the elaborate check-up.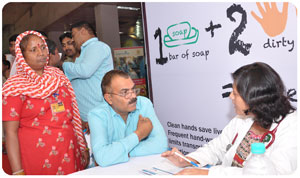 Participating Doctors:
Cardiology

Dr Ashish
Dr Abul Malik
Dr Vijaya

Internal Medicine

Dr Neelam
Dr Savera
Dr Surbhi
Dr Vishal
Dr Poonam
Dr Anuj
Approximately 15,000 visitors attended the Apollo stalls and about 1,800 visitors were screened.