The crucial component of survival in a cardiovascular event is the immediate or emergency medical care received. Studies have shown that the deaths due to heart disease are significantly lowered if the emergency care provided to the patient is appropriate, timely and intensive. The principal focus of emergency medicine in cardiac care is to correctly identify patients with acute cardiac disease and provide appropriate management.
A 42- year-old gentleman with no prior history of heart disease collapsed suddenly at his work place. He was brought to the emergency department of Apollo Speciality Hospitals, Vanagaram in an unconscious state. The emergency physicians at Apollo Hospitals rapidly diagnosed the patient as having a sudden cardiac arrest due to irregular heart rhythm. The emergency cardiac response team consisting of cardiologist, ER physicians, resident doctors, and nurses provided immediate and aggressive treatment to the patient. The irregular heart rate was corrected by defibrillation. Defibrillation is the process of correcting the abnormal heart rhythm by delivering electric shocks through chest pads. The team continued the resuscitation for about 45 minutes with the patient shifting in and out of cardiac arrest. He was then shifted to the catheterization lab. The patient was further managed with percutaneous coronary angioplasty (PTCA) and intra-aortic balloon pump. The patient had a full recovery and was discharged in 5 days.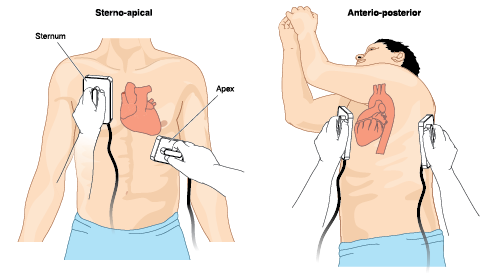 Defibrillation is the process of correcting the abnormal heart rhythm by delivering electric shocks through chest pads
Most studies state that patients who have received no pre-hospital care after a cardiac arrest have the highest mortality. This care must be initiated within the first 10 minutes. In many centers, out-of-hospital cardiac arrests without any bystander cardiopulmonary resuscitation for more than 10 minutes are usually declared dead on arrival. The above patient was received at the emergency department of Apollo Hospitals, fifteen minutes after the onset of the cardiac event. In spite of the delay, the astute management of the emergency department at Apollo Hospitals was able to save the patient's life. Furthermore, the patient did not have any of the sequelae of cardiac arrest like neurological damage or reduced cardiac function.
The emergency department in Apollo Hospitals adheres to international standards in the management of cardiac patients. Emergency care for a cardiac patient extends to the initial 6 hours after hospital admission. Essential facilities and novel advancements like defibrillation and PTCA are available round the clock. All staff in the emergency department of Apollo Hospitals is trained in CLS/ACLS techniques. An emergency cardiac response team is mobilized to the emergency department as soon as a patient with cardiac arrest is received.
The availability of state-of-art technology and consistent coordination of mobile emergency response team is the primary distinguishing factor of Apollo Hospital network. All ambulances provided by the Apollo Hospitals carry all advanced life-saving equipment and trained manpower.