Surgical Oncology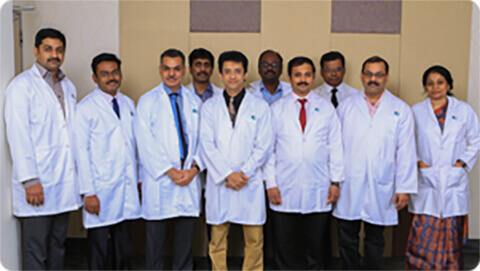 Complex tumour removals are skillfully performed by Apollo's highly trained and motivated surgical oncologists. They are ably supported by dedicated operating theatres, recovery and ICU staff. Apollo's success rate in oncology surgeries is comparable to that of the best centres in the world. Specialized surgeries like skull base, commando, liver resection, micro vascular reconstructions of flaps, extensive resection of hepatic and lung tumours, limb conserving surgery in bone tumours, laparoscopic surgery in staging and diagnosis, and the like are performed with high success rates.
ROBOTIC CANCER SURGERY
The Apollo Institutes of Robotic Surgery are committed to providing patients with an exceptional experience using cutting edge treatment options.
Our state-of-the-art operating theatres are equipped with the da Vinci Si surgical system, the most advanced platform for minimally invasive surgery available today. The four armed surgical robotic system is a breakthrough in surgical technology and is offered across the following specialties:
Urology
Gynaecology
Cardiac
Gastrointestinal
Bariatrics
Pediatrics
How is Robotic surgery performed?
Robot-assisted surgery integrates advanced computer technology with the experience of skilled surgeons. This technology provides the surgeon with a 10x magnified, high definition, 3D-image of the body's intricate anatomy. The controls in the console allow the surgeon to manipulate special surgical instruments that are smaller, as well as more flexible and manoeuvrable than the human hand. The surgeon is thus in complete control of the surgical procedure. The robot helps replicate the surgeons hand movements, while minimizing hand tremors. The surgery is thus operated with enhanced precision, dexterity and control even during the most complex procedures.
Why Robotics for Cancer?
Robot-assisted surgery when indicated for cancer patients offers various unique advantages.
The enhanced precision and control offered by the da Vinci system allows surgeons to perform delicate procedures like prostate surgery while preserving the nerve fibres and blood vessels attached to the gland.
The enhanced vision of the surgical field offers surgeons the ability to clearly differentiate between tissue planes and effect precise tumour removal.
The ability of the da Vinci system to scale the surgeons movement allows for better cancer clearance while preserving healthy tissue.
Robotic surgery can also benefit patients needing treatment for kidney, cervical, uterine and ovarian cancer.
Patients with colo-rectal cancers can look forward to a quicker return to normal bowel functions and diet following a robot-assisted procedure.
Advantages of Robot-Assisted Surgery:
Micro-Precision Surgery
Better Cancer Control
Less Damage to Healthy Tissue
Reduced Risk of Wound Infection
Minimal Blood Loss during Surgery
Faster Return to Urinary Continence
Faster Return of Sexual Function
Quicker Return to Bowel Movement
Reduced Hospital Stay
Faster Recovery
Less Pain
Less Visible Scars
Fluorescence Guided Surgery
Fluorescence Guided Surgery (FGS) is a new technique adopted by Apollo Cancer Centre, Chennai to perform lifesaving surgeries that completely remove tumors buried in the area of the brain which are not easily accessible.
In this technique, a special dye which is ingested an hour before the surgery, spreads over the whole body. Highly active cells like tumor cells absorbs the dye more when compared to normal cells. When seen under yellow 560 filter which is a special filter that is integrated in the microscope, it makes the tumor cells look distinctly different and fluorescent as compared to normal cells. This guides the surgeon to clearly distinguish the tumor from the healthy areas, minimizing damage to the brain and avoiding post-operative complications. The greatest advantage of this technique is that it clearly identifies the tumor and distinguishes it from the healthy zone. This technique marks a significant progress in the field of Neuro-Oncological surgery as it enables removing of the tumor with high accuracy.
The procedure is done with the help of Fluorescein sodium, a fluorophore that has been well known in ophthalmic surgery for almost five decades. It has been increasingly used and researched in neuro-oncologic surgery since the late 1990s. This breakthrough technique using Fluorescence guided surgery (FGS) sets the stage for us to perform the procedure with precision on young patients with centrally-located large tumors.
Today, our neurosurgical center at Apollo Cancer Centre, Chennai is fully equipped with the technical requirements for the intraoperative use of Fluorescein sodium. We frequently update ourselves with technological advances to deliver the best possible treatment that are at par with international standards. Apollo Cancer Centre, Chennai has a state of art operating room with Pentero 900 high definition microscope with both Yellow Fluorescence and IR 800 filters.
We had a series of 25 patients who underwent craniotomy and excision of intracranial lesion under fluorescence guidance. In 23 out of 25 patients, we were able to achieve complete resection of lesion without any neurological deformities. Histopathology showed a wide range of low to high grade glioma and metastasis. After average follow up of 6 months, around 80% of the patients had progression free survival. In our experience, the extent of resection is one of the most important predictors of overall survival, progression-free survival, and neurological outcome. No adverse reaction related to ingestion of fluorescence was witnessed.