Survivors of "Head & Neck Cancer" Surgery at Apollo Gleneagles Hospitals, Kolkata, open up about their fight against the disease and return to normal life
Posted by Apollo Hospitals | 11 Nov, 2019
Mr. Biplab Chakraborty, a 59-year-old teacher from Palta and a survivor, underwent all the modalities of cancer treatment – chemotherapy, surgery and radiation — for "cheek gland" cancer back in 2011.
Another survivor, Mr. Panchu Gopal Aditya, an octogenarian speaks with a mechanical ring. The retired headmaster from Bankura uses an external device, an "Electrolarynx", that he physically holds against his throat when he speaks as he had to undergo "Total Laryngectomy" (removal of voice box).
Mr. Chakraborty and Mr. Aditya were among several survivors of Head & Neck Cancer Surgery who overcame their inhibitions and spoke about an extremely tumultuous episode of their lives — cancer and its treatment. They discussed about the sudden detection of cancer putting the brakes on their previously normal lives, the emotional turmoil, the physical pain but also about returning to normal life riding on the advances in modern surgical techniques and medication.
Doctors who had treated them sat in rapt attention as the cancer surgery survivors spoke their hearts out delineating everything from the reactions they encountered from family , friends and society when the news of them getting cancer had spread, to the pivotal role of the clinical psychological counselling available at Apollo Gleneagles Cancer Centre, Kolkata in soothing their nerves.
They also spoke of the state-of-art facilities and the cutting edge equipment at the cancer centre — housed in a separate six storey-building — that helped attain positive outcomes and resulted in reduced hospital stay in their cases.
"I am extremely content with the treatment I have received at Apollo Gleneagles Hospitals. Dr. Nipun Saha, under whom I was admitted, clarified all the doubts that my family and I had before every step of treatment. I am also happy with the outcome and have resumed daily activities," said Mr. Aditya, who speaks with the assist of the Electrolarynx. "When I go to the local bazaar in Bankura, the shopkeepers who are the age of my grandchildren ask me to speak a little more than required using the device because the mechanical sound fascinates them and I happily oblige," he said in a lighter vein.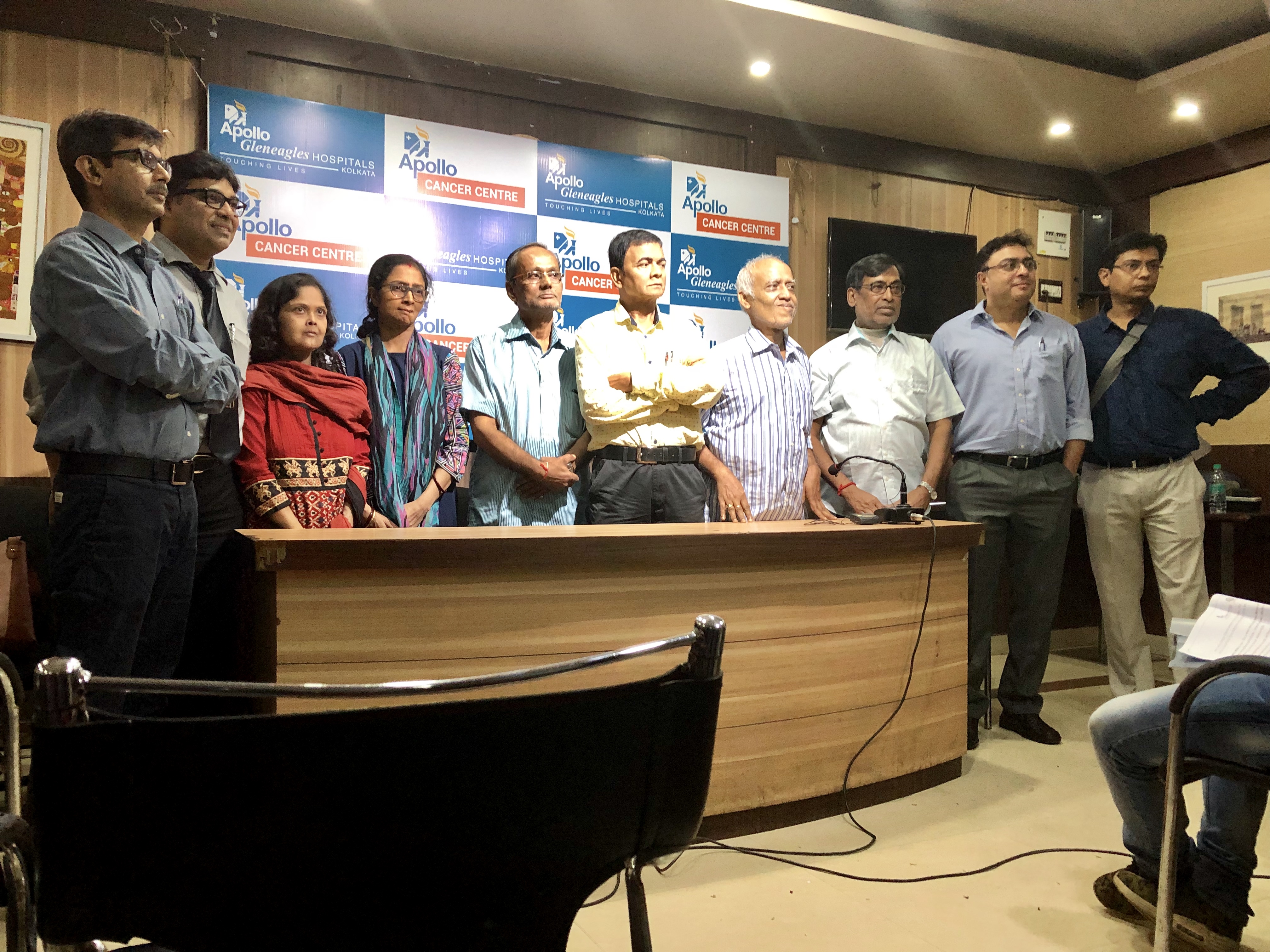 Posted by:
Apollo Hospitals
11 Nov, 2019
Get the best of health related stories delivered to your inbox.
Apollo Cancer Centre has launched fast forward Breast Cancer radiation therapy in the West Bengal region. The existin...
Date: 24 Nov,2021
In a major feat of clinical excellence at Apollo Speciality Hospitals, Nellore, Senior Orthopaedic Surgeon Dr. Madan ...
Date: 19 Aug,2021
The Transplant team of Indraprastha Apollo Hospitals, Delhi helped Chitwan Medical College (CMC), Bharatpur, Nepal...
Date: 05 Apr,2021