Apollomedics Super Specialty Hospital, Lucknow has achieved another landmark by performing 100 Successful Solid Organ Transplants.
Posted by Apollo Hospitals | 30 Jun, 2023
Apollomedics Super Specialty Hospital, Lucknow has successfully performed 100 successful solid organ transplants, reaffirming its commitment to providing exceptional medical care. Being the only private hospital in the region to perform Cadaveric Liver & Kidney Transplants, Apollomedics Super Specialty Hospital, Lucknow has emerged as a leading institution for organ transplantation.
Addressing the media at the Press Conference, Dr. Anupam Sibal, the Group Medical Director and Senior Paediatric Gastroenterologist of Apollo Hospitals, expressed his delight and pride in the hospital's achievement. Dr Sibal told the media, "The Apollo Transplant Program is one of the world's most comprehensive transplant programs, offering a host of state-of-the-art services. The program has performed more than 1200 solid organ transplants a year since 2012, when the landmark of more than 1000 transplants in one calendar year was reached. Even during the peak of COVID in 2020, 814 transplants were performed. In 2022, 1641 transplants were performed with exceptional outcomes, thus building a reputation of trust and reliability with the highest quality of care.
While efforts are being made to increase the organ donation rate in the country, there is a disparity between the huge demand and low supply. The organ donation rate in India is merely 0.08 per million population, which is a miniscule figure in comparison with countries like Croatia where it is 36.5 per million population. In the year 2021, India had 552 organ donors who saved lives of 1519 patients, suffered from end-stage organ failure.
The successful completion of 100 organ transplants by Apollomedics Hospital Lucknow is a true testament to the incredible skill, expertise, and compassionate care provided by our medical professionals. We are immensely proud of their contributions in transforming and saving numerous lives."
Dr. Mayank Somani, MD & CEO of Apollomedics Hospitals Lucknow, emphasized the hospital's continuous pursuit of excellence in organ transplantation. Highlighting the current landscape of Organ Transplants in India, Dr. Somani said, "There has been a fast resurgence in organ transplant activities post COVID, and for the first time, the country has achieved more than 12,000 transplants a year. We have performed 94 kidneys and 13 liver transplants with excellent outcomes of which 4 were cadaveric transplants. However, the number of deceased donations (organs donated by the kin of those who suffered brain death or cardiac death) has remained lower than the number of donations from living persons. We, at Apollomedics, are the only private hospital in the region to perform successful Cadaveric Liver & Kidney Transplants consistently providing hope to patients in need of organ transplants. Apollomedics Hospitals Lucknow has also obtained license for heart & Lung transplant and we hope that this will completely change the landscape of healthcare in Uttar Pradesh & will also boost Medical Tourism in the state."
Dr. Amit Gupta, HOD – Nephrology & Kidney Transplant at Apollomedics Hospitals Lucknow, stressed the importance of increased organ donations to address the organ scarcity. He told, "There's a wide gap between patients who need transplant & organs available for transplant. According to recent statistics, less than 5% of the required number of organs are available for transplantation. In India, about 2,20,000 patients need kidney transplants and currently 9500 kidney transplants are performed in India every year. Many of these patients die waiting for a suitable cadaver kidney. Factors such as lack of awareness (about brain death), religious beliefs, and inadequate number of transplantation centers affect the country's organ donation program. Cadaveric transplants play a crucial role in significantly addressing the organ scarcity. Through these transplants, we can offer a new lease of life to patients who are waiting for organ transplantation."
Dr. Neerav Goyal, Senior Consultant, Liver Transplant, Indraprastha Apollo Hospitals, New Delhi, said "We have unmatched technical skills of our highly specialized surgeons and physicians, an infrastructure that is comparable with the best in the world and above all the faith of our patients that we have nurtured over time. We have performed liver transplants in patients from 50 countries. The burden of liver diseases in India is significant because it alone contributed to 18.3% of the two million global liver disease deaths in 2021.India needs over 20,000 liver transplants. However, merely 3500 liver transplants are performed."
Dr. Ashish Mishra, consultant- liver transplant and HPB surgeon said, "Apollo Transplant program is well-founded with high-end equipment and state-of-the-art infrastructure that is delivered with the highest possible quality by an eminent pool of globally renowned Transplant Surgeons, Nephrologists, Gastroenterologists, Pediatric Gastroenterologists, Pediatric Surgeons, Anesthetists, Intensivists and Physicians. Over the years, the program has built a reputation of trust with the ability to take on very complex cases."
Dr. Ajaya Kumar, Director of Medical Services at Apollomedics Hospitals Lucknow said, "A successful transplant program depends upon so many factors. The first and the foremost is the skill and experience of healthcare professionals involved in the transplantation process, including surgeons, physicians, nurses, and other specialized staff. Their expertise ensures that the transplantation procedures are performed with precision and care. Technology plays a significant role in the diagnosis, evaluation, and post-operative management of transplant recipients. Advanced imaging techniques, monitoring devices, and surgical instruments aid in achieving better outcomes. Lastly, state-of-the-art infrastructure provides a safe and efficient environment for both patients and medical staff. Facilities equipped with modern operating rooms, intensive care units, and specialized transplant units facilitate optimal patient care during all stages of the transplant journey. The ideal combination of all these factors is crucial for the success of a transplant program. At Apollomedics, we ensure that there is a seamless integration of clinical expertise, technology, and infrastructure, leading to improved patient outcomes and increased transplant success rates with a better quality of life post-transplant."
As Apollomedics Hospitals Lucknow celebrates the remarkable milestone of 100 successful organ transplants, it remains dedicated to raising awareness about organ donation and urging individuals to pledge to donate their organs after their demise. By doing so, individuals can make a significant impact on the lives of those in need, providing hope for a new beginning and a chance for a better life.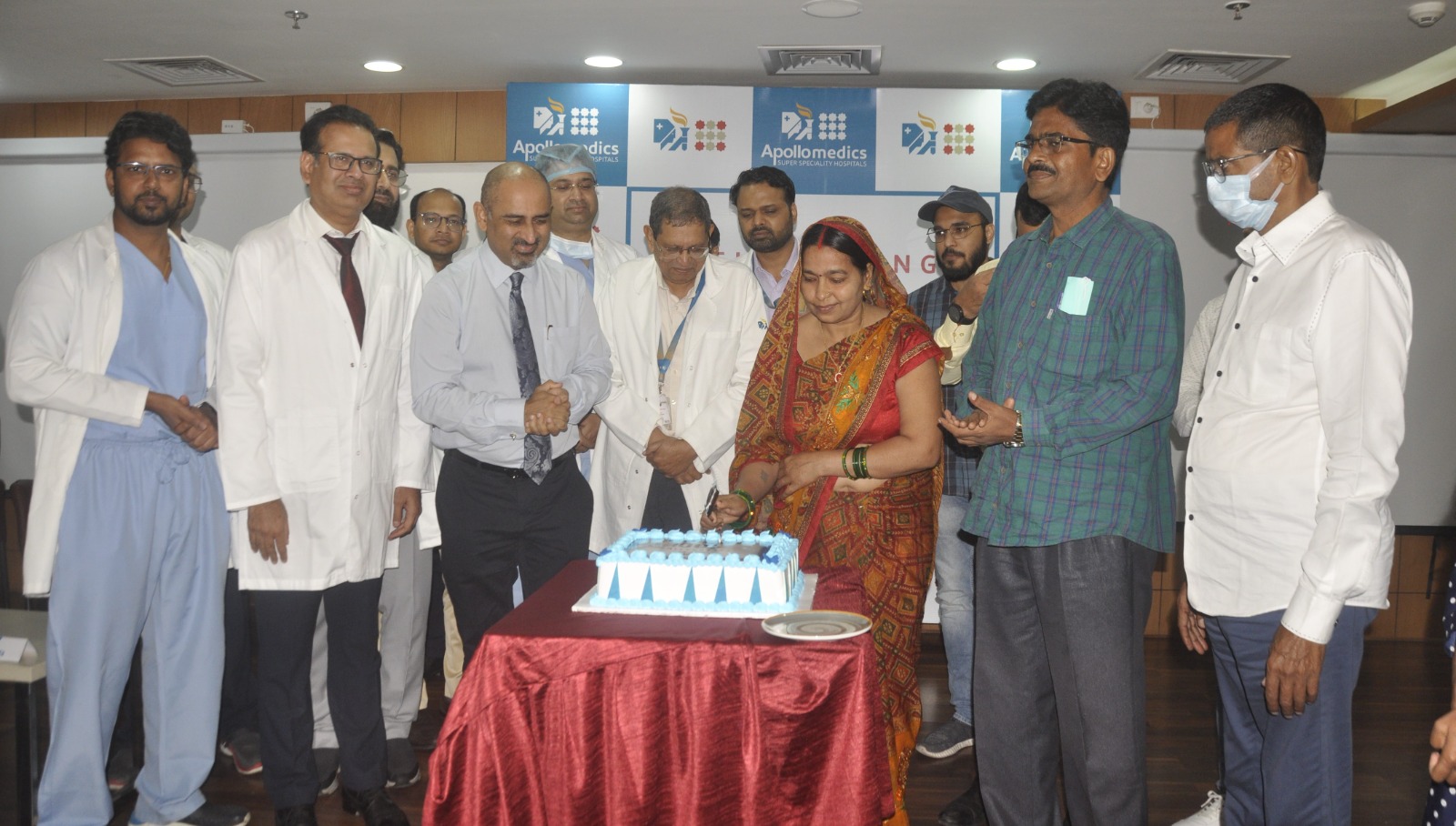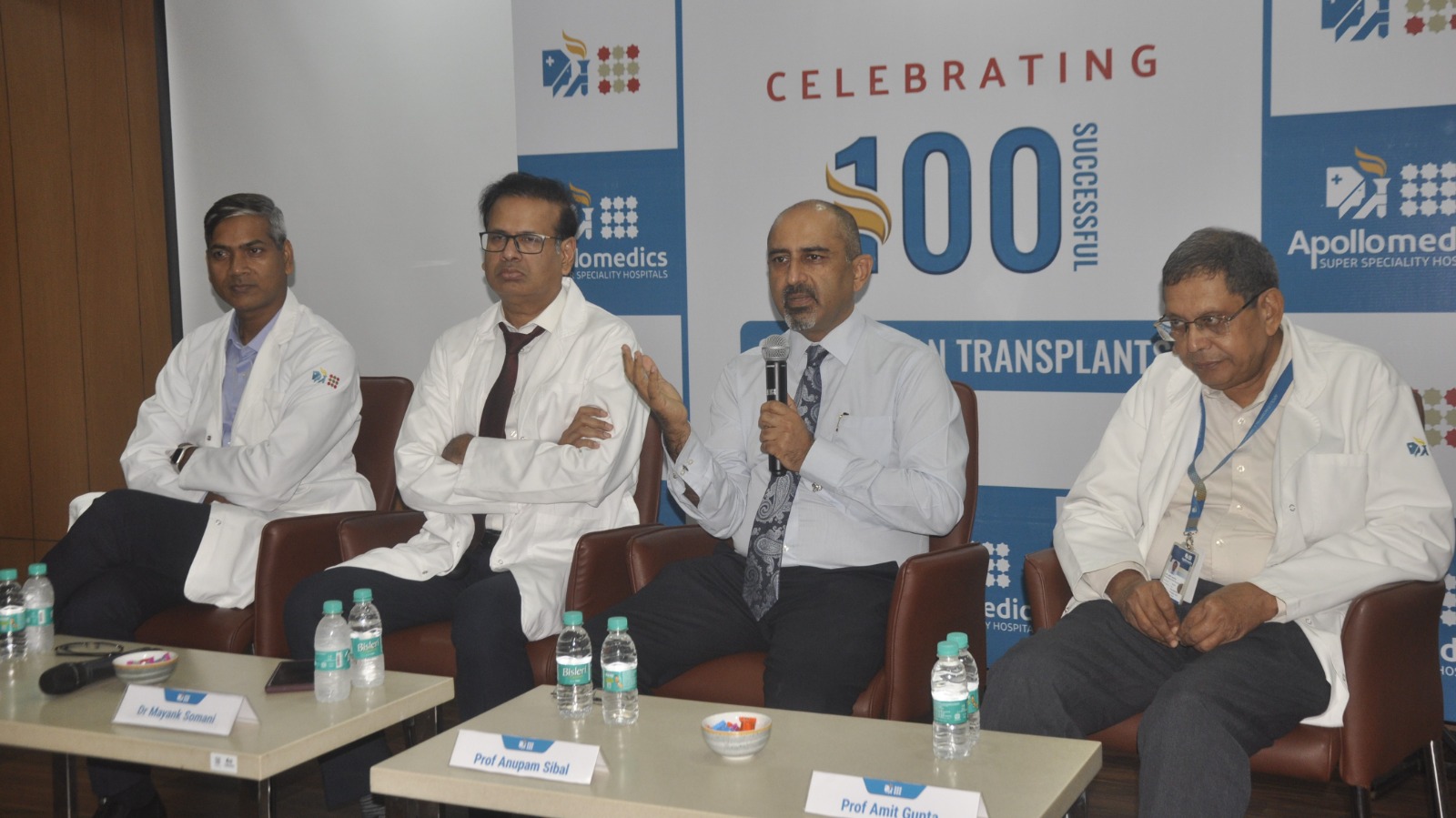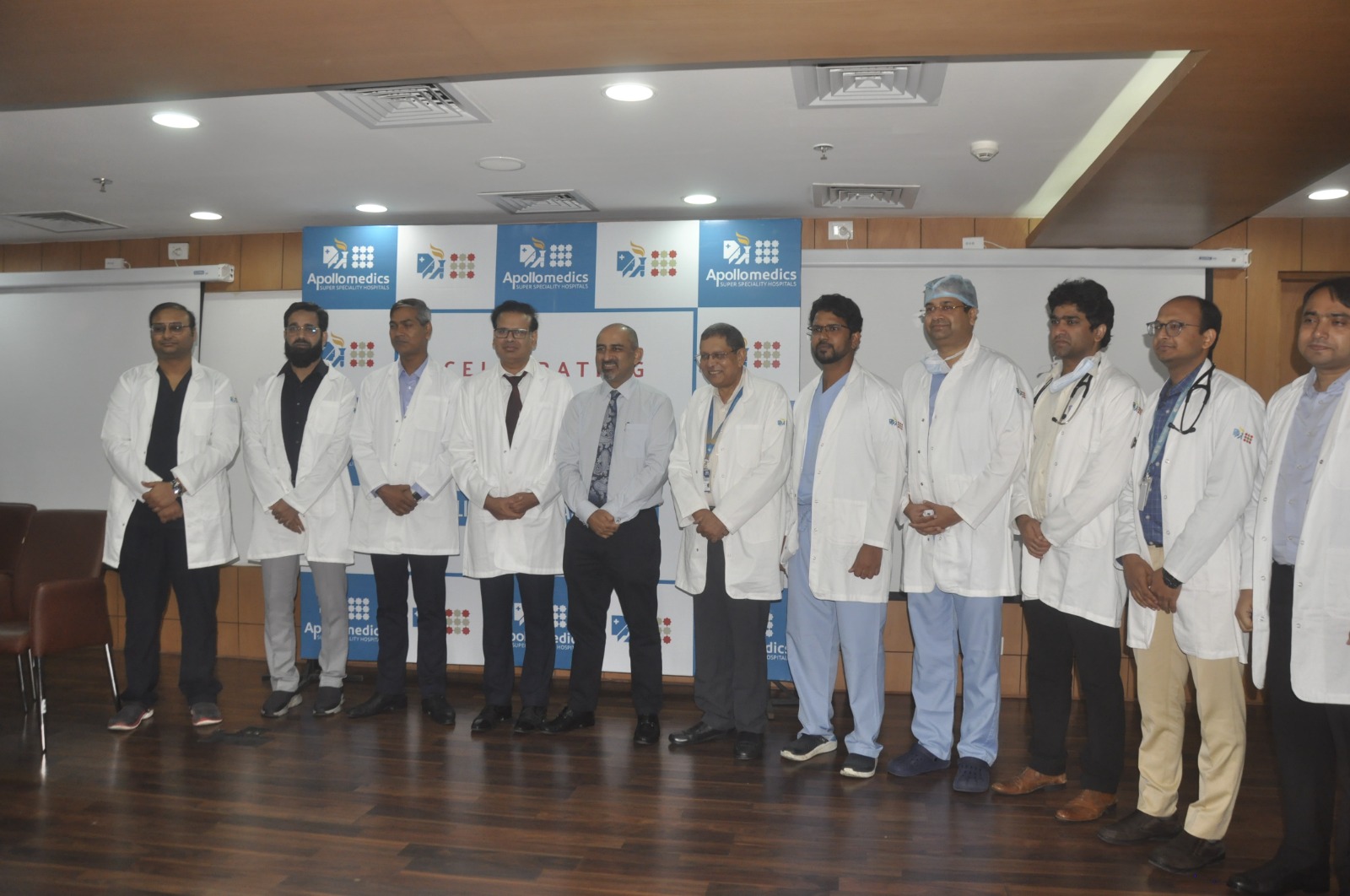 Posted by:
Apollo Hospitals
30 Jun, 2023
Get the best of health related stories delivered to your inbox.
Apollo Proton Cancer Centre (APCC) has inaugurated its groundbreaking Centre of Excellence (CoE) for Head and Neck Ca...
Date: 15 Nov,2023
Apollo Cancer Centres (ACCs) continue to push the boundaries with advanced cancer treatment, by introducing 'India's ...
Date: 06 Nov,2023
In a significant stride towards advancing healthcare infrastructure, Apollo Cancer Centre (ACC), Visakhapatnam inaugu...
Date: 24 Sep,2023