Apollo Multispeciality Hospitals, Kolkata hosted a special event for kids to celebrate Children's Day.
Posted by Apollo Hospitals | 15 Nov, 2022
Children's Day is celebrated across the country to honor children and promote awareness of their education and welfare. This Children's Day, Apollo Hospitals has put the focus on a child's right to health by hosting a special event for children at Apollo Hospitals across India. Welcoming children who have been part of the Apollo family as patients to a specially decorated area in the hospital, the pediatricians, nurses and staff showed their fun side as they participated with the kids in various fun-filled activities and games.
The children accompanied by their parents saw a different side to the hospital, decorated with a new look for Children's Day. The event comprised games that not only engaged the children, but also informed them about their health. 'Know Your Organs' had the children play a variation of the popular Four Corners kids party game and answer questions about a particular organ such as Heart, Lungs, Bones, Muscles, Eyes, Nose, Brain. The pediatricians also spoke to the parents with tips on ensuring a healthy child.
The parents and the children all expressed their happiness at attending an event that was not only fun but also gave them a lot of knowledge on important aspects of a child's health. The children expressed their joy by writing creative messages on sticky notes pasted on a special board. After the fun events, the children and their parents were treated to delicious healthy snacks and they left with a gift hamper that delighted the kids. But not before a group picture with the doctors and staff to save the memory of the happy occasion for eternity!
Dr Surinder Singh Bhatia, Director Medical Services, Apollo Multispecialty Hospitals, Kolkata, said, 'Our children represent our future. It is our responsibility to ensure that they are given all opportunities to bloom and grow into happy adults who can make a positive contribution to society. We are glad that we could take care of these children and bring them back to health. The event is a small token of thanks to the parents and children putting their trust in us. The uninhibited joy and laughter of these innocent children are our reward. At Apollo, we believe that every child deserves the best of healthcare in addition to the basic needs of food, shelter and education.'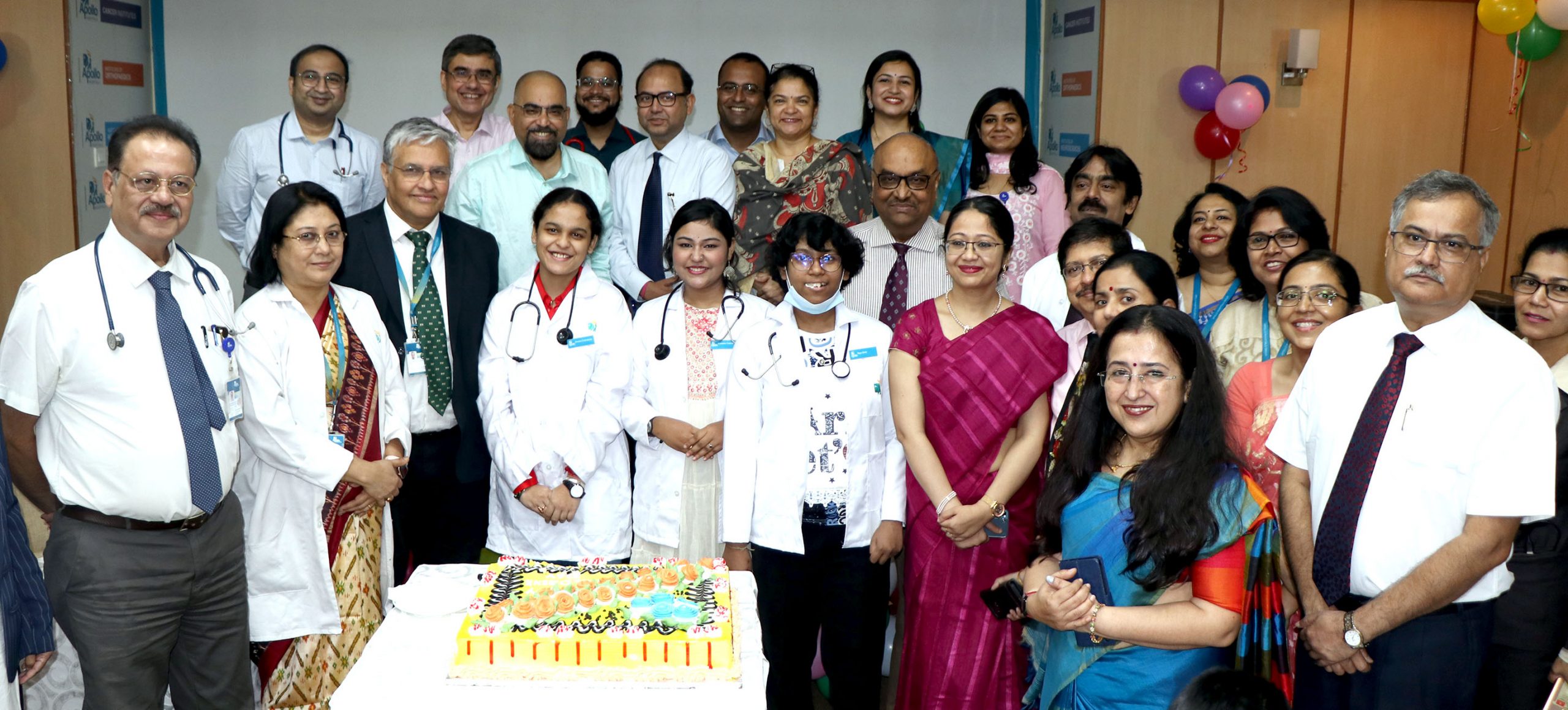 Posted by:
Apollo Hospitals
15 Nov, 2022
Get the best of health related stories delivered to your inbox.
Apollo Hospitals Sheshadripuram, Bangalore organised a 'Say No to Horn' public awareness campaign, urging citizens to...
Date: 09 Aug,2023
Amidst an air of triumph and hope, Apollo Proton Cancer Centre (APCC) together with Apollo Cancer Centre (ACC) and Ap...
Date: 07 Aug,2023
Apollo BGS Hospitals, Mysuru organised had Apollo Cardiovascular Symposium 2023 at Hotel Radisson Blu. During the sym...
Date: 14 Jun,2023