Apollo Multispeciality Hospitals, Kolkata has launched Eastern India's First Induced Sputum Lab in the private healthcare space.
Posted by Apollo Hospitals | 01 Aug, 2022
Apollo Multispecialty Hospitals, Kolkata has launched Induced Sputum Lab and become the first hospital in the private healthcare space in Eastern India to bring in Induced Sputum Cell Count, a diagnostic modality for treating lung diseases. It would be highly beneficial for patients suffering from severe asthma.
Induced Sputum Cell count is a non-invasive method that primarily identifies the type of inflammation associated with severe asthma thus ensuring precise and appropriate treatment. Without the Sputum Cell count the presence and type of airway inflammation can be difficult to detect, which can delay the right treatment.
Induced sputum cell counts evaluate the presence, type, and degree of inflammation in the airways of the lungs. It is a procedure used for patients who have trouble producing sputum spontaneously, by helping them to cough up secretions. This is done by creating extra moisture in the airways of the lungs, which loosens and thins out secretion so that coughing out sputum is easy.
The sputum induction test is a painless procedure. It involves breathing in different concentrations of saline (mild salty water) through a nebuliser and then carrying out cough-like movements to produce a sample of sputum. The nebulised hypertonic saline solution inhaled by the patient liquefies airway secretions, promotes coughing and allows expectoration of respiratory secretions.
Present at the occasion, Dr Saibal Moitra, Adjunct Professor and Senior Consultant-Allergy & Immunology, Apollo Multispecialty Hospitals, Kolkata said "Induced Sputum cell counts have the advantage of providing information about the cellular nature of inflammation in patients with severe asthma. This aids in treatment decisions. The application of induced sputum in the assessment of airway pathology has grown rapidly. In the current guidelines for asthma, sputum eosinophils are placed as an evidence-based tool for assessing airway inflammation and, therefore, predicting and assessing corticosteroid response."
The induced sputum lab of Division of Allergy and Immunology of Apollo Multispeciality Hospitals, Kolkata is going to beneficial for all patients suffering from severe asthma and for who are not showing adequate response to therapy, who can now be assessed by this test to decide about the right choice of medicines.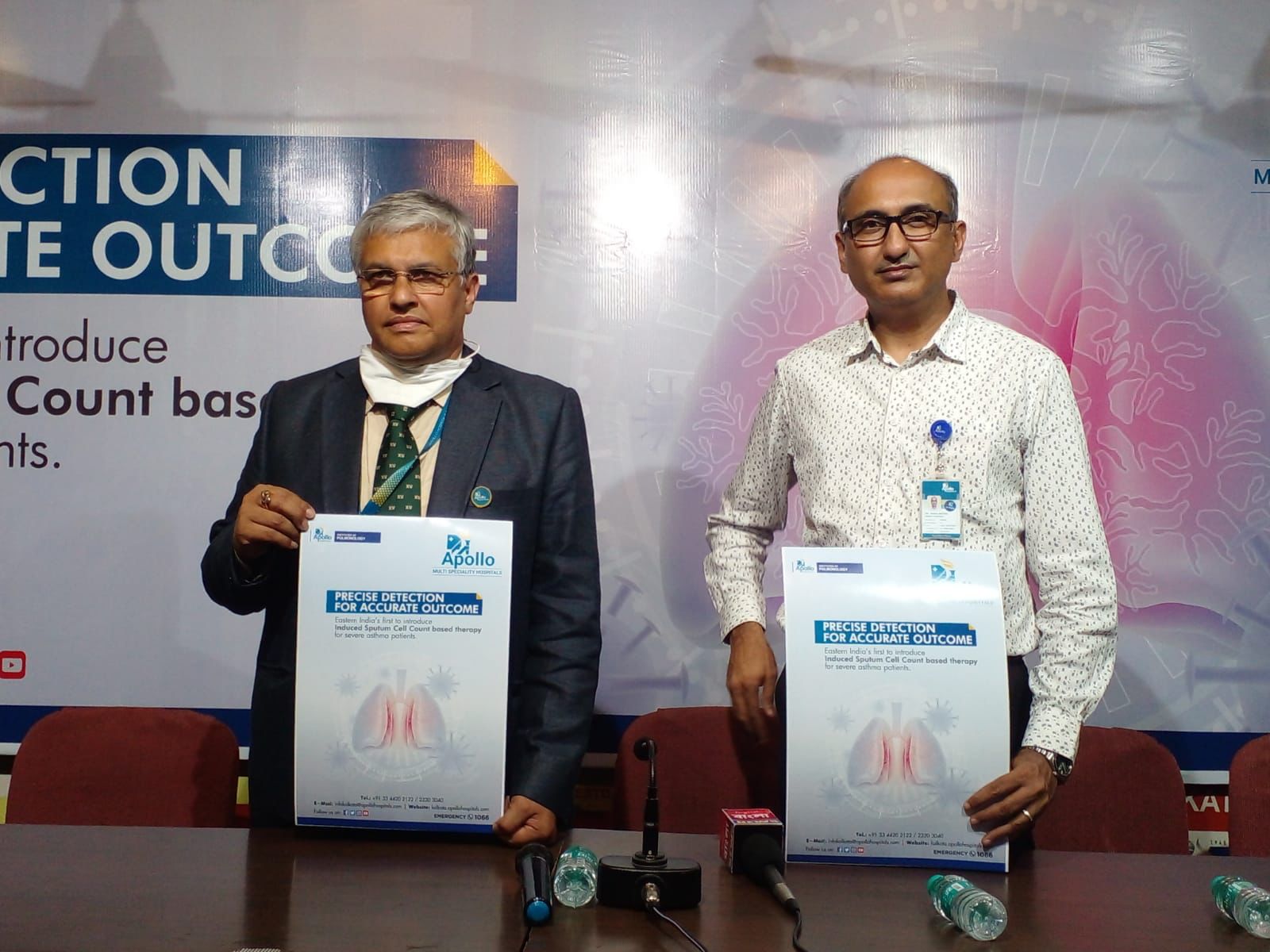 Posted by:
Apollo Hospitals
01 Aug, 2022
Get the best of health related stories delivered to your inbox.
A team of doctors at Apollo Hospitals, Ahmedabad led by Senior Consultant Cardiothoracic Surgeon, Dr Utpal Shah, gave...
Date: 24 Nov,2022
A group of medical professionals working with the motto of pain relief came together to form the Indian Society for S...
Date: 12 Jul,2022
Apollo Cancer Centre has launched fast forward Breast Cancer radiation therapy in the West Bengal region. The existin...
Date: 24 Nov,2021