Apollo Hospitals, Hyderabad in collaboration with Montefiore Medical Center, New York hosted India's first exclusive conference on Lung Transplantation
Posted by Apollo Hospitals | 13 May, 2019
The Apollo Heart and Lung Transplant Institute at Apollo Hospitals, Jubilee Hills, in collaboration with Montefiore Medical Center, New York, hosted, India's first exclusive conference on Lung Transplantation. The Conference was endorsed by the Indian Chest Society, South zone. The two-day Congress was formally inaugurated by Dr. Sangita Reddy, Jt. Managing Director, Apollo Hospitals Group at HICC Novotel. Also present were Guests of Honour, Dr. A.G.K. Gokhale, Consultant, Cardiothoracic, Transplant and Minimal Access Surgery, Apollo Hospitals; Dr. Harish Seethamraju, Medical Director, Advanced Lung Failure and Lung Transplant, Montefiore Medical Center, New York; Dr. Robert Michler, Surgeon-in-Chief, Dept. of Cardiovascular & Thoracic Surgery, Montefiore Medical Center, New York and Dr. Battu Chaithanya, Consultant Pulmonologist, Apollo Hospitals; Dr. R. Vijai Kumar, Chairman, Indian Chest Society, South Zone; Dr. Vijay Mohan Reddy, Director Medical Services, Apollo Hospitals and Mr. Y. Subramanyam, CEO, Apollo Hospitals.
Speaking on the occasion Dr. Sangita Reddy said, "It is extremely commendable that the team from Montefiore Medical Center has a collective experience of over 1000 lung transplants, that in itself is a record with very few teams being in a position to match. Here our own experience of just around 200 lung transplants in all, across the country in all medical centers, should set the perspective for where we are and how far behind we are. That is the reason, for Dr Gokhale being keen to enhance and grow the program under the guidance and partnership of this team from Montefiore. Right now there is very limited treatment modalities available for interstitial lung disease and COPD, even as the incidence of these diseases are growing with a fairly significant number of patients suffering from them. Most of these patients will benefit from lung transplant. What we are seeing today is the very active growing transplant program in other specialities but lung transplantation has not picked up with the same propensity. Therefore, this conference is timely, it's appropriate. We are happy to begin it, also for the reason that we are attempting very high international standards through this collaboration. Let's now try to expand our horizon, capability and outcome of the lung transplant by replicating the success we have tasted in the heart and other transplants. I would like to commend the Telangana government for their very active organ donation program and the advocacy initiated to educate patient on organ donation. We should justifiable continue to feel prouder of the fact that India does deliver world class outcomes at one-tenth of global prices, so that we can continue to reach out to more and more of our population who traditionally could not afford it."
Dr. A.G.K. Gokhale said, "Most areas of organ transplant and related technology are progressing aggressively in our country, but in certain specialities it's been in a slumber, one of them is lung transplant. There a couple of reasons for the lung transplant not taking off here, the primary reason being the medical community not being sufficiently aware of the opportune time to refer a patient for lung transplant and the benefits that accrue from it; there not being many competent and skilled transplant teams, though there are many who are upgrading themselves by the day and this leads to lack of confidence in the referring doctor to refer a patient. Apollo Hospitals is now working with the Montefiore Medical Center, New York, which has rich experience of over a decade in lung transplantation and we would be in a position to gain that knowledge and experience in a short time to replicate the success here, in a year or two."
Dr. Harish Seethamraju said, on behalf of the Montefiore Medical Center, "We are here to commit our support to the concerted effort of Dr Gokhale and the Apollo Hospitals to establish a world class lung transplantation program."
Dr. Robert Michler said, "The collaboration between Montefiore Medical Center and Apollo Hospitals, will enable us to share our knowledge and experience and together enrich ourselves to accomplish the best outcomes."
Dr. R. Vijai Kumar, Chairman, Indian Chest Society, South Zone said, "This initiative of Apollo Hospitals and the Montefiore Medical Center, and the concerted effort of Dr Gokhale should fructify in no time into a Center of Excellence in lung transplantation, here."
Lung related ailments pose a challenge for both patients and clinicians. Clinicians have limited treatment options and patients are exhausted of their resources. Lung transplantation is increasingly becoming the preferred option of treatment. There are nearly 50000 patients in India who are likely to be benefitted by lung transplantation, done by experienced teams.
In advanced lung diseases like chronic obstructive lung disease and interstitial lung disease, both lungs are destroyed and they do not effectively transfer oxygen into the blood. Often patient becomes bedridden and cannot perform any activities and become dependent on others. The prevalence of interstitial lung disease is up to 97.9 per 100000 per year and the incidence is of 19.4 per 100000 per year. 17% of these may not be benefitted by any treatment and may require Lung transplantation. There are 30 million chronic obstructive lung disease patients in India. As it is a progressive disease, the end stage patients will be benefited from Lung transplantation. COPD is the leading cause for lung transplantation throughout the world. Similarly, Primary pulmonary hypertension, a condition in which pressures in lung blood vessels increase without a known cause, is a very common problem in our country. It is the under diagnosed, under treated, under estimated, silent killer. Patients with Primary pulmonary hypertension can be benefited from optimization of medication and Lung transplantation.
The thrust of the conference was on the current aspects of managing advanced lung diseases and lung transplantation, besides two workshops conducted by international faculty on ECMO and Right Heart Catheterisation. Some highlight topics being focused at the conference were, new lung preservation techniques, optimisation of donor lung, induction chemotherapy, advances in surgical technique, changing trends of anaesthesia and improved outcomes in view of better post-op immunosuppression, overall leading to increased survival. Discussion on advances in medical management of these advanced lung diseases was the bedrock of the Conference.
Over 250 delegates from all over the country and 60 faculty members including 6 international faculties, attended the conference. The speakers were eminent chest clinicians, transplant pulmonologists and surgeons, intensivists, transplant anaesthesiologists, rheumatologists, cardiologists, radiologists, infectious disease physicians from USA and India. The Conference was aimed at pulmonologists who were involved in managing advanced lung diseases, to enhance their skills and to provide an insight into various aspects of lung transplantation, including when to advice patients about it.
Some of the eminent international faculty at the Conference were: Dr. Robert Michler, Surgeon in chief, CVTS, Montefiore Medical center, New York; Dr. Harish Seetham Raju, Medical Director, Advanced lung failure and lung transplant , Montefiore Medical center, New York; Dr. Alan Scott Scheinin, Surgical Director, Advanced lung failure and lung transplant, Montefiore Medical Center, New York; Dr. Jonathan Leff, Associate Professor, Anaesthesia, Montefiore Medical center, New York; Dr. Hani Sabbour, Cardiologist and Staff Physician, Cleveland Clinic, Abu Dhabi and Dr. Sudhakar Pipavath, Professor of Radiology, University of Washington, USA. The faculty from India comprised of Dr. G.C. Khilnani, Retired Professor, HoD, Pulmonology, AIIMS, New Delhi; Dr. Deepak Talwar, Director of Pulmonology, Metro Hospitals, Noida; Dr. Rajadhar, Director, Dept. of Pulmonology, Fortis, Kolkata; Dr. Amith Dhameja, Director, Interventional Pulmonology, Gangaram Hospital, New Delhi; Dr. R. Vijai Kumar, Chairman, Indian Chest Society, South Zone and Dr. Paramjyothi, Dean, Professor, HoD, Pulmonary Medicine, NIMS, Hyderabad.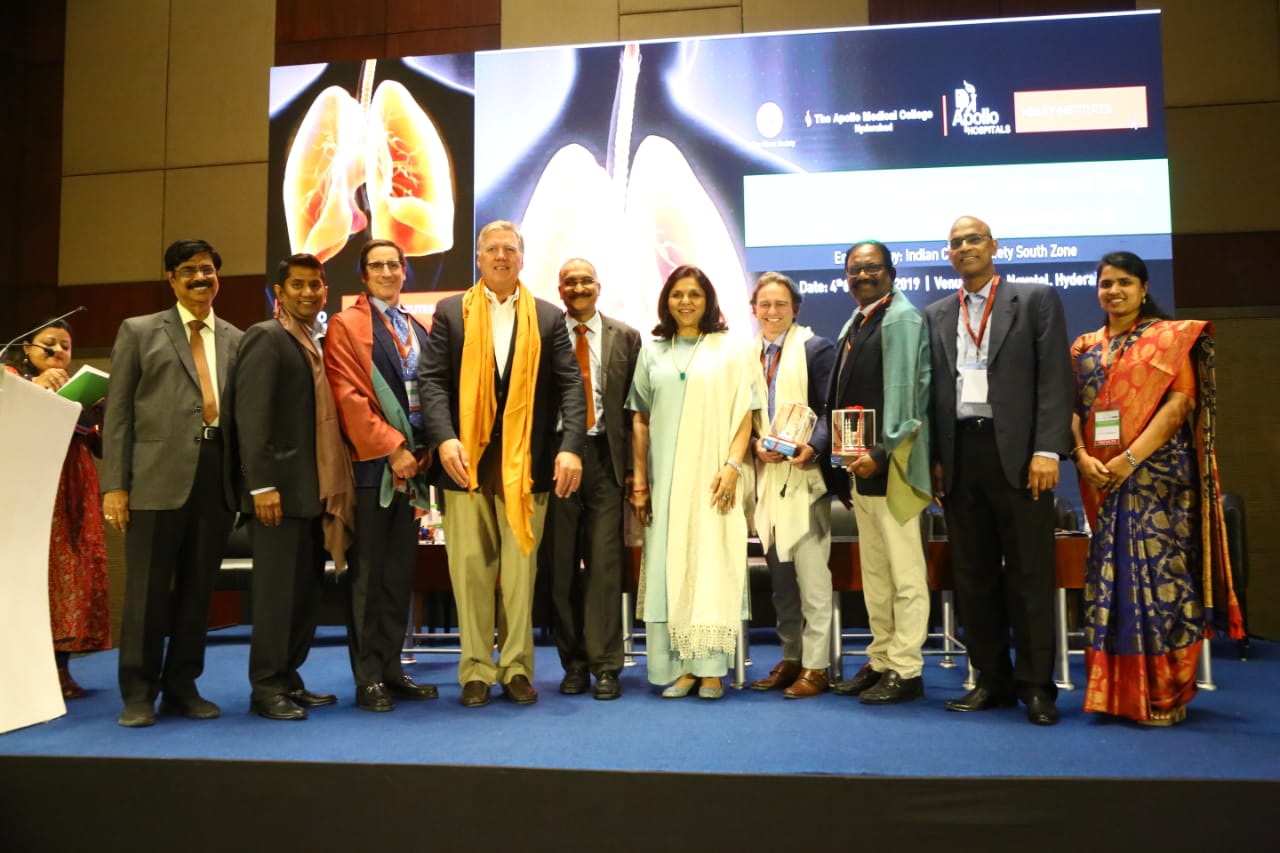 Posted by:
Apollo Hospitals
13 May, 2019
Get the best of health related stories delivered to your inbox.
In an effort to facilitate knowledge sharing and showcase cutting-edge advances in pediatric care, Apollo Hospitals c...
Date: 06 Nov,2023
In a significant move to raise awareness about breast cancer and emphasize the importance of early detection, Apollo ...
Date: 06 Nov,2023
Apollo Proton Cancer Centre (APCC) launched #SaveTheBreast campaign as part of a coordinated effort to advance women'...
Date: 16 Oct,2023