Apollo Gleneagles Hospitals, Kolkata celebrates the fortitude of breast cancer survivors and highlights the importance of early detection
Posted by Apollo Hospitals | 10 Nov, 2019
Ms. Hela and Ms. Sen number among hundreds of women, who have been able to conquer cancer and come out as stronger persons, with the assistance of the 360 degree-treatment for the perilous disease, available under one umbrella at Apollo Gleneagles Hospitals, Kolkata.
As Apollo commemorated Breast Cancer Awareness Month of October on Tuesday, four such women rose over their inhibitions and spoke out about their journey to overcome breast cancer so that other women, who suddenly come face to face with the news of contracting the disease, can take heart and prepare for the battle ahead.
Oncologists present on the occasion emphasised the importance of early detection of breast cancer that gives one a tactical advantage during treatment and results in better outcomes following treatment. They also put accent on regular self-examination to identify telltale signs of the disease as one in eight women are susceptible to get the disease and one in 22 actually get it, pointing to at a very high incidence in the population.
According to Dr. Suchanda Goswami, consultant Radiation Oncologist AGHL, cases of breast cancer are on the rise because of the growing trend of late marriages, leading to delayed childbirth, in tandem with the tendency to avoid or discontinue breastfeeding, especially among urban women.
"Late detection of breast cancer, something that makes the treatment more complicated and more difficult for the patient, is a direct result of the tendency of Indian women to suppress their discomforts and ailments for the smooth running of the household. In the long run however, the effect is just the opposite," she said.
The breast cancer survivors also spoke about the importance of early detection of the disease, which translated into a certain advantage for some of them in the fight with the disease and allowed them to return to normal life quicker.
Dr. Suvadip Chakrabarti, Consultant Surgical Oncologist said that the good outcomes in Oncology at Apollo Gleneagles is possible owing to all the modalities of treatment — surgical, radiation and medical oncology being available under one roof, in addition to psychological counselling and rehabilitation facilities. He said that the hospital was also in the process of starting a "Pink Clinic" that would see the addition of world class Artificial Intelligence based-equipment for detection of breast cancer and even determining the correct modality of treatment.
Ms. Hela, who had been a part of the security team of Chief Minister Mamata Banerjee, has been able to garner enough courage to continue her outdoor duties that now include horse-riding and rock-climbing as she is a trainer at the Police Training School. Ms. Sen faced a second hurdle after coming out of depression and starting her food delivery business because of hair loss that had prevented her from participating in a local food festival.
Also present on the occasion were Sova Das, who overcame the double trouble of her husband and herself being detected with the cancer together but showed the grit to come back and ran the 5K distance category in a marathon last year and freelance journalist Nandini Acharya, who was detected with an advanced stage of breast cancer. Ms. Acharya underwent surgery and went on to cover an international film festival while taking radiation therapy and has continued zealous fiction and non-fiction writing undeterred.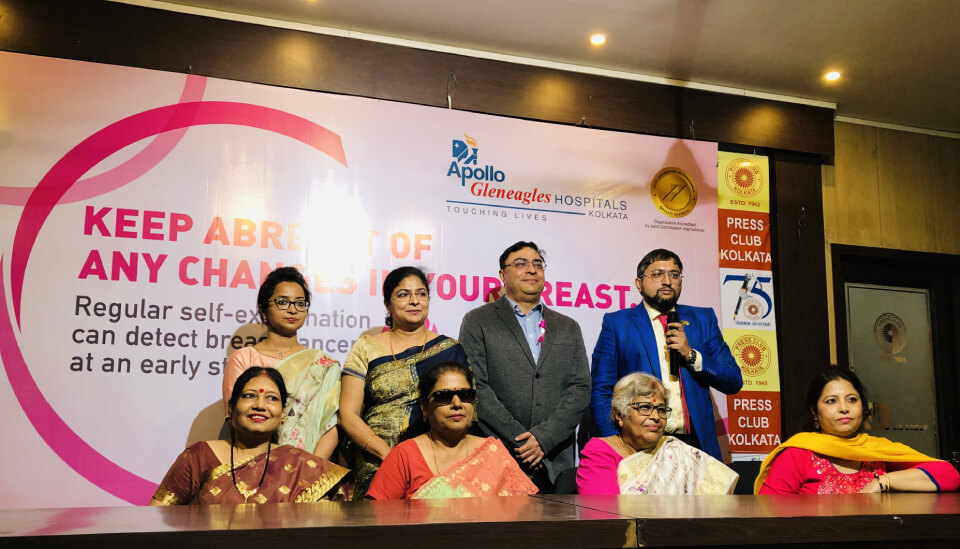 Posted by:
Apollo Hospitals
10 Nov, 2019
Get the best of health related stories delivered to your inbox.
Apollo Proton Cancer Centre (APCC) has inaugurated its groundbreaking Centre of Excellence (CoE) for Head and Neck Ca...
Date: 15 Nov,2023
Apollo Cancer Centres (ACCs) continue to push the boundaries with advanced cancer treatment, by introducing 'India's ...
Date: 06 Nov,2023
In a significant stride towards advancing healthcare infrastructure, Apollo Cancer Centre (ACC), Visakhapatnam inaugu...
Date: 24 Sep,2023