Apollo BGS Hospitals, Mysore organised the Apollo Cardiovascular Symposium 2023.
Posted by Apollo Hospitals | 02 Jun, 2023
Apollo BGS Hospitals, Mysuru organised had Apollo Cardiovascular Symposium 2023 at Hotel Radisson Blu. During the symposium experts in Cardiology discussed evidences of implementation of newer technologies in cardiovascular treatment resulting in improved outcomes and patient survival.
Inaugurating the symposium Dr. K.H. Prasad, DHO, Mysore said "In this era of rapid development happening in the field of cardiology it is very important to keep ourselves updated about the innovation and technologies in cardiology" he appreciated the hospital for organising the symposium serving as a platform to discuss and educate the latest developments in the field of cardiology.
Mr. Bharateesha Reddy, Vice-President and Unit Head, Apollo BGS Hospitals, Mysore presenting the latest developments and future plans of the hospital said "We have been in the forefront of cardiac care and in adopting newer technologies like OCT, TAVR, FFR, Bioabsorbable stents, Rotational Atherectomy, CRTD, LBBP, giving Mysoreans the privilege of getting the best cardiac care facilities within their reach, especially during emergencies, with increased chances of survival.
Dr. Arun Srinivas, Chief Cardiologist and Head of the Apollo Heart Institutes, Apollo BGS Hospitals, Mysore said Management of cardiac emergencies & heart attacks in hospitals around the Mysore region lacking cath lab facilities has been our focus. We strive to reduce the risk of sudden cardiac deaths due to arrythmias' and pulmonary embolism with the help of advanced diagnostic and therapeutic techniques. ACVS gives us an opportunity to present these novel techniques and their implementation in the past few years in the treatment of critical cardiac patients.
The symposium started with a presentation on 'Venous Thromboembolism- An important cause of Sudden death' by Dr. Arun Srinivas of Apollo BGS Hospitals, Mysore . Dr. R. Keshava of Fortis Hospitals, Bangalore presented on 'Management of ACS in non-Cath lab setting'. Dr. S. Jayaprakash Shenthar, of Fortis Hospitals spoke about 'Management of Cardiac Arrhythmia in clinical practice' with a quiz on ECG. Dr. B. C. Srinivas of Apollo Hospitals, Sheshadripuram spoke on 'TAVI- a boon for severe Aortic stenosis in the elderly'. Dr. Karthik Vasudevan of Manipal Hospital, Bangalore presented on 'Evolving novel therapies for Chronic Heart Failure'. Dr. Anand Subramanyam of Apollo Hospitals Sheshadripuram, Bangalore, presented on 'Surgical therapy for Heart Failure and Cardiac Transplantation'. Dr. Chethan Bharadwaj and Dr. Gowtham H.G. of Apollo BGS Hospitals, Mysore made case presentations on usage of newer techniques in treatment of cardiac patients and how survival with primary angioplasty is far superior than conservative medical treatment.
200 Doctors comprising of Cardiologists, General Physicians were present. The Symposium was focused on technology transforming cardiac care and speakers discussed at length the current management techniques, evidences of adaptation of these techniques, the transformation brought in by technology and the future possibilities in cardiac care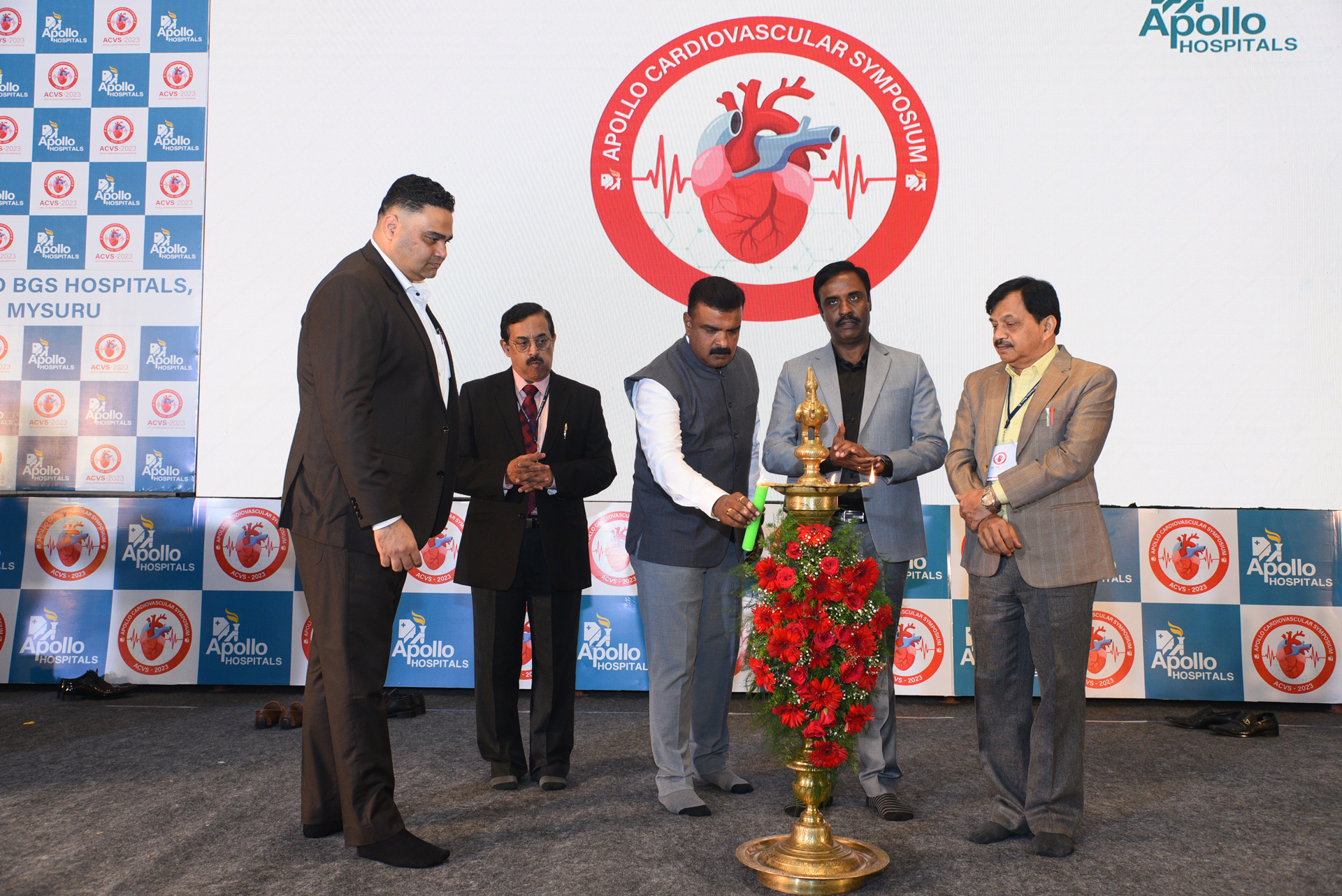 Posted by:
Apollo Hospitals
02 Jun, 2023
Get the best of health related stories delivered to your inbox.
In an effort to facilitate knowledge sharing and showcase cutting-edge advances in pediatric care, Apollo Hospitals c...
Date: 06 Nov,2023
In a significant move to raise awareness about breast cancer and emphasize the importance of early detection, Apollo ...
Date: 06 Nov,2023
Apollo Proton Cancer Centre (APCC) launched #SaveTheBreast campaign as part of a coordinated effort to advance women'...
Date: 16 Oct,2023