Women's Health Screening Camp, organized by Apollo Hospitals Delhi, inaugurated and a special issue of Apollo Life launched by Smt. Sheila Dikshit, Hon'ble Chief Minister, New Delhi
Posted by Apollo Hospitals | 07 Mar,2012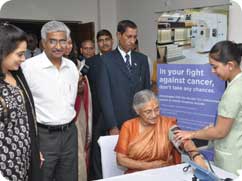 On the occasion of International Women's Day, Delhi Chief Minister Smt. Sheila Dikshit today inaugurated a Women's Health Camp, organized by Apollo Hospitals aimed to raise awareness about breast cancer as well as other cancers, including issues related to prevention and early diagnosis. To commemorate the occasion, she also released the special edition of Apollo Life Oncology at the Delhi Secretariat. The Apollo Life special issue highlights the dangers of various cancers, including breast cancer, and emphasizes preventive steps
Speaking about the event, the Hon'ble Chief Minister Smt. Sheila Dikshit said: ""Every year, tens of thousands of new cancer cases occur in India. The rise of various cancers is all the more worrying because of the high death toll exacted, as well as due to the disruption of people's lives caused by stress and the heavy burden of medical expenses. Preventing a dangerous ailment like cancer is therefore is critical. I applaud the sustained efforts of Apollo Hospitals in raising awareness about cancer and its preventive measures among patients and the public.""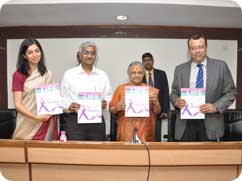 With 800,000 new cancer cases every year in India, its impact painfully devastates the lives of cancer patients and their families. With many patients belonging to the productive age group – a significant number being breadwinners in the family – the impact transcends what mere statistics convey.
Commenting on rising cancer morbidity and mortalities, in a personal message Apollo Hospitals' Chairman, Dr. Prathap C. Reddy said: "With improving lifestyles and rising disposable incomes, the traditional diets of most Indian families has undergone a drastic change. Given the high proportion of processed food in the diet, cancer cases are increasing across the spectrum. Modern conveniences have also been promoting sedentary lifestyles, exacerbating health issues and driving up cancer rates. I appeal to all people, particularly women, to embrace the necessary lifestyles changes, including consuming healthy foods and exercising regularly. Prevention is the best means to overcome the ominous threat of cancers."
Posted by:
Apollo Hospitals
07 Mar,2012
Get the best of health related stories delivered to your inbox.