The King of football, Pele inaugurated the Leukemia Ward of Apollo Gleneagles Cancer Hospital, Kolkata on October 13th 2015
Posted by Apollo Hospitals | 23 Oct,2015
The King of football, Pele spent time with the Apollo Gleneagles Cancer Hospital team (AGHL) on 12th &13th October, 2015 and responded to the queries on Sports injury and the facilities of Sports Medicine in Kolkata. He recounted the painful moments of his injuries during his time and congratulated Apollo Gleneagles Hospital, Kolkata on creating world class Sports Medicine facilities.
Pele autographed on footballs for distribution amongst the children getting treatments suffering from Leukemia at Apollo Gleneagles Cancer Hospital, Kolkata.
He inaugurated the Leukemia Ward Apollo Gleneagles Cancer Hospital on October 13th 2015 and inspired the team to continue the great work in preventing and curing Leukemia in Eastern India.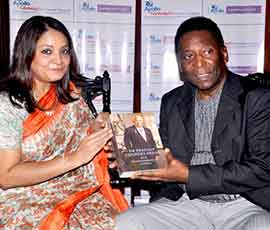 Posted by:
Apollo Hospitals
23 Oct,2015
Get the best of health related stories delivered to your inbox.
Apollo Hospitals has commenced the Covid-19 vaccination program for children in the age group of 15 to 18 years. This...
Date: 17 Jan,2022
The last two years have shown us how vulnerable we are to disease and how a new disease can take root and sprea...
Date: 29 Dec,2021
FLO, the women's wing of FICCI, joined hands with Apollo Cancer Centre for India's First Virtual Duathlon – Apollo D2...
Date: 05 Nov,2021