The "Apollo Total Health Nutrition Centre" was inaugurated at Charala, Aragonda GP, Andhra Pradesh on 13thMay 2014
Posted by Apollo Hospitals | 26 May,2014
Apollo Hospitals has always strongly believed in social initiatives that help transcend barriers. In keeping with this, the group has started several impactful programmes in remote areas. One among these initiatives is Apollo Total Health Nutrition Centre"" at Charala, Aragonda GP, Andhra Pradesh. A community welfare initiative with the aim of providing quality nutritional guidance and care to the families from various sections of the society . The Nutrition centre was inaugurated by Dr.Mandeep Singh in presence of Ms.Usha & Mr.Ram Naresh from Apollo Hospitals. Apollo will regularly conduct comprehensive health and nutrition camps through the ""Apollo Total Health Nutrition Centre"" at Charala, Andhra Pradesh. The Group actively leverages its knowledge and technology to the development of remote corners of the country.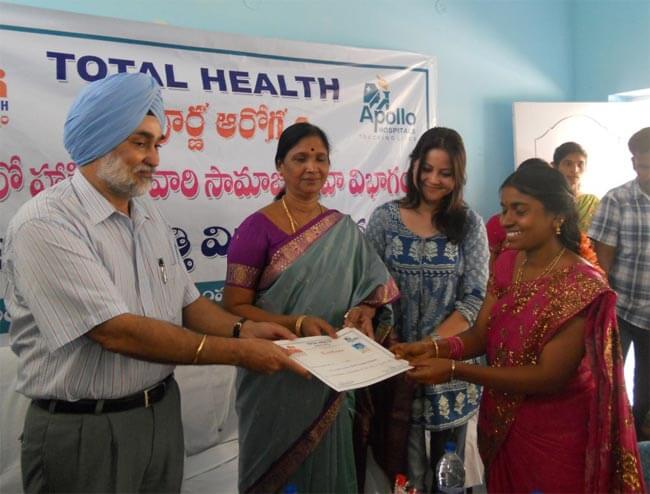 Posted by:
Apollo Hospitals
26 May,2014
Get the best of health related stories delivered to your inbox.
The Hon'ble Chief Minister of Odisha, Shri Naveen Patnaik has inaugurated the Apollo Cancer Centre (ACC) in the State...
Date: 11 Apr,2022
On the occasion of World Health Day, Apollo Hospitals unveiled the Health of the Nation 2022 report highlighting the ...
Date: 07 Apr,2022
Apollo Hospitals Group has announced a unique collaboration with 8chili Inc to enable engagement in the metaverse, in...
Date: 28 Feb,2022