Shri Naveen Patnaik, Hon'ble Chief Minister of Odisha, laid the foundation stone for the Apollo Cancer Institute in Bhubaneswar
Posted by Apollo Hospitals | 06 May,2017
The new Apollo Cancer Institute will offer specialty healthcare of international standards with outcomes matching those of the world's best hospitals. The Cancer institute, after completion will have two state of the art Linear Accelerator radiation machines to offer the latest radiation therapy treatment and Bone Marrow Transplant. This institute will also have Brachytherapy, whose function is to place radioactive sources inside the patient on a temporary or permanent basis to damage cancer cells' DNA and destroy their ability to divide and grow.
Apart from the above two technologies, the institute will also have Positron emission tomography-computed tomography (PET CT). The new cancer block will be a five-storey building.
Speaking on the occasion Shri Patnaik said, "When operational, this new Cancer Hospital will be a boon to Odisha's cancer patients as they will get best-in-class treatment right here without having to travel to other states. Incidence of breast and cervical cancers among women in Orissa is high and both need special treatment, which this new hospital will provide".
Dr Preetha Reddy, Vice Chairperson, Apollo Hospitals Group said, "The Apollo Cancer Institute in Bhubaneswar will serve the people of Odisha and also patients from neighbouring States. At Apollo, we firmly believe that Cancer is Conquerable and this ethos motivates us to keep pushing the boundaries in cancer care. Our battle against this disease has spanned over two decades; it has witnessed several momentous milestones and set new benchmarks in the country. We are very grateful to farsighted leaders like the Hon'ble Chief Minister of Odisha, Shri Naveen Patnaik ji for encouraging us in our endeavour to introduce cutting edge Oncology into Odisha as Apollo is passionately committed to always bringing in the best in cancer care for its fellow citizens."
Shri Sudhir M. Diggikar, Regional Chief Executive Officer of Apollo Hospitals, Odisha & Chhattisgarh region added, "Apollo Hospitals has always taken the lead in providing superior quality healthcare and this Cancer Hospital when complete, will benefit the people of Odisha and the neighbouring states by providing them complete cancer care under one roof." The facility also helps in increasing the overall bed capacity of the hospital by 50 additional beds. This simultaneously addresses the ever-increasing demand for intensive care beds, a speciality where Apollo Hospitals-Bhubaneswar has been the most preferred choice by the people of Odisha. The new block would also accommodate our second Cath Lab, dialysis beds, OPD chambers & a dedicated chemotherapy day care ward.
Apollo Hospitals, Bhubaneswar, being a leader in healthcare, has always set up new avenues for catering to the health requirements of society at large. It has brought state-of the-art and advanced medical technology and services to the people of the State, while striving to augment capacities of doctors, paramedics and medical workers.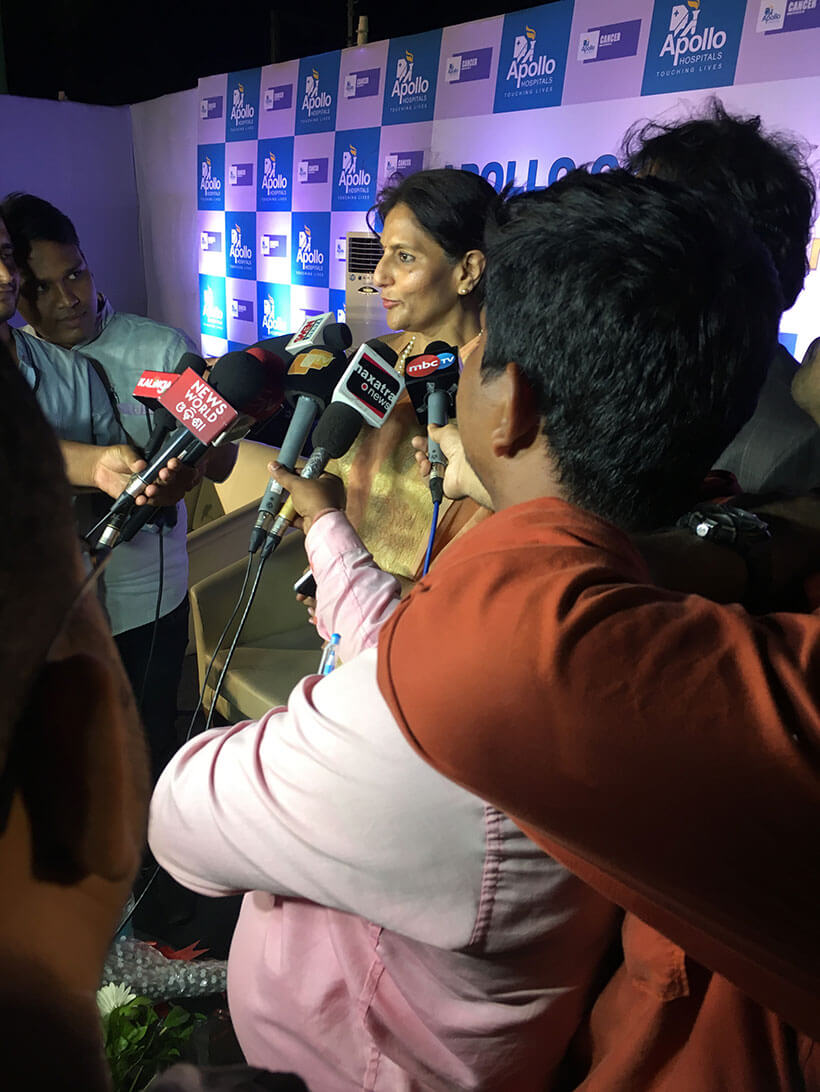 Posted by:
Apollo Hospitals
06 May,2017
Get the best of health related stories delivered to your inbox.
Apollo Hospitals Group has launched its indigenously developed automated, rapid-response patient monitoring system. T...
Date: 02 Nov,2022
Apollo Hospitals Group is to set-up a state-of-the-art tertiary care hospital in partnership with Balmer Healthcare, ...
Date: 05 Sep,2022
A Memorandum of Understanding (MoU) has been signed between Apollo Hospitals Group and Eclipse Group, Africa, to esta...
Date: 05 Sep,2022