Shri N. Chandrababu Naidu, Hon'ble Chief Minister, Andhra Pradesh inaugurates a world class healthcare facility of Apollo Hospitals at Visakhapatnam
Posted by Apollo Hospitals | 29 Apr,2016
The most modern and world class healthcare facility from Apollo Hospitals Group – Apollo Hospitals, Visakhapatnam, was formally inaugurated by Shri Nara Chandrababu Naidu, Hon'ble Chief Minister of Andhra Pradesh at the Health City, Arilova on Saturday 30th April, 2016. Also present on the occasion were, Shri C. Ayyannapatrudu, Hon'ble Panchayat Raj, RWS, NREGS Minister, AP; Shri Ganta Srinivasa Rao, Hon'ble HRD Minister, AP; Shri Palle Raghunath Reddy, IT Minister, AP; Shri T. Subbarami Reddy, Hon'ble MP (Rajya Sabha); Shri Avanti Srinivas, MP, Anakaapalli; Smt Lalam Bhavani Bhaskar, Chairperson, Zilla Parishad, Visakhapatnam; Shri Ramakrishna Babu Velagapudi, Hon'ble MLA, Visakhapatnam East; Dr Prathap C. Reddy, Chairman, Apollo Hospitals Group; Ms Sangita Reddy, Joint Managing Director, Apollo Hospitals; Dr Hari Prasad, President, Apollo Hospitals & Dr Sandeep C., CEO – AP, TS, Odisha, Apollo Hospitals.
Speaking on the occasion Shri Chandrababu Naidu said "This is one of the best hospitals in the country and will make Visakhapatnam a medical tourism destination by attracting foreign patients. People used to worry about our educated going abroad, the brain drain phenomenon, but someone like Dr. Prathap Reddy, despite being successful abroad, came back and set up 60 hospitals in India, brought the best of healthcare within the reach of our people and now has brought the very best hospital in the country with superior technology to Visakhapatnam. With the International airport coming up shortly, Vizag will attract patients from abroad, making it the most attractive international medical tourism destination and that will enormously benefit the people and the city. I request Dr Prathap Reddy to invest and set up more hospitals in Navya Andhra Pradesh".
Dr. Prathap C. Reddy said "We are extremely happy with this monumental hospital, which offers care on par with what is available anywhere in the world. Every single technology available here is 2016 technology. Every single specialty is available here, except cancer care, which will also be ready in 6 months and that will enable the hospital to give unmatched care in all disciplines. This hospital is poised to do much better than any hospital and will attract international patients".
Shri Subbarami Reddy mentioned that the contribution of Dr. Prathap C. Reddy to the nation and its people is phenomenal and he has inspired several other doctors to set up hospitals across the country, bringing best medical care within the reach of our people.
Speaking during the launch, Ms Sangita Reddy said "This is the 60th Hospital of Apollo Group. This city which suffered due to Hudhud toofan, has truly transformed from a city of disaster to a city of destination within a short duration and the Hon'ble CM Shri Chandrababu Naidu deserves kudos for the same. Sixteen years back we started our first hospital here at Visakhapatnam and since then the people of the city trusted us and we promise to continue to live up to their trust. We will replicate the culture, care and sentiment with which we started our first hospital in Chennai, in the hospital at Vizag too".
The Apollo Hospitals, Healthcity, Arilova, built on a sprawling eight acre expanse in a health friendly pollution free lush green environment is the latest and one of the finest additions to the Apollo Hospitals Group. The hospital has been staffed with eminent specialists, equipped with state-of-the-art technology and offers multi-disciplinary high-end tertiary care.
The 250 bedded super specialty Apollo Hospitals, Visakhapatnam, has ultra modern laboratory facilities and latest modalities for imaging and diagnostics, some of which are available for the first time in this part of the country. The six, state-of-the-art Modular Operation Theatres with laminar airflow, equipped with the latest medical technology, completely aseptic ensure near zero infection environment. The 24 X 7 fully functional emergency, critical care and trauma care at the hospital is geared to meet all medical emergencies. The latest generation equipment with cutting edge technology at the hospital include latest Flat Panel Digital Cath-lab, Modular Operation Theatres, 1.5 Tesla MRI, 128 Slice CT Scan, a fully automated laboratory and the first 3D OCT in Andhra Pradesh.
Apollo Hospitals, Visakhapatnam, will provide comprehensive range of services in major specialties including Cardiology, Cardio-Thoracic Surgery, Orthopaedics & Joint Replacements, Emergency & Critical Care services, General Medicine, General & Laparoscopic Surgery, Nephrology & 24×7 Dialysis, Urology, Neurology, Neuro-Surgery, Plastic & Cosmetic Surgery, Pulmonology, Medical & Surgical Gastroenterology, Anaesthesiology, ENT, Obstetrics & Gynaecology, Paediatrics, Radiology, Pathology, Organ Transplant (Live and Cadaver), Medical Oncology & Surgical Oncology etc. Each of these departments is led by expert doctors with a number of years of experience and manned by specially trained patient-care staff who provide tender loving care round-the-clock.
This new hospital will not only cater to the needs of patients from Andhra Pradesh, but will have a footprint across Madhya Pradesh, Chhattisgarh, Assam and Odisha.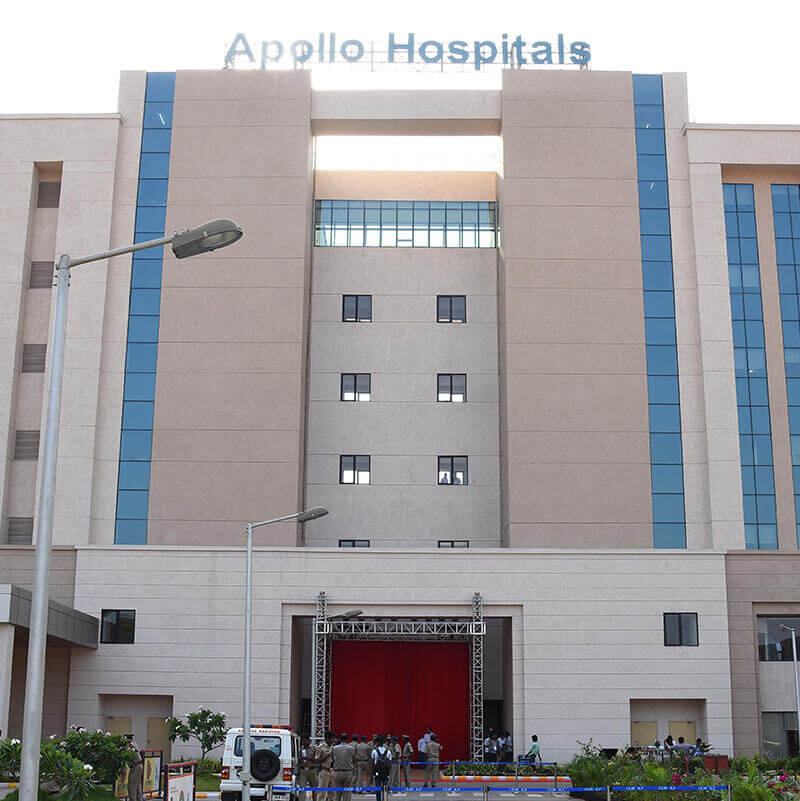 Apollo Hospitals, Visakhapatnam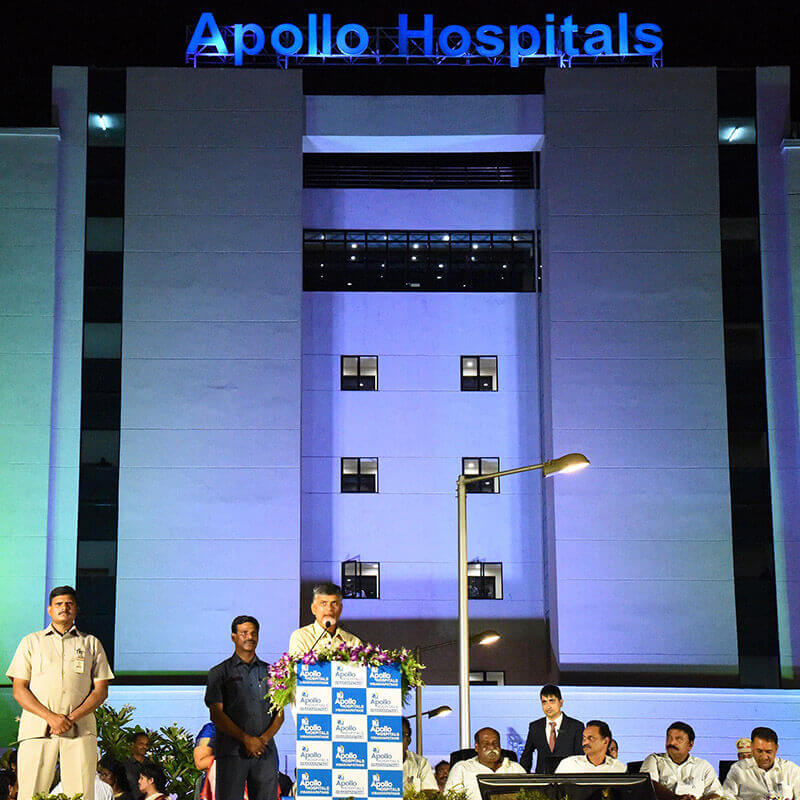 Shri N. Chandrababu Naidu, addressing the audience during the launch of Apollo Hospitals at Visakhapatnam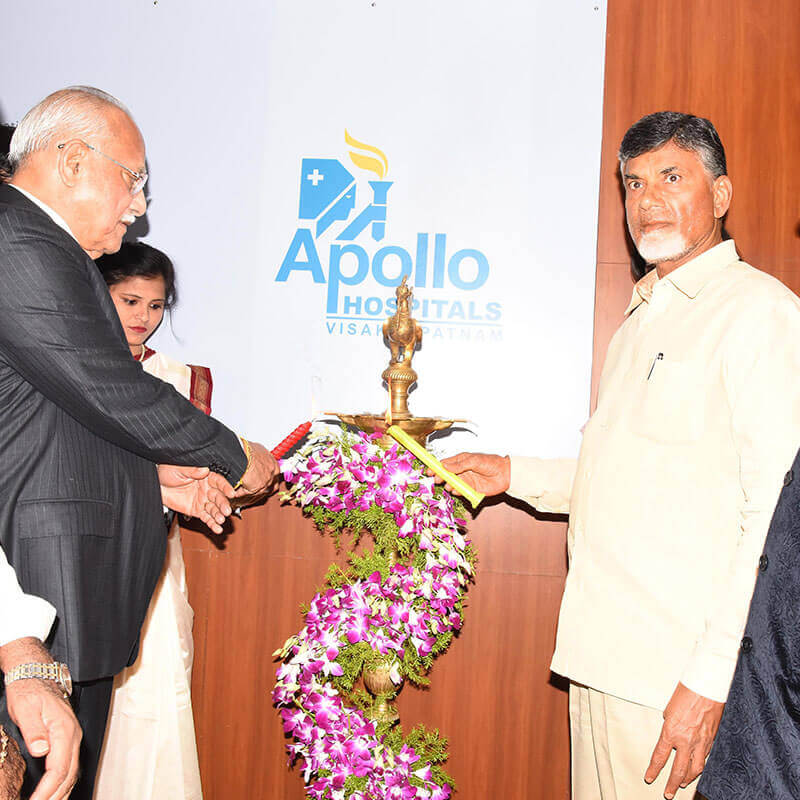 Lighting of the lamp by Dr. Pratap C Reddy, Founder and Chairman, Apollo Hospitals Group and Shri N. Chandrababu Naidu, Hon'ble Chief Minister of Andhra Pradesh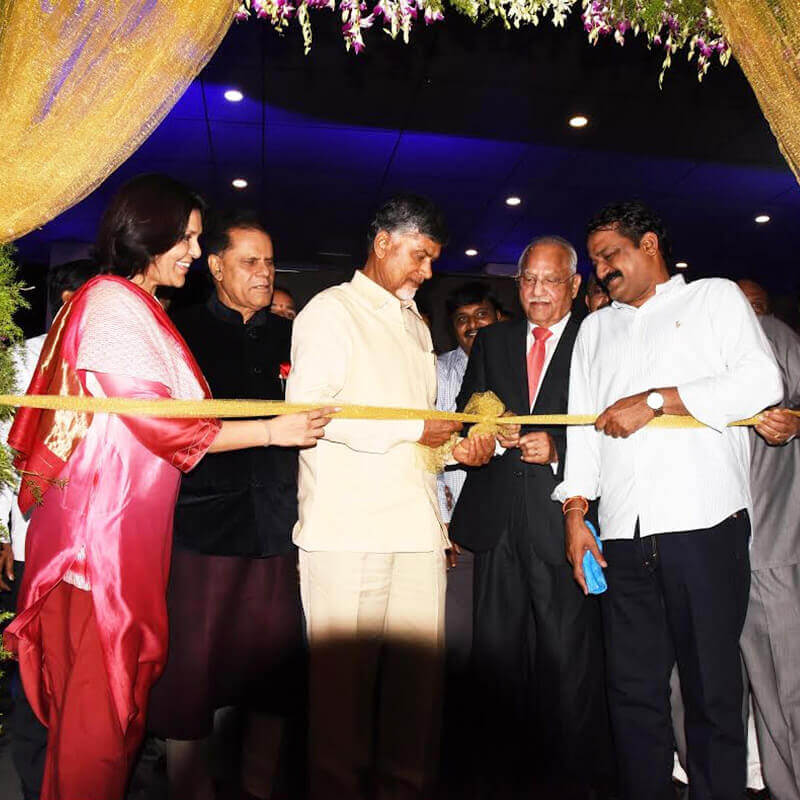 Posted by:
Apollo Hospitals
29 Apr,2016
Get the best of health related stories delivered to your inbox.
Apollo Multispeciality Hospitals Limited, which is a 100% subsidiary of Apollo Hospitals Enterprise Ltd. has acquired...
Date: 28 Sep,2023
Apollo Hospitals has launched India's first Comprehensive Connected Care programme; powered by Apollo's Connected Car...
Date: 06 Sep,2023
Apollo Hospitals has launched a Pan-India expansion of their one-of-a-kind connected care program, Apollo Connect. Wi...
Date: 05 Sep,2023