Robotics help Apollo Children's Hospital, Chennai transform the lives of 65 children from India and abroad
Posted by Apollo Hospitals | 27 Jul,2015
Apollo Children's Hospital has once again showcased its expertise and technical know-how on implementing some of the latest technologies for the benefit of the patients. Surgeries performed at Apollo Children's Hospital using the da Vinci Robot provides patients with all the advantages like quicker discharge time, reduced discomfort and pain, minimal scarring, smaller incisions, enhanced magnification, greater accuracy, better precision and less blood loss that conventional Laparoscopy offers over open surgeries.
Highlighting the need for awareness on Robotic surgeries, doctors and experts said that even though Robotic procedures have proven to be highly precise and targeted, the expertise, infrastructure and referrals by many doctors is minimal hindering the development of Robotic surgeries in Chennai.
Dr. Venkat Sripathi, Senior Consultant Paediatric Urologist says, "The magnification and 3D view that robotics offers helps us navigate in a targeted manner and complete the procedure without affecting neighbouring cells and tissues which is crucial in Paediatrics."
Elaborating on how Robotics helped in the treatment of 3 year old Aditya Somani, Dr. Sripathi said, "Aditya had urine flowing back to his kidneys, a condition called Vesico-Ureteral Reflux, and an obstruction, the combination of which had caused damage to the kidney requiring urgent surgery. With the help of Robotics, we completed the procedure in 1 hour and 45 minutes reducing the child's discomfort and helping him recover quite immediately. The block was removed, ureter reattached to the bladder and fixed in a way to prevent urine backflow into the kidneys."
Another interesting case is that of 5 year old Bhargavi who was suspected to have a block outside the kidney. The space constraint outside the patient's kidney made it difficult to consider a conventional surgery as that would have required the doctors to make a large incision to approach the kidney which could have been complicated. However with Robotics, given its superb magnification and manoeuvring capabilities, helped the team of doctors to remove the block in just 1.5 hours.
"At Apollo, we have always believed that harnessing the right technology and entrusting it in skilful hands can help work miracles. If you have the expertise, your battle is half won already. The only area we then focus our energies on is to ensure that our patients are well counselled on the techniques we will be adopting to cure them or their loved ones so that we can allay any fears that may be in their minds. We are a privileged lot today as our clinical excellence continues to give hopes to many and makes decision making far easier for patients with the availability of cutting edge technology within their reach," added Ms. Preetha Reddy, Vice Chairperson, Apollo Hospitals.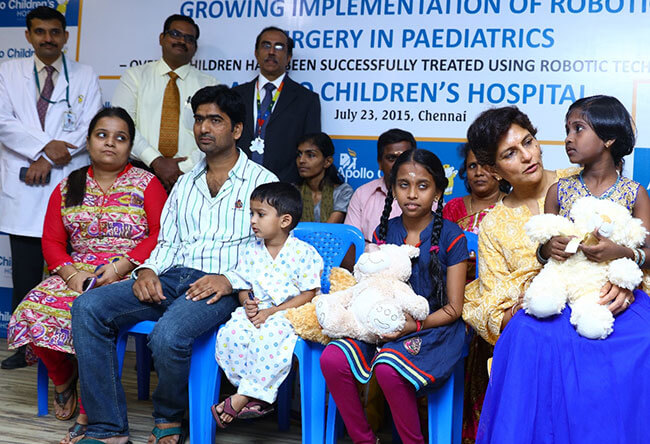 Posted by:
Apollo Hospitals
27 Jul,2015
Get the best of health related stories delivered to your inbox.
Apollo Proton Cancer Centre has successfully performed Asia's first brain bypass surgery on twin 8-year-old children ...
Date: 05 Dec,2022
With a focus on innovating new techniques for the treatment of rare cancer cases, Apollo Cancer Centre, Bangalore, ha...
Date: 05 Dec,2022
A 64-year-old gentleman from Fiji recently Robot-Assisted Total Arterial Bypass Surgery for Triple Vessel Coronary Ar...
Date: 16 Nov,2022