On the occasion of International Women's Day, Apollo Cradle, Chennai launched 4 Speciality clinics
Posted by Apollo Hospitals | 08 Mar,2017
International Women's day is marked to celebrate the spirit of Womanhood world-wide. This day recognizes women as an embodiment of strength and power and an individual who gives birth to new life. A baby's birth is one of the most special and unique times in a family's life; an occasion met with a combination of unbridled joy, and jittery nerves, which surrounds the woman and her baby.
On this occasion, Apollo Cradle, Chennai highlighted an unusual yet successful surgery performed by a team of experts. The patient, a 32-year-old woman, who was carrying 34 weeks foetus had complaints of excruciating pain in the back and decreased movement of left leg. Earlier antenatal check- ups at a private hospital, suggested degenerative disc disease and precautions by the patient was not taken. Pregnancy becomes more critical in a woman with spinal disc prolapse. The growing foetus enhances the physical limitations of women with spinal disability. This pregnant mother with spinal injury was successfully managed in Apollo Cradle by a multi-disciplinary team comprising of obstetrician, orthpedician, anaesthetist, paediatrician and on the third day she was able to walk with the help of physiotherapist," said Dr. Charumathi, Gynecologist.
Led by India's best Obstetricians and specially trained nurses, Apollo Cradle houses experienced clinical support and personal attention which are hallmarks of the obstetric care. "We have an immense pleasure in celebrating the second anniversary of this speciality. We will continue to provide care and service with soothing, tastefully adorned environments paired with the state-of-the-art equipment and delivery suites," Dr Sumana Manohar, Gynaecologist, Apollo Cradle.
Apollo Cradle is well known for dealing with high risk obstetrics such as patients with pre-eclampsia, liver dysfunction, neurological problems, cardiac diseases, placental problems and sfetal anomalies since the time of its inception," said Dr. Jaishree Gajaraj, Gynecologist.
The event concluded with the launch of 4 specialty clinics, a clinic for High Risk pregnancy, Urinary Continence Clinic, Sexual Health Clinic and a clinic for Polycystic Ovary Syndrome.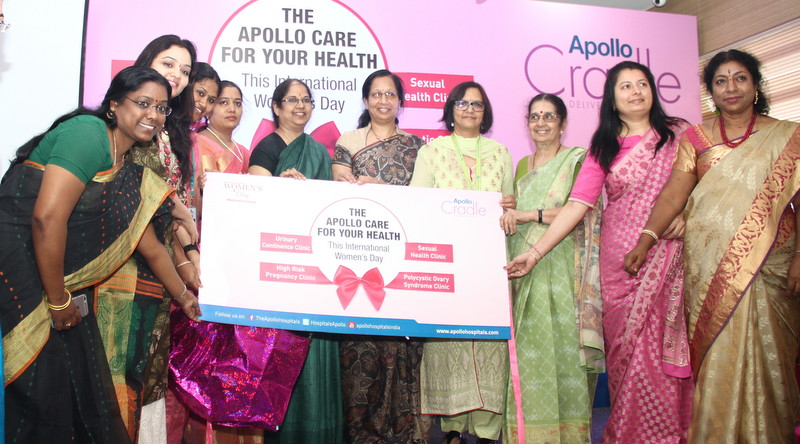 Posted by:
Apollo Hospitals
08 Mar,2017
Get the best of health related stories delivered to your inbox.
Apollo Hospitals Group has launched its indigenously developed automated, rapid-response patient monitoring system. T...
Date: 02 Nov,2022
Apollo Hospitals Group is to set-up a state-of-the-art tertiary care hospital in partnership with Balmer Healthcare, ...
Date: 05 Sep,2022
A Memorandum of Understanding (MoU) has been signed between Apollo Hospitals Group and Eclipse Group, Africa, to esta...
Date: 05 Sep,2022